Anthony Weiner's wife wants to reassure us. Don't trust her.
New York mayoral candidate Anthony Weiner, left, listens as his wife, Huma Abedin, speaks during a news conference at the Gay Men's Health Crisis headquarters in New York. The former congressman says he's not dropping out of the mayoral race in light of newly revealed sexting with a 22-year-old woman.
(Kathy Willens / Associated Press)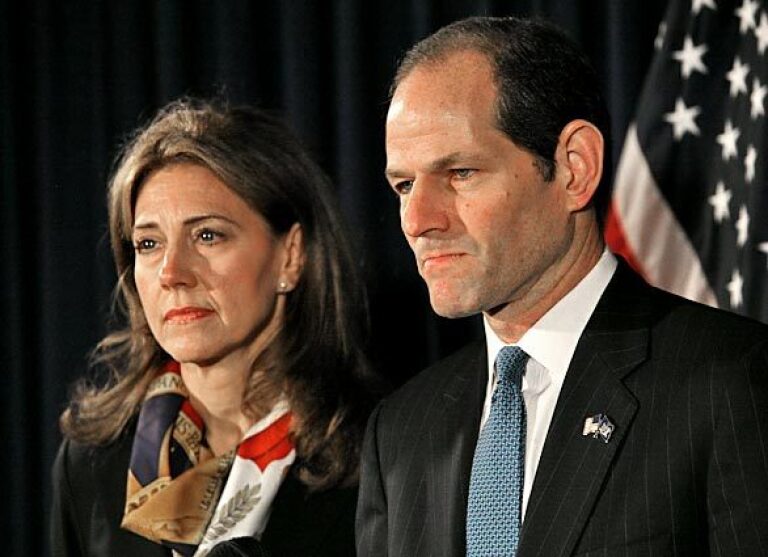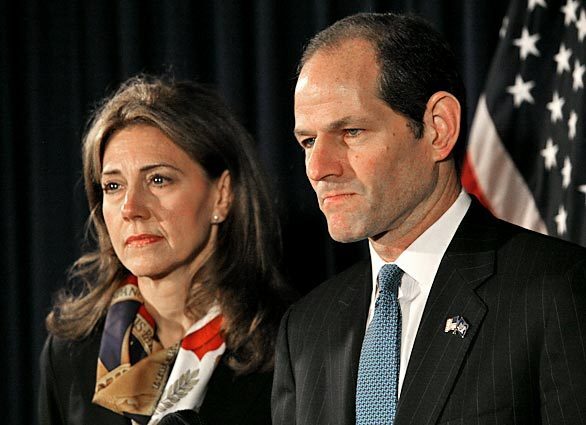 With wife Silda Wall Spitzer at his side, New York Gov. Eliot Spitzer announces his resignation from office after revelations that he had been a client of a prostitution ring.
(Carolyn Cole / Los Angeles Times)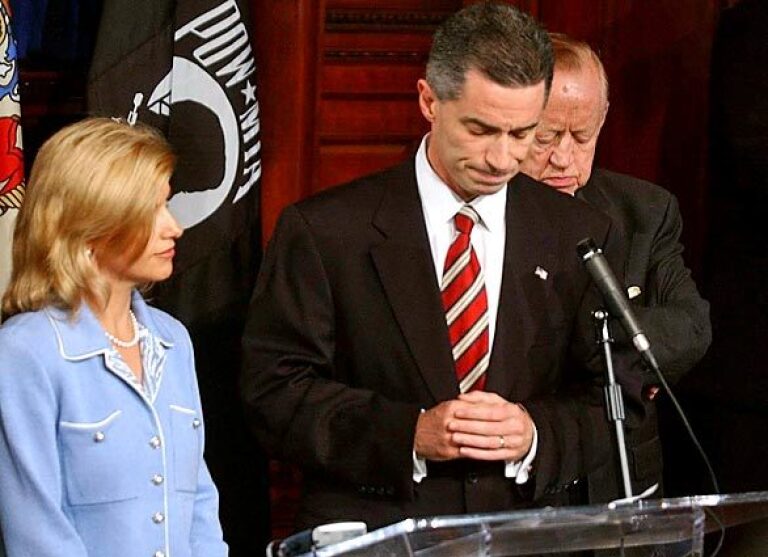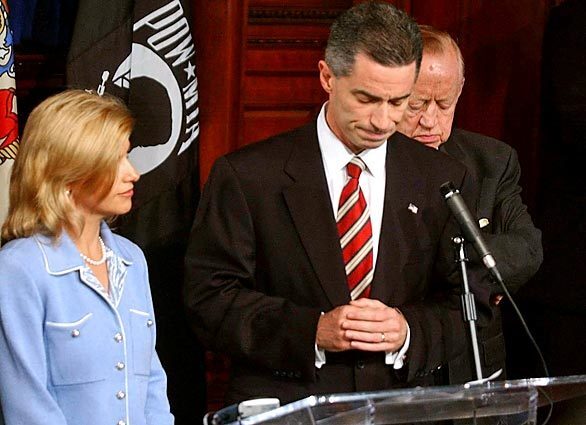 In 2004, New Jersey Gov. James E. McGreevey, flanked by his wife, Dina Matos McGreevey, and father, Jack, declared himself "a gay American" and said he regretted having an extra-marital affair with a man. In a recent appearance on CNN's Larry King Live, Dina said she appeared with her husband because she still loved him despite the revelations of infidelity.
(Brian Branch-Price / Associated Press)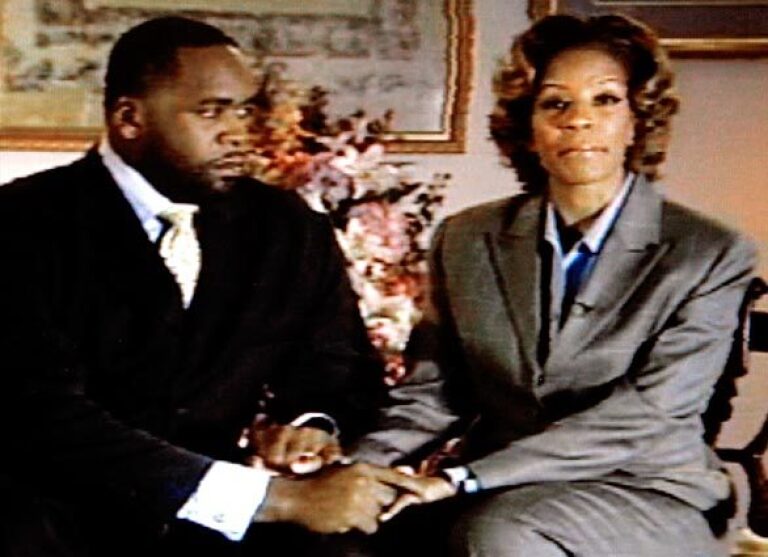 Earlier this year, Detroit Mayor Kwame Kilpatrick holds the hands of his wife Carlita as she addresses the city from the Greater Emmanuel Institutional Church. Mayor Kilpatrick pleaded for forgiveness from his family and his constituents in an emotional televised speech, his delayed response to recently revealed racy text messages that contradict his sworn testimony that he did not have a physical relationship with a key aide.
(WDIV-TV AP/Pool)
Louisiana Sen. David Vitter admitted to "very serious sin" after his phone number was found in a madam's little black book.
(Alex Brandon / Associated Press)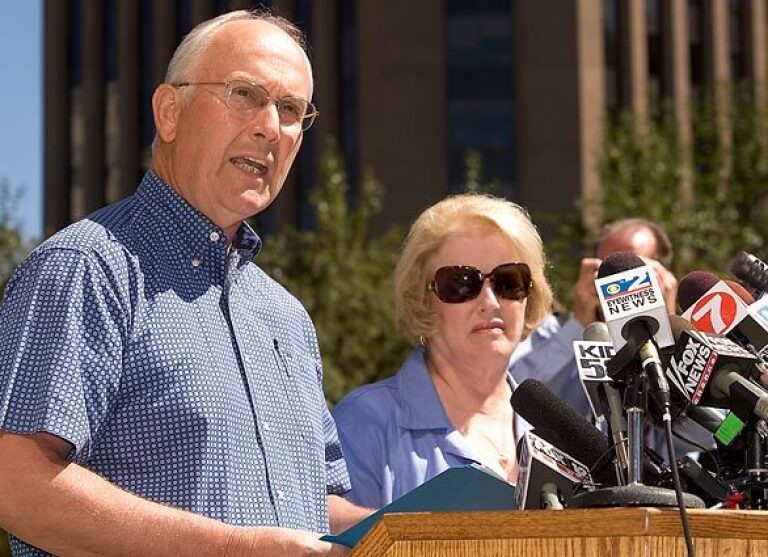 Idaho Sen. Larry Craig, whose wife hid her face behind oversized sunglasses, spoke of his arrest for soliciting sex from an undercover officer in an airport men's bathroom.
(Troy Maben / Associated Press)
President Clinton walks with First Lady Hillary Rodham Clinton and Vice President Gore, left, to speak to the media after a private meeting in December 1998. The House of Representatives impeached President Clinton for obstructing justice and lying under oath about his sexual affair with Monica Lewinsky.
(Scott Applewhite / Associated Press)
Hate to say it, but you can't trust a woman whose husband has been screwing around.
A year ago, Anthony Weiner and Huma Abedin posed for People magazine, and talked about how they'd worked to repair their marriage after his first sexting scandal forced him to resign his congressional seat in 2011.
"Anthony has spent every day since trying to be the best dad and husband he can be," Abedin told People, as the couple launched a carefully orchestrated lead-in to Weiner's announcement that he would run for mayor of New York.
Photos: Political sexual scandals
Right around the time he was photographed for People holding his young son, Jordan, as his loving wife perched next to them, Weiner had begun a new sexting relationship, with a 22-year-old woman. The photo he sent her, published Tuesday by a raunchy gossip website called The Dirty, was even more graphic than the one that drove him from office.
It's fascinating how Abedin, who must now be described as Weiner's "long-suffering" wife even though they've been married for only three years, is retracing the life of her boss and mentor, Hillary Rodham Clinton, another woman whose assurances about her husband's character ultimately came back to haunt her.
In a hastily called news conference Tuesday, Abedin stood nervously in front of a microphone and read a note of support for her husband, who stood at her side: "Our marriage, like many others, has had its ups and its downs. It took a lot of work and a whole lot of therapy to get to a place where I could forgive him," Abedin said. "Anthony's made some horrible mistakes, both before he resigned from Congress and after, but I do very strongly believe that this is between us and our marriage. We discussed all of this before Anthony decided to run for mayor, so really what I want to say is I love him, I have forgiven him, I believe in him and as we have said from the beginning, we are moving forward."
It might be persuasive to New York City voters that Abedin believes enough in her husband to finally take the microphone and address them directly. And how nice for Weiner that the mother of his 20-month-old son has weighed her choices and decided that staying in the marriage is her best course.
I'm glad they're "moving forward."
But her assurances mean nothing about his future behavior. History shows that wives who vouch for their badly behaving political husbands do so at their own peril.
Take the Clintons.
In 1992, when the revelation of Bill Clinton's affair with Gennifer Flowers threatened to sink his first presidential campaign, the Arkansas governor sat with his wife for a "60 Minutes" interview. "You know, I'm not sitting here, some little woman standing by my man like Tammy Wynette," Hillary Clinton said. "I'm sitting here because I love him, and I respect him, and I honor what he's been through and what we've been through together. And you know, if that's not enough for people, then heck, don't vote for him."
Voters responded to that.
Six years later, her husband was impeached, a direct result of his inability to keep his libido in check. So, good for Hillary. I'm glad she stuck it out with her cad of a husband. But the ammunition he gave his political enemies allowed loony Republicans to paralyze the country for months.
And you can't overlook the Schwarzeneggers.
In 2003, even before 11 women came forward to accuse Republican gubernatorial candidate Arnold Schwarzenegger of sexually groping them, lots of detractors had accused him of vile behavior toward women. To sway reluctant female voters, Schwarzenegger and his wife, Maria Shriver, sat down with Oprah Winfrey, where Shriver praised her husband.
Calling her husband "the exact opposite" of a woman hater, she said he was the "most gracious, supportive man I've ever met."
Two weeks later, The Times published its explosive stories about his groping. A couple of days later, Shriver gave a spirited defense of her husband during a speech to Republican women in Newport Beach.
''You can listen to all the negativity and you can listen to people who have never met Arnold, who met him for five seconds 30 years ago," she said. "Or you can listen to me."
We all know how that turned out.
ALSO:
San Bernardino police investigate burning swastika on street
Some on San Diego City Council call for Filner ouster resolution
2-year-old girl in 'good spirits' after coyote attack at O.C. cemetery
Twitter: @robinabcarian
---
Get breaking news, investigations, analysis and more signature journalism from the Los Angeles Times in your inbox.
You may occasionally receive promotional content from the Los Angeles Times.