Immigration appeals court throws out deportation order for man detained by ICE after dropping daughter off at school
An immigration appeals court this week threw out the final deportation order for Romulo Avelica-Gonzalez, who was detained in late February minutes after he dropped his daughter off at school in Lincoln Heights.
His lawyer said the case will be kicked back to the local immigration court that initially ordered that he be deported. That means Avelica-Gonzalez, 49, is still in deportation proceedings, but it could take years for a judge to enter a new decision.

For the record:
2:40 a.m. Dec. 10, 2022An earlier version of this article said the backlog of immigration cases around the U.S. hit 115,000 in June. That is the number in California. In the U.S., more than 610,000 cases are backlogged.
An official with U.S. Immigration and Customs Enforcement said the agency can no longer comment on Avelica-Gonzalez's case because of his pending U visa application.
Avelica-Gonzalez, a Mexican citizen, has lived in the United States for 25 years. ICE agents arrested him Feb. 28, minutes after he dropped off his daughter Yuleni, 12, at school. Another daughter, Fatima, now 14, sobbed as she recorded cellphone video of the encounter, which went viral.
The case drew national attention, with critics citing it as an example of President Trump's aggressive and sweeping stance on illegal immigration. Meanwhile, supporters of Trump's hard-line approach emphasize that immigrants like Avelica-Gonzalez broke the law by coming to the country illegally and further undermined any claim to live in the U.S. when they committed crimes, however minor.
Avelica-Gonzalez has a bond hearing Aug. 30, said his lead attorney, Alan Diamante. He could be released that day while his attorneys continue to fight his immigration case.
"These five months have felt like five years," Avelica-Gonzalez said in an interview Friday at the Adelanto Detention Facility in San Bernardino County.
Diamante said the deportation order was vacated Monday by the Board of Immigration Appeals, the highest administrative body in the country's immigration court system.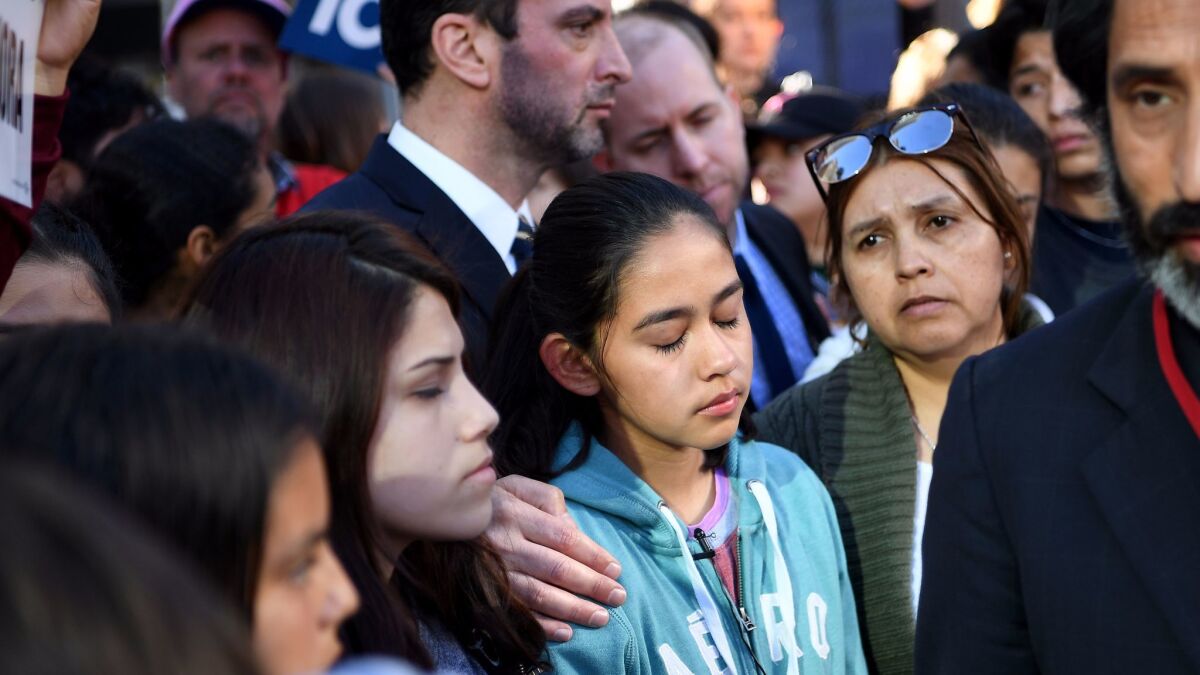 In June, lawyers settled Avelica-Gonzalez's decades-old misdemeanor convictions — for driving under the influence and for receiving stolen car tags — that prompted the deportation order leading to his arrest. He pleaded guilty to lesser vehicle code violations.
"When we started with him he had two significant crimes and a removal order," Diamante said. "Now all that is gone."
Certain criminal convictions can place immigrants in deportation proceedings. A state law went into effect in January that allows immigrants to have their convictions vacated if they were not adequately advised at the time of their guilty or no-contest pleas.
After being arrested in 2008 for DUI, Avelica-Gonzalez was placed in deportation proceedings. He applied for a cancellation of removal, a benefit that leads to citizenship. But an immigration judge denied it in 2013, saying he was ineligible because of his conviction for receipt of the stolen car tags.
In 2014, Avelica-Gonzalez filed paperwork for an appeal with someone he thought was an immigration attorney. The man ran off with Avelica-Gonzalez's paperwork and payment.
In late March, Avelica-Gonzalez and his wife, Norma, submitted applications for U visas, which are available to victims of crime and their immediate family members, based on a crime that Norma was the victim of in December 2016. Diamante declined to provide details about the crime out of respect for the family and any further investigation.
The number of people with pending U visa applications has skyrocketed from 21,000 in 2009 to nearly 170,000 as of March. Congress has set a cap of granting 10,000 U visas each year. Applicants on the waiting list are granted deferrals of their deportation and allowed to apply for work permits.
Diamante said he would ask an immigration judge to temporarily stop Avelica-Gonzalez's deportation proceedings while his U visa application remains pending. If the judge decides not to stop the deportation proceedings, Diamante said, the court will again take up his request for cancellation of removal. If the judge again denies the cancellation, the court could issue another deportation order.
Regardless, Diamante said, any decision could take years. The backlog of cases pending at immigration courts around the U.S. topped 610,000 in June, according to the Transactional Records Access Clearinghouse at Syracuse University.
ALSO
L.A. has been sued again over traffic lane reductions in Playa del Rey
As California eases pot laws, struggling L.A. cities look for opportunity — and face community pushback
Man nicknamed 'Tiburon' is accused of sexually assaulting two teens in Orange County, prosecutors say
---
The stories shaping California
Get up to speed with our Essential California newsletter, sent six days a week.
You may occasionally receive promotional content from the Los Angeles Times.