Ex-Sheriff Baca loses appeal, faces prison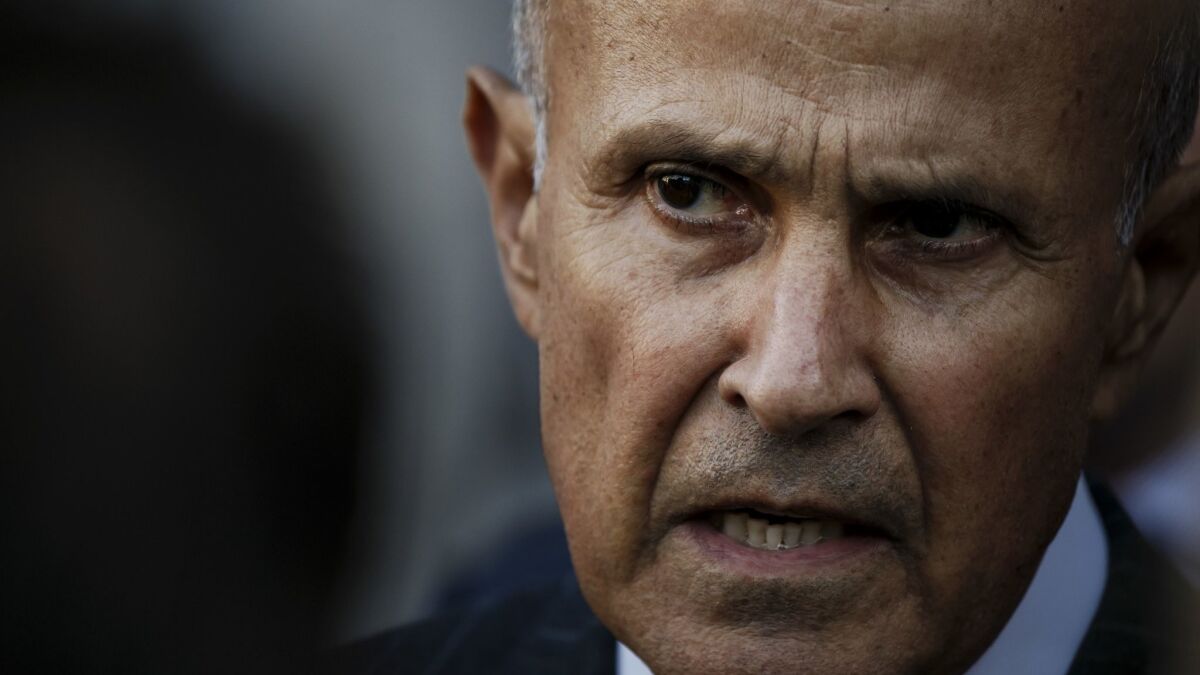 An appeals court upheld the conviction of former Los Angeles County Sheriff Lee Baca on Monday, clearing the way for the once powerful but now ailing law enforcement figure to spend years in prison for obstructing justice and lying to federal authorities.
Baca, who has been diagnosed with Alzheimer's disease, faces a three-year prison sentence after a jury found he helped orchestrate a scheme to interfere with an FBI investigation into abuses in county jails and later lied to prosecutors about his role.
Attorneys for Baca, 76, appealed the 2017 verdict, arguing it had been tainted by rulings U.S. District Judge Percy Anderson had made during the trial and so should be reversed. Among several alleged errors, they focused on Anderson's decision to bar the jury from hearing testimony about Baca's illness and about a conversation he had with an aide about the FBI's investigation. Either piece of information, the defense team said, could have helped sway the jury in Baca's favor.
But the three-judge panel from the 9th Circuit Court of Appeals rejected those claims in a seven-page decision, finding the trial was fair and the conviction legally sound.
Calling the case that prosecutors had mounted "fair and thorough," U.S. Atty. Nick Hanna said in a statement the ruling "confirms the principle that no one is above the law."
"Instead of cooperating with a federal investigation that ultimately was concerned about improving conditions in the county jails, Mr. Baca chose to obstruct and then lie to federal authorities," Hanna said.
With only a few longshot options remaining, Baca's attorney, Nathan Hochman, said he plans to ask for another hearing in front of a larger panel of judges from the 9th Circuit. The court, however, grants only a small number of these rehearings each year. If Baca's request is denied or he loses again, he could ask the U.S. Supreme Court to hear his case.
"We disagree completely with the skimpy analysis and erroneous conclusions" reached by the court, Hochman said in a statement, criticizing the judges for the brief explanations they gave for their legal findings in the ruling.
Baca is expected to remain out of prison at least until the appeals court decides whether to grant him a second hearing. If it declines to do so, the case would likely be sent back to Anderson, who could then order Baca to begin his sentence.
During his 14 years heading one of the nation's largest police agencies, Baca established himself as a prominent, if eccentric, voice in law enforcement who pushed progressive ideals on policing, but struggled to put thoughts into action and failed to keep many of the department's deep-seated problems from worsening on his watch.
Baca stepped down in 2014 amid increasing controversy and later was indicted on charges stemming from the plot to thwart an FBI investigation into abuses by deputies working in the county's jails. He was the last in a group of Sheriff's Department deputies and commanders to be accused of playing a role in the 2011 scandal, which involved hiding an inmate who was an FBI informant and threatening to arrest the agent who was leading the investigation. All 10 of the people who faced charges in the case either pleaded guilty or were convicted.
Baca initially tried to plead guilty in a deal with prosecutors, but Anderson rejected it as too lenient and signaled he would impose a stiffer prison sentence than was called for in the agreement. Baca nearly won an acquittal when all but one member of a jury wanted to find him not guilty. With the lone juror unwilling to budge, Anderson declared a mistrial.
For the second trial, however, prosecutors revamped their case and Anderson issued a string of rulings that hamstrung the defense. He ruled that a respected geriatrician would not be allowed to testify that Baca's memory could already have been affected by Alzheimer's in 2013, when he made false statements about the obstruction scheme in an interview with prosecutors.
When the case was heard by the appeals court in November, an attorney for Baca argued Anderson's ruling had denied the former sheriff a crucial line of defense. The judges appeared skeptical, asking why Baca's lawyer at trial hadn't tried a different tack that would have informed the jury of the Alzheimer's diagnosis without relying on the doctor's testimony.
A prosecutor from the U.S. attorney's office told the judges Anderson was right to block the testimony, saying it would have been speculative and risked "a verdict based on sympathy instead of evidence."
In their ruling, the judges dispatched the Alzheimer's argument in short order. Agreeing with the government that the doctor's testimony would have been rooted in conjecture and possibly confusing to the jury, the judges found "the district court did not abuse its discretion."
They also rejected a claim by Baca's legal team that Anderson had been wrong to rule that Baca's comment to a senior aide who cautioned him not to interfere with the federal investigation was hearsay and would not be heard by the jury.
Baca's response to the aide — that he believed that FBI agents were violating state laws and needed to be stopped — was evidence that the former sheriff did not have "corrupt intent" to obstruct the investigation and should have been heard, Baca's lawyers argued.
The panel of judges found Hochman had failed to raise the issue with Anderson during the trial, but concluded nonetheless Baca's rights had not been infringed since the jury had heard of other instances in which the former Sheriff had expressed this belief.
The judges were equally unconvinced by several other arguments, including that Anderson declared a mistrial prematurely in the first trial and gave jurors improper instructions before they began deliberating.
Hochman declined to comment about Baca's health and how much his cognitive abilities have deteriorated, if at all, in the 20 months since he was sentenced.
In a recommendation to Anderson before the judge delivered his sentence, prosecutors asked that Baca be sentenced to two years in prison — considerably less than what was called for in federal sentencing guidelines. His diagnosis with Alzheimer's and medical experts' expectation that his mind will have deteriorated badly within a few years were legitimate mitigating factors in determining his punishment, they wrote.
Hochman argued the inevitable toll from Alzheimer's was a reason to spare him prison altogether.
"This diagnosis is a sentence of its own. It is a sentence that will leave him a mere shell of his former self and one that will rob him of the memories of his life," he wrote in a court filing.
But Anderson rejected out of hand the idea that Baca should avoid time in prison. He acknowledged Baca's lengthy record as a public servant, but said it made his crimes more perplexing.
"Mr. Baca's criminal conduct is so at odds with the public image he carefully crafted," Anderson said. Like old B-movies, "you seem to have your own version of the good cop/bad cop routine ... that allowed you to keep your hands clean but did not make you any less culpable."
Follow @joelrubin on Twitter
---
The stories shaping California
Get up to speed with our Essential California newsletter, sent six days a week.
You may occasionally receive promotional content from the Los Angeles Times.