Judgment day for convicted ex-Sheriff Lee Baca, and the end of a long-running scandal
The corruption scandal that has roiled the Los Angeles County Sheriff's Department for several years will mark what could be its closing act Friday when a judge is scheduled to sentence former Sheriff Lee Baca.
Over five years, federal prosecutors meticulously worked their way up the department's ranks, charging lower-level figures and members of Baca's command staff before bringing charges against the sheriff himself.
How much time, if any, Baca will receive behind bars remains an open question.
---
HOW WE GOT HERE
The long road to sentencing
When Lee Baca struck a deal with federal prosecutors last year, the former Los Angeles County sheriff agreed to spend six months in prison for lying about his role in a plot to obstruct an FBI probe into county jails.
In return, Baca would avoid facing more serious charges at a trial and the possibility of far more time behind bars.
But the deal fell apart and Baca went on to lose at the trial he never wanted. Now a convicted felon suffering from Alzheimer's disease, the once powerful law enforcement leader today will learn his punishment.
Baca, 74, is scheduled to be sentenced at a morning hearing in the downtown courtroom where he was found guilty in March on charges of obstruction of justice and conspiracy, as well as the lying charge he had been ready to admit to in the deal with prosecutors.
His fate rests with U.S. District Judge Percy Anderson, who threw out the plea deal for being too lenient and has dealt unsparingly with Baca throughout his legal battle. In previous trials, Anderson handed down lengthy prison sentences for several Baca subordinates who were involved in the plan to thwart the FBI investigation.
THE SENTENCE
Striking a difficult balance
In deciding Baca's sentence, however, Anderson must strike a difficult balance.
Under federal guidelines, Baca's crimes should carry a sentence of 41 to 51 months, according to court papers filed by the U.S. attorney's office. And under normal circumstances, the government would have urged Anderson to come down within that range, wrote Assistant U.S. Atty. Brandon Fox, who prosecuted Baca.
Baca "abused the great power the citizens of Los Angeles County had given him" in helping to obstruct the FBI investigation into beatings and other corruption by sheriff's deputies working in the jails, Fox wrote. And his lies to investigators about his part in the scheme were a "deliberate attempt to deflect blame and place it entirely on the shoulders of others within his Department."
Nonetheless, Baca's age, his diagnosis last year with Alzheimer's and medical experts' expectation that Baca's mind will have deteriorated badly within a few years should be factors when deciding his punishment, Fox told the judge.
"The interests of justice will not be served by defendant spending many years behind bars in a severely impaired state," the prosecutor wrote. He recommended that Baca be sentenced to two years in prison.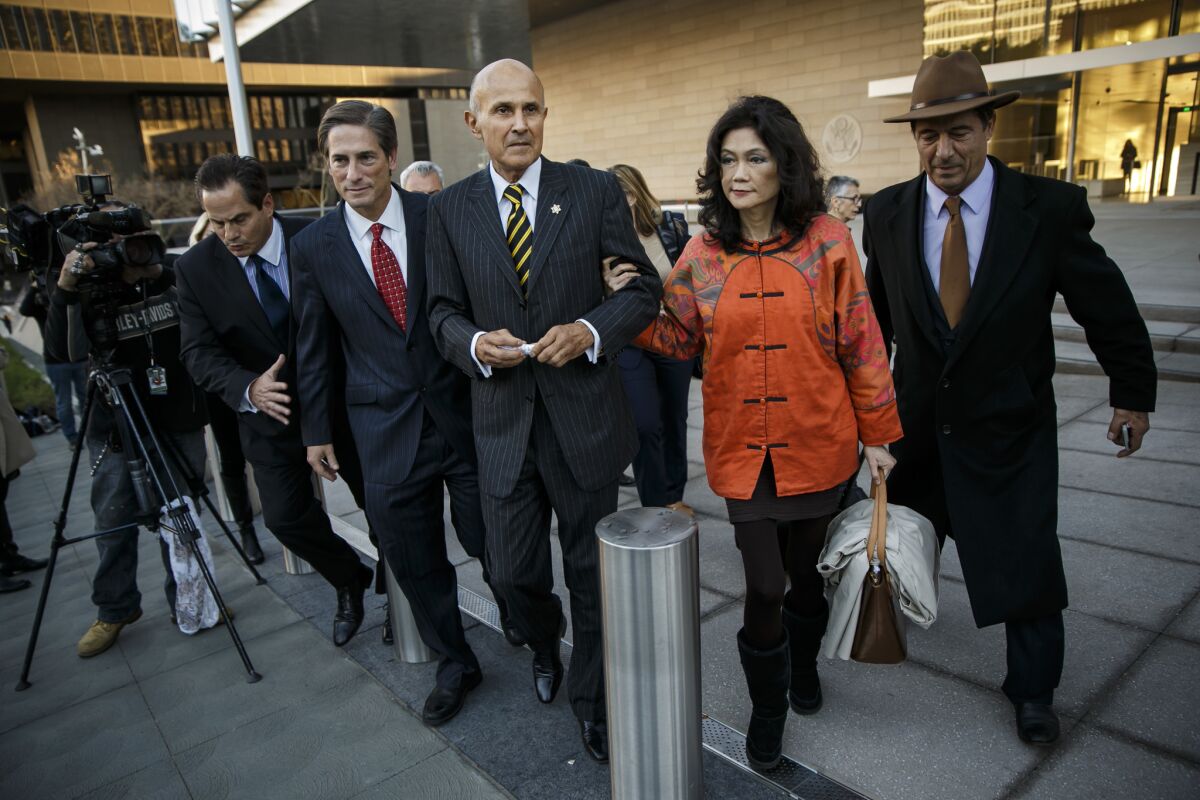 ASSESSING THE RIGHT KIND OF JUSTICE
'This diagnosis is a sentence of its own'
After finding no common ground during two hard-fought trials — the first ended in a mistrial with the jury deadlocked 11 to 1 in favor of acquitting Baca — Baca's attorney Nathan Hochman agreed with Fox that his client's illness should influence his sentence.
But Hochman urged Anderson to spare Baca any time in prison, saying he should instead be confined to his home for a period of time and ordered to perform community service.
"This diagnosis is a sentence of its own. It is a sentence that will leave him a mere shell of his former self and one that will rob him of the memories of his life," Hochman wrote in a court filing. Two Alzheimer's experts who recently examined Baca concluded his condition has progressed from the disease's early stage to "mild dementia," Hochman wrote.
If he is sent to prison, Baca's poor health and his status as a high profile law enforcement figure would make him a target for abuse from other inmates, the defense attorney wrote. In addition, he said, Baca would not likely receive the medical care he requires while the rough conditions in a prison would exacerbate the disease.
And in making his case for leniency to Anderson, Hochman argued that the good work Baca did during a law enforcement career that spanned five decades should not be overshadowed by poor decisions he made over six weeks in 2011 as the obstruction unfolded. He included in the filing letters from a few hundred of Baca's supporters, including former Gov. Arnold Schwarzenegger and several local religious leaders.
Although Baca has said he plans to appeal his conviction and his former second in command, ex-Undersheriff Paul Tanaka, is appealing his own, the sentencing hearing nonetheless marks an endpoint in a six-year campaign by the FBI and U.S. attorney's office to expose a culture of corruption that led them to the highest ranks of the Sheriff's Department.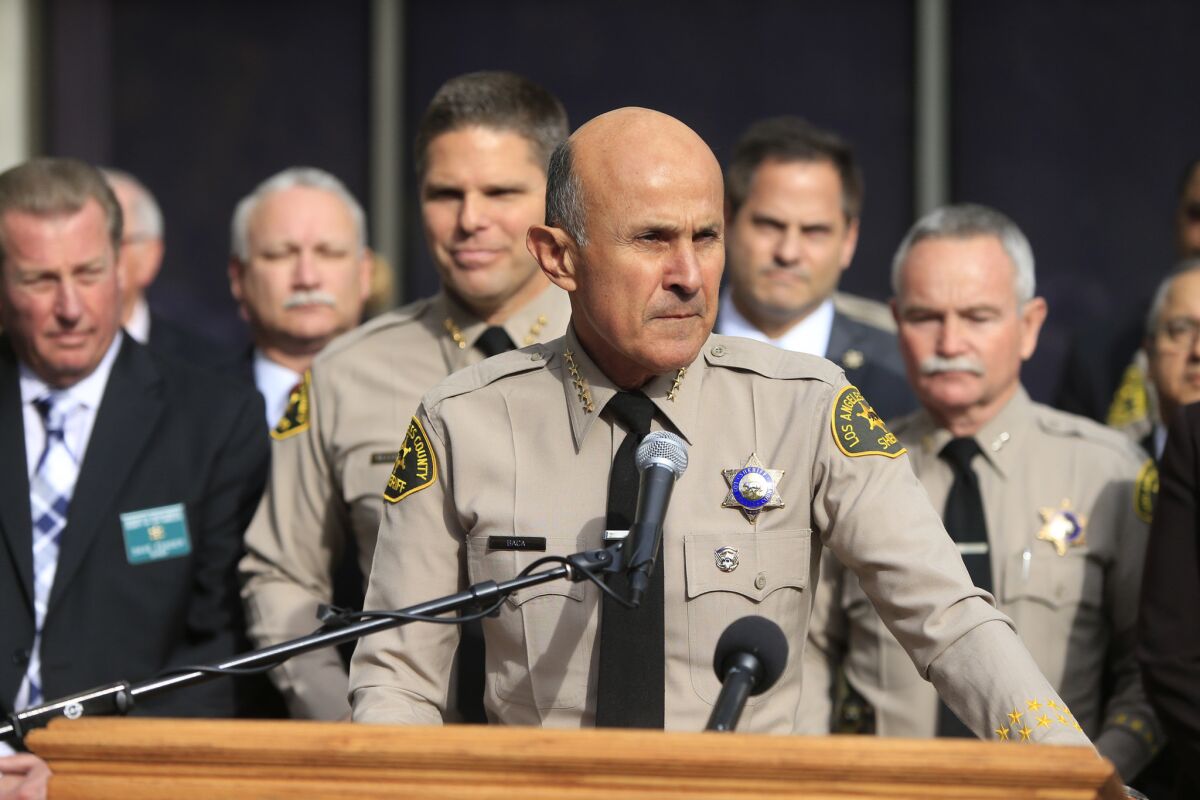 THE LEGAL DRAMA
Closing the books
In 2010, FBI agents opened an investigation into Men's Central Jail, the main facility in the county's enormous detention system. For years, the Sheriff's Department, which runs the jails, had been dogged by reports of a place run amok, in which deputies routinely beat inmates without provocation and covered up the abuse, often with the knowledge of supervisors. Other corruption, including deputies who took bribes to bring contraband in to inmates, was said to be rampant as well.
The investigation came to a sudden halt in August the following year when sheriff's officials uncovered the secret probe after discovering agents had used a corrupt deputy to smuggle a cellphone to an inmate who was working as an informant.
News of the FBI investigation angered Baca and Tanaka, who viewed it as an unwarranted incursion into their territory by an outside agency.
With Baca's knowledge and, at times his involvement, Tanaka oversaw a group of deputies and mid-level commanders who tried to derail the FBI investigation. They moved the informant under fake names to conceal his whereabouts from his handlers, pressured deputies and the informant not to cooperate with federal authorities and brazenly tried to intimidate the lead FBI agent by threatening her with arrest.
In all, 10 sheriff's officials and deputies have been convicted or pleaded guilty for their roles in the obstruction. Several more were found guilty in other trials of beating inmates or helping to cover up the abuse.
Hochman nearly won Baca an acquittal in the first trial by hammering the government for the scarcity of hard evidence tying Baca directly to the obstruction plan. In the second trial, however, Fox revamped his case and Anderson issued a string of rulings that hamstrung Hochman. All along, Hochman argued that Baca was upset by the FBI investigation but never authorized anything illegal. Tanaka, he said, carried out the obstruction scheme without Baca's knowledge.
The conviction put a permanent stain on a reputation Baca has built over 15 years as one of the nation's most visible and respected reformers in law enforcement. While quirky to the point of being enigmatic, Baca pushed for progressive ideas, including education and rehabilitation programs for inmates. He stepped down in 2014 with the department engulfed in the jail scandal.
Follow @joelrubin on Twitter
ALSO
Feds were near defeat in Lee Baca's corruption case. But a 'risky move' in the ex-sheriff's retrial turned the tide
The rise and fall of Lee Baca, L.A. County's onetime 'Teflon Sheriff'
Sheriff whistleblower who testified in federal obstruction case gets $1.275-million settlement
The stories shaping California
Get up to speed with our Essential California newsletter, sent six days a week.
You may occasionally receive promotional content from the Los Angeles Times.