A surreal Saturday on Pacific Coast Highway as fire transforms Malibu's beaches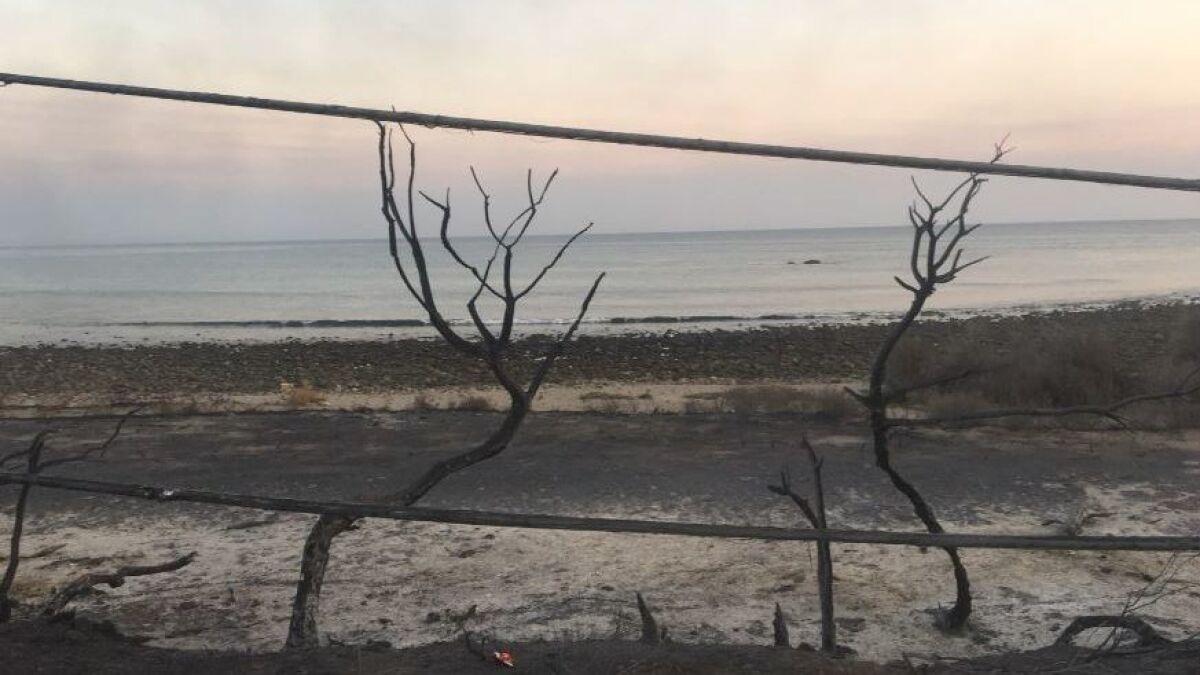 At sunset Saturday, the waves crashed against the rocks at Point Mugu State Park, just like always. But no one was there to watch it happen.
The popular overlook that sits at the northern end of a scenic stretch of California's Pacific Coast Highway is usually a magnet for sightseers seeking a reprieve from the more-crowded Malibu-area beaches.
But the last two days have been anything but normal.
And Malibu's beaches have been transformed amid the smoke into something surreal.
At Zuma Beach, there were horses and alpacas tied to lifeguard stations, their owners racing them down the burning hills and to the safety of the sand. A lone owl was spotted in the same area, looking out of place nestled near the shore.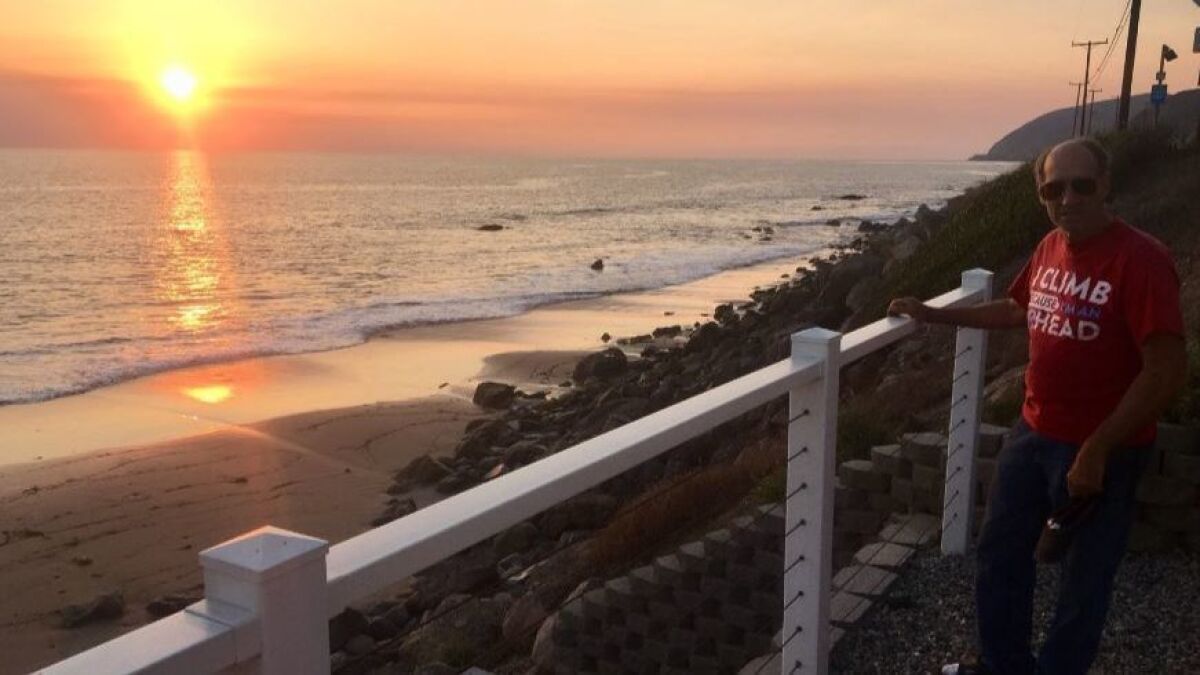 Residents who fled their Malibu homes simply parked in the beach lots, waiting to find out whether their property survived. On Friday night, actor Martin Sheen was among them. His son had reported him and his wife missing, but a TV news crew found them at the beach, with the couple planning to spend the night in their car.
The Woolsey fire had begun its devastating march through the area not 36 hours before, and police had barred the public from Highway 1 between Oxnard and Pepperdine University.
Point Mugu was largely untouched by the fire. But a couple of miles south on Highway 101, downed power lines and charred utility poles signaled Woolsey's trail of destruction. The only vehicles on the road belonged to first responders. Those that sped toward fire hot spots didn't bother to turn on their sirens because no one was there to hear them. A lone surfer shrugged off his wetsuit as he watched an apocalyptically red sun make its descent into the water.
At his home that overlooks County Line Beach, 75-year-old Sam Bruttomesso was charging his phone in his car. He'd lived there since 1976 and had witnessed three other fires rip through Yerba Buena Canyon and crest the hills across from his seaside cottage. But his house never burned, so he and his wife didn't evacuate, even after he watched those familiar hills light up Friday like the Fourth of July.
Bruttomesso, a doctor, had never seen embers jump the highway and ignite nearby homes, or singed deer limp across the highway, like he had on Friday afternoon. Still, he stayed.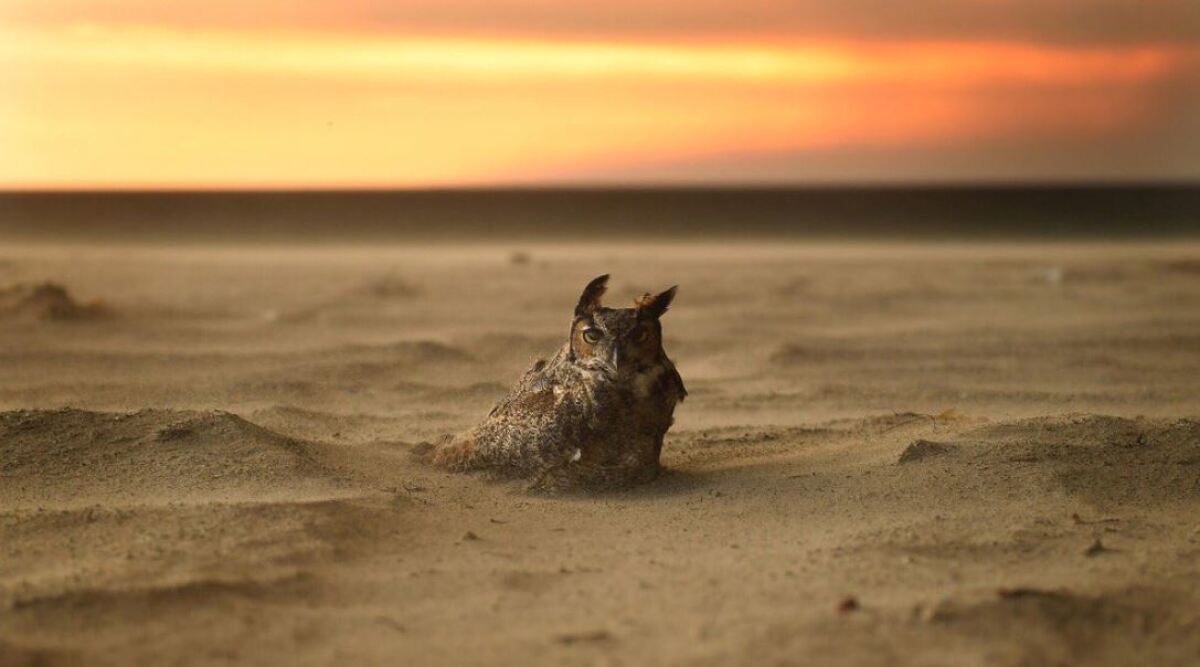 Bruttomesso only realized the extent of the destruction when he drove into the heart of Malibu with his wife Saturday morning.
"It looked like a landscape out of one of those disaster movies," he said.
South of Bruttomesso, the scrubby hills of Leo Carrillo State Park campground were torched beyond recognition. The pale turquoise lifeguard post at Zuma Beach was abandoned. At Corral Canyon Road, the smoke was still so thick that it obscured the ocean completely.
On Highway 1 at El Matador State Beach, 48-year-old Miki More was using the last bit of daylight to rake up hay and manure that had blown onto his oceanfront property from a nearby stable. Like Bruttomesso, he had stayed through the fire, and at one point hosed down trees in his front yard that had ignited.
More, whose girlfriend fled to Ventura on Friday, was alone and running out of food. He would drive to a market in Oxnard, but he'd been told that police officers weren't letting residents who left back in. He fears that he will lose his home — to which he moved from Calabasas three years ago because he loves the tranquility of the sea — if he's not there to defend it.
He pointed to a hot spot glowing on the hill across the highway. "The winds are supposed to pick up tomorrow," he said. "The embers could fly back. I need to be here."
When asked how he was holding up emotionally, More stopped raking. His face darkened.
"Not good," he said. "Look around you. The beauty of Malibu is gone. It's gone."
The stories shaping California
Get up to speed with our Essential California newsletter, sent six days a week.
You may occasionally receive promotional content from the Los Angeles Times.