Must Reads: Retiring after more than 40 years, LAPD Chief Charlie Beck has evolved with the department he leads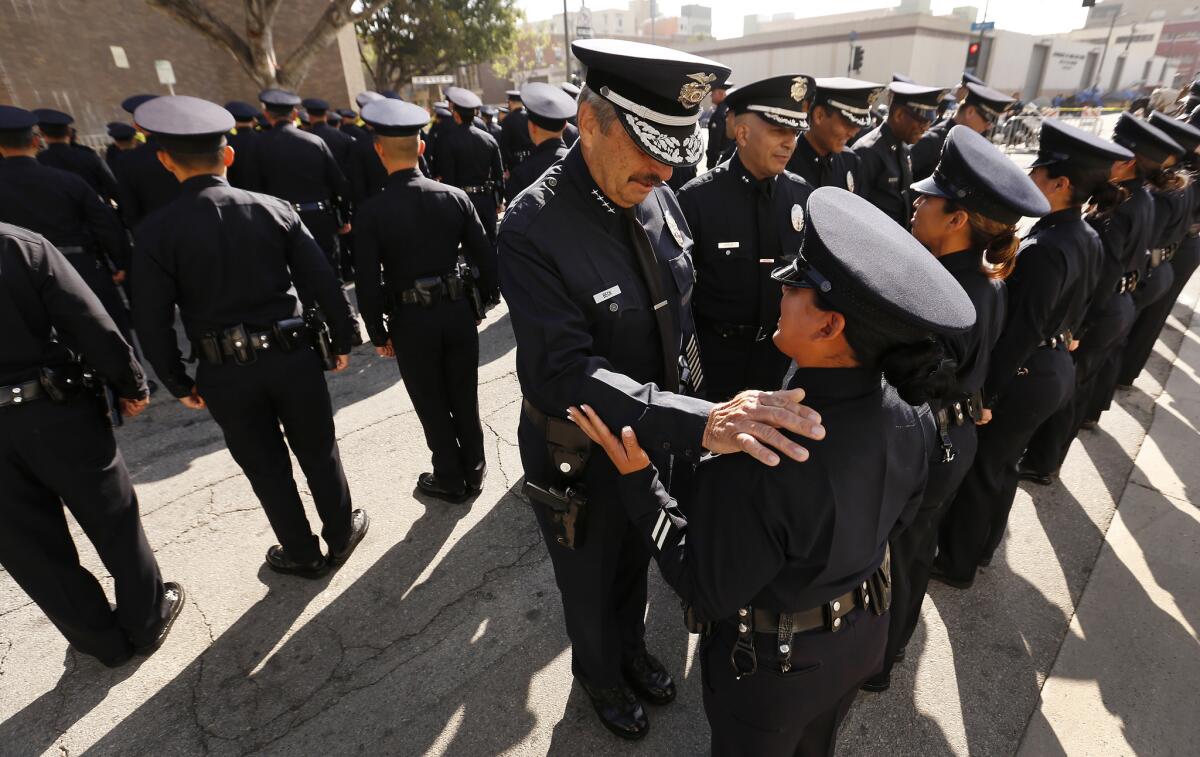 Chief Charlie Beck stood before police officers seated in the roll call room at Rampart station, recalling a time when he sat in those chairs.
As a rookie cop more than four decades ago, he patrolled those same streets, later returning to the station to enact reforms following a scandal that made the name Rampart synonymous with corruption.
Now, he was on a farewell tour, due to retire June 27 after nearly nine years as chief of the Los Angeles Police Department.
He still had his field notebook from his first day at the station and retained vivid memories of the crusty old guy who worked the front desk for generations, he told the officers.
Years later, he sent two of his children there for their first patrol assignments, he said, choking up and pausing. By then, Rampart had become a good place to learn the department's new, improved methods of policing.
"I wanted them to learn the right way — the technical and emotional aspects of being a cop," said Beck, who turns 65 on his retirement day.
With his gravelly voice and trademark mustache, Beck is every inch the law enforcement elder statesman who himself was the son of a high-ranking LAPD officer. He maintains a trace of old school LAPD brashness, yet is known as an architect of key reforms, including a community policing strategy that places officers as problem solvers and allies in the city's most violent neighborhoods.
As chief, Beck has led the department through a turbulent era in law enforcement, with the deaths of black people at the hands of the LAPD and other agencies sparking protests and the rise of the Black Lives Matter movement.
Spurred by an activist Police Commission, Beck implemented major changes, equipping his 10,000 officers with body cameras and training them to defuse encounters without using deadly force.
From the beginning of his tenure as chief, Beck sought to improve the LAPD's relationship with immigrants and ease hardships for residents in the country illegally. Recently, he gained national prominence with his refusal to participate in President Trump's hard-line immigration agenda.
Under Beck's watch, crime remains at historic lows despite an uptick in the last few years, even as homelessness and mental illness pose growing challenges for police officers.
Some of his actions have come under criticism, from outside and within the department: The police union, for example, sued to block a policy making it harder to impound the vehicles of immigrants without driver's licenses.
At one point, the civilian police commissioners who oversee the LAPD were so dissatisfied that they considered denying him a second term, raising questions about his approach to officer discipline and the controversial purchase of a horse from his daughter.
In recent years, Black Lives Matter activists — who condemn the department's continued use of deadly force — have targeted Beck at weekly Police Commission meetings, demanding that he be fired and calling him a murderer. Last month, the aunt of a woman who died in an LAPD jail showered Beck with a substance she claimed was her niece's ashes.
Beck's unabashedly paternalistic rhetoric — "I am the LAPD," he has said — leaves little separation between himself and the department he leads. They have evolved in tandem, as the old LAPD of battering rams and black youths being handcuffed with no provocation has given way to police officers who coach youth football in Watts. Beck has often cited the 1992 riots, when he and other LAPD officers were ordered to stand by as the city burned, as a nightmare he is determined not to repeat.
"He was a hard charger back then," Mayor Eric Garcetti said. "But at those key moments, when this was a department that was faced with owning up to its past and charting a brave course for the future, Charlie was there."
::
Beck did not intend to follow in the footsteps of his father, George. He wanted to be a professional motocross rider.
But in his early 20s, he started volunteering at the LAPD. He found that the job suited his need for excitement, in a different way than riding did, and entered the police academy in March 1977.
Like all rookies, he had a lot to learn.
"Young officers get tied up with the romance of making arrests and putting away the big bad guy, but sometimes you can make just as big a difference by intervening in a kid's trajectory," he said in an interview in January, the day he announced his retirement.
Civil rights attorney Connie Rice worked with Beck in the early 2000s when he was in charge at Rampart. Both were attempting to bridge racial and cultural gaps that led to the 1992 riots and had not seen much improvement since then.
Rice recalled being a reluctant partner. Beck had spent several years in CRASH, the infamous anti-gang unit that tarnished the Rampart name in a scandal involving more than a dozen officers and allegations of improper shootings, evidence planting and false arrests.
Beck met Rice at the door of Rampart station. After two hours of intense discussion, she set aside her skepticism.
"I said, 'What made you change? Where's that CRASH swagger?' " Rice recalled. "He said, 'Connie, when I was younger, I was too stupid to understand that search and destroy policing doesn't just destroy the community, it destroys yourself.' "
Rice watched Beck clean up MacArthur Park, not by arresting gang members but by convincing them to help with the effort, an achievement that to this day is featured prominently in Beck's official LAPD biography.
::
In 2009, then-Mayor Antonio Villaraigosa and Los Angeles Police Department Deputy Chief Charlie Beck are shown after announcement that Beck would become chief.
(Genaro Molina / Los Angeles Times)
LAPD Chief Charlie Beck thanks City Council members and other dignitaries after his swearing-in ceremony Dec. 2, 2009.
(Brian Vander Brug / Los Angeles Times)
Charlie Beck reads to third-graders Valeria Magana, left, Joshua Lopez and Kendra Taylor at 99th Street Elementary School in 2009.
(Irfan Khan / Los Angeles Times)
LAPD Chief Charlie Beck takes a phone call while visiting the Whilshire station in 2010.
(Wally Skalij / Los Angeles Times)
LAPD Chief Charlie Beck talks with officers at the Wilshire station in 2010.
(Wally Skalij / Los Angeles Times)
LAPD Chief Charlie Beck and fellow officers prepare for a team photo after a 2010 basketball game.
(Wally Skalij / Los Angeles Times)
LAPD Chief Charlie Beck, left, takes lessons from training officer Phillip Walters at the department's training facility in Granada Hills.
(Wally Skalij / Los Angeles Times)
LAPD Police Chief Charlie Beck delivers an American flag during the 2014 funeral for Officer Nicholas Lee.
(Allen J. Schaben / Los Angeles Times)
LAPD Chief Charlie Beck, left, and Mayor Eric Garcetti greet Edwin Lee Chapman, 96, the oldest surviving LAPD detective, in 2016, at the department's academy.
(Mel Melcon / Los Angeles Times)
LAPD Chief Charlie Beck hugs Sgt. Danielle Wells during a May 24 farewell visit to the Rampart Division, where he started his career in 1977.
(Allen J. Schaben / Los Angeles Times)
Beck was appointed chief in 2009. He was not initially among the Police Commission's top three candidates, but Rice and other power brokers who were advising then-Mayor Antonio Villaraigosa supported him.
"He's a cop with a heart," Villaraigosa said in a recent interview. "He's a man who wears his emotions on his sleeve. He really cares about people, and that's why he got into policing in the first place."
With Rice as an advisor, Beck established the Community Safety Partnership, assigning police officers to Jordan Downs, Nickerson Gardens and other housing developments, not to root out crime but to figure out what people needed, whether it was cleaning up an alley where drug users hung out or starting an after-school tutoring program.
LAPD officials credit the Community Safety Partnership with reducing homicides — Jordan Downs had a three-year stretch without a homicide — and improving the clearance rate for homicides to more than 80%. The program recently expanded to the Harvard Park neighborhood, which has been hit by a rash of killings.
Relationships between South L.A. residents and the LAPD improved under former Chief William J. Bratton, but Beck "took it over and just ran with it," said Perry Crouch, an Imperial Courts resident and member of the Watts Gang Task Force.
At one time, Crouch said, the LAPD would shut down public funeral gatherings, known as repasts, because of concerns that violence might break out. Under Beck, station captains work with community leaders like Crouch to plan the gatherings.
"Law enforcement worked hand in hand with us and under Charlie Beck gave us the tools and the permission to mourn and not be harassed," Crouch said.
::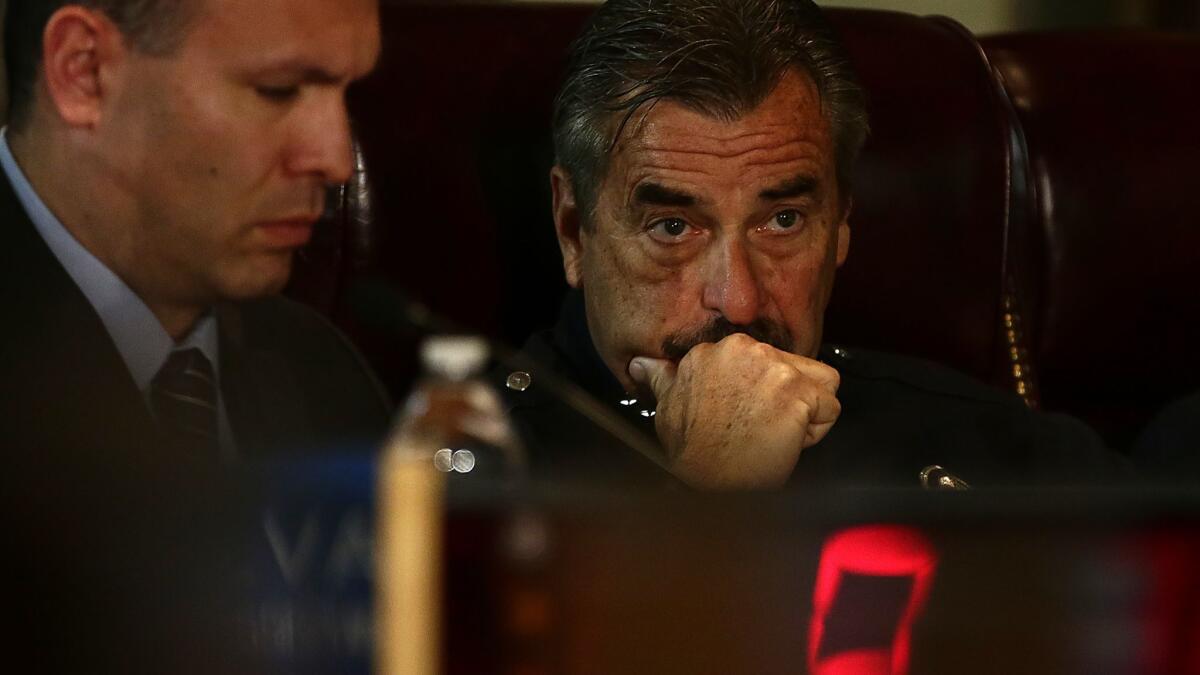 Meanwhile, Beck was turning his attention to the city's immigrant residents, some of whom are fearful of law enforcement because they are in the country illegally.
In 2011, Beck announced that some unlicensed drivers — who produce a vehicle registration and proof of insurance — could avoid having their cars impounded.
Beck then lobbied for a state law that would allow immigrants without papers to obtain driver's licenses. Angelica Salas, executive director of the Coalition for Humane Immigrant Rights of Los Angeles, said Beck's support was instrumental in the law's passage.
Beck also drew a line between the LAPD and immigration enforcement, saying he would not honor requests to hold suspects until they could be picked up by federal immigration officials.
That battle has intensified since Trump's election, with Beck assuring frightened immigrants that he will not work with federal authorities to deport people and encouraging them to report crimes and cooperate with criminal investigations.
"What we got from Beck was putting a lot of things into action," Salas said. "How is this going to happen in a practical way? That meant changing up policies, standing up to Trump, standing up nationally and saying good policing meant you had to include immigrants."
::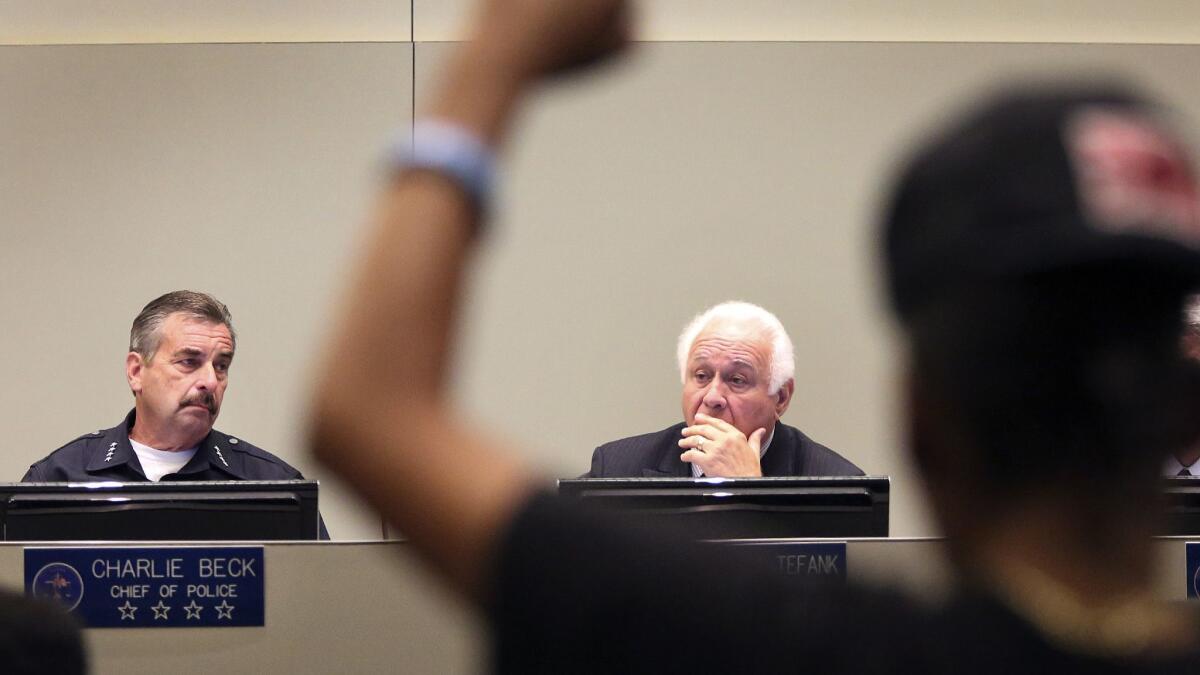 In his early years as chief, Beck dealt with budget shortfalls by making police officers take time off rather than collect overtime pay. Even with a depleted force, crime continued to decline.
But by 2014, Beck was in a precarious position with police commissioners, some of whom hesitated to recommend him for a second term, citing his approach to officer discipline, which they saw as inconsistent and sometimes too lenient.
Earlier that year, he declined to punish a group of officers involved in a controversial shooting and did not fire a well-connected cop who was caught making racist comments. Commissioners also criticized him for not communicating with them about important matters, including another racially charged incident in which a veteran detective was captured on an audio recording making offensive comments.
The accuracy of the LAPD's crime statistics was also called into question by a Times investigation showing that the department had underreported aggravated assaults.
Of all Beck's missteps, the one that has perhaps stuck with him the most involved his daughter Brandi Scimone's horse.
The Los Angeles Police Foundation, a nonprofit that donates money and equipment to the LAPD, purchased a 10-year-old quarter horse from Scimone, an officer in the LAPD's equestrian unit, for $6,000. The foundation then donated the horse to the department.
Beck initially said he was not involved in the transaction but backtracked after documents surfaced showing that he had approved it.
After Beck vowed to do better, the Police Commission voted 4-1 to reappoint him.
::
Beck's second term was defined by the intense public scrutiny on police use of force that followed the 2014 fatal shooting of Michael Brown in Ferguson, Mo.
As Black Lives Matter activists protested many LAPD shootings, police commissioners were asking the department to alter its training and policies. Officers began attending a new training course that used simulated encounters with suspects to show that less force, including bean bag shotguns and Tasers, could lead to better outcomes.
In April 2017, the commission made a major revision to the policy governing police officers' use of force, requiring them to take more time to let a charged situation unfold by backing off and talking to an individual "whenever it is safe and reasonable to do so."
At the same time, the LAPD was under pressure to increase transparency. In addition to equipping officers with body cameras, the department adopted one of the country's most liberal policies on releasing video footage from encounters in which a person is killed or seriously injured.
Police Commission President Steve Soboroff said Beck was responsive to his civilian bosses and willing to change his mind.
"Charlie implemented it. He's gotten us to where we are now," Soboroff said. "I don't think it's the 50-yard line. Reform is never ending. But Charlie moved us more than anybody else in the country could have."
The changes were not always popular with the rank and file. Nor was Beck's tendency to publicly criticize police officers he believed had made inexcusable errors.
He advocated for the criminal prosecution of the officer who shot Brendon Glenn, an unarmed homeless man in Venice Beach. And after a scandal threatened to derail the department's cadet program for local youths, Beck personally arrested the officer accused of having sex with a 15-year-old cadet.
The Venice encounter, captured on video, was among a number of controversial LAPD shootings of unarmed black men in recent years, including Ezell Ford in South L.A. and Charly "Africa" Keunang on skid row.
"To be able to navigate through all of those shootings and still have the trust of the police and a majority of the community, that's a testament to how good of a job he did," said Andy Smith, an LAPD veteran who is now police chief in Green Bay, Wis.
::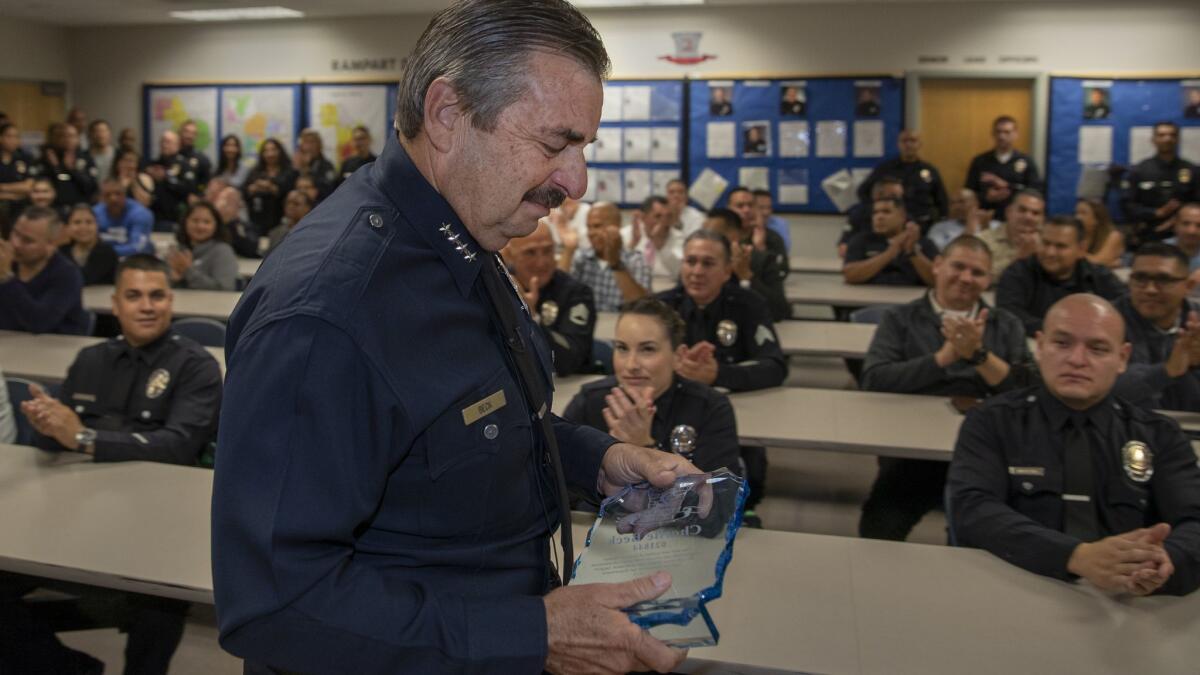 Returning to Rampart for that final time in May, Beck posed for a photo with Senior Lead Officer Victor Gutierrez, who has worked at the station for 24 years.
"Sometimes, we were like, 'We don't know if that can happen,' " Gutierrez said of Beck's time as Rampart captain. "He brought in the right people, listened to everybody and didn't just come in with his own ideas."
Beck's successor as police chief, Michel Moore, was also a captain in Rampart and was promoted by Beck to be the first assistant chief overseeing the department's patrol operations. Many view the appointment as a sign that the Police Commission and the mayor want the LAPD to continue on the path forged by Beck.
Capt. Jeff Nolte echoed what many high-ranking LAPD officers, who have worked with Beck for decades, say about him: He is the same man as chief that he was as a sergeant. Beck improved relationships with the city's minority residents while winning officers over to new ways of doing things, Nolte said.
"He stayed true to his values," Nolte said. "He believes in what cops do."
Times staff writer Joel Rubin and former Times staff writer Kate Mather contributed to this report.
For more news on the Los Angeles Police Department, follow me on Twitter: @cindychangLA
Sign up for Essential California for news, features and recommendations from the L.A. Times and beyond in your inbox six days a week.
You may occasionally receive promotional content from the Los Angeles Times.