Ben Agajanian, one-time L.A. Ram who changed placekicking, dies at 98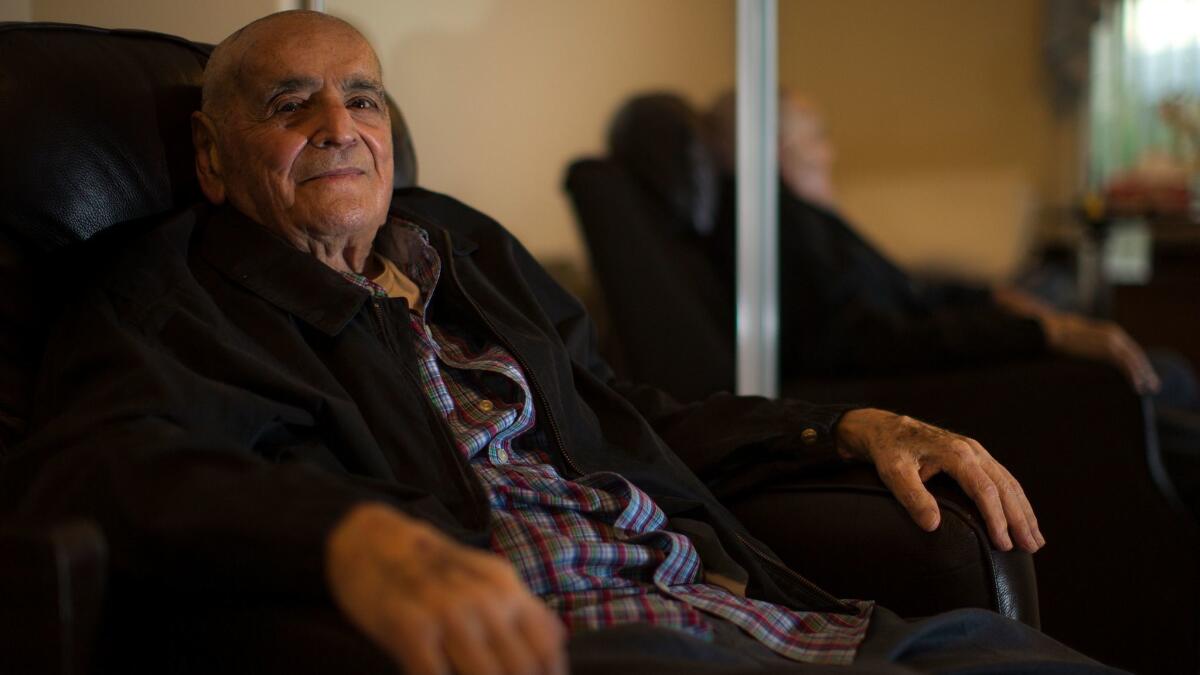 Ben Agajanian, who would become a Trivial Pursuit answer for his placekicking prowess, nearly saw his professional football career end before it started.
He lost four toes on his right foot in an industrial accident when he was a kicker for the University of New Mexico in 1941. All but his little toe were damaged beyond repair. Agajanian pleaded with doctors to shave down the nubs to the identical size so he could still kick. They did, and his storied football career was salvaged.
Agajanian, who had been the oldest living member of the Los Angeles Rams, died of natural causes Feb. 8 in Cathedral City. He was 98.
Billed as "Bootin' Ben the Toeless Wonder," Agajanian played 13 seasons for 10 franchises — including a year each with the Rams and Los Angeles Chargers. He was the kicker on two world championship teams, the 1956 New York Giants and 1961 Green Bay Packers.
In an interview with The Times' Bill Plaschke in 2016, Agajanian explained how the accident happened: He was working a summer job at a cola bottling plant, sitting on a barrel of syrup that was on a moving freight elevator. His dangling right foot smashed into a ledge.
The kicker wore a size 11 shoe on his left foot and a size 7½, squared-off boot on his right. Those shoes now reside in the Pro Football Hall of Fame.
"Lots of guys said I was cheating because I had the hard square toe," Agajanian told The Times. "I said, 'Well, you can do it too. If it helps you, why not?'"
Now that Trivial Pursuit board game question: Which professional football placekicker played for three different leagues? Agajanian played for the National Football League, the American Football League and the All-America Football Conference.
After his playing career, he spent 20 years as a special consultant for the Dallas Cowboys — a kicking coach with panache, an assistant coach who would pull up to practice in a Rolls-Royce.
Agajanian retired and then un-retired four times, finally calling it a career in 1964. He was the first kicker to insist that the football laces be turned outward. And as a Cowboys assistant, he developed the "Agajanian Two Step," the ritual of soccer-style kickers to take three steps backward and two to the side when lining up for a kick.
Born Aug. 28, 1919, Benjamin James Agajanian was the younger brother of famed auto racing owner and promoter J.C. Agajanian, who died in 1984.
According to Ben Agajanian's son, Lewis: "My dad told everybody from as far back as I can remember, 'I'm going to live until I'm 98 years old because that was my brother's race car number.'
"He lived to 98," Lewis Agajanian said. "I'm not saying he was a prophet, but that's pretty amazing."
In his golden years, Ben Agajanian turned his attention to playing cards and became a world-class gin rummy player, regularly competing in international tournaments. His favorite hangout was the Petroleum Club in Long Beach, where his family plans to host a private memorial service.
"When people wanted to play cards with my dad," Lewis said, "I told them to keep their lunch money in their shoe."
In addition to his son, Agajanian is survived by his daughters, Lynne and Lori, 10 grandchildren and 11 great-grandchildren. He was preceded in death by his wife of 49 years, Arleen, and their eldest son, Larry.
Twitter: @LATimesfarmer
Sign up for Essential California for news, features and recommendations from the L.A. Times and beyond in your inbox six days a week.
You may occasionally receive promotional content from the Los Angeles Times.