Column: Ben Agajanian, the oldest living Los Angeles Ram at 96, gets a real kick out of their return to L.A.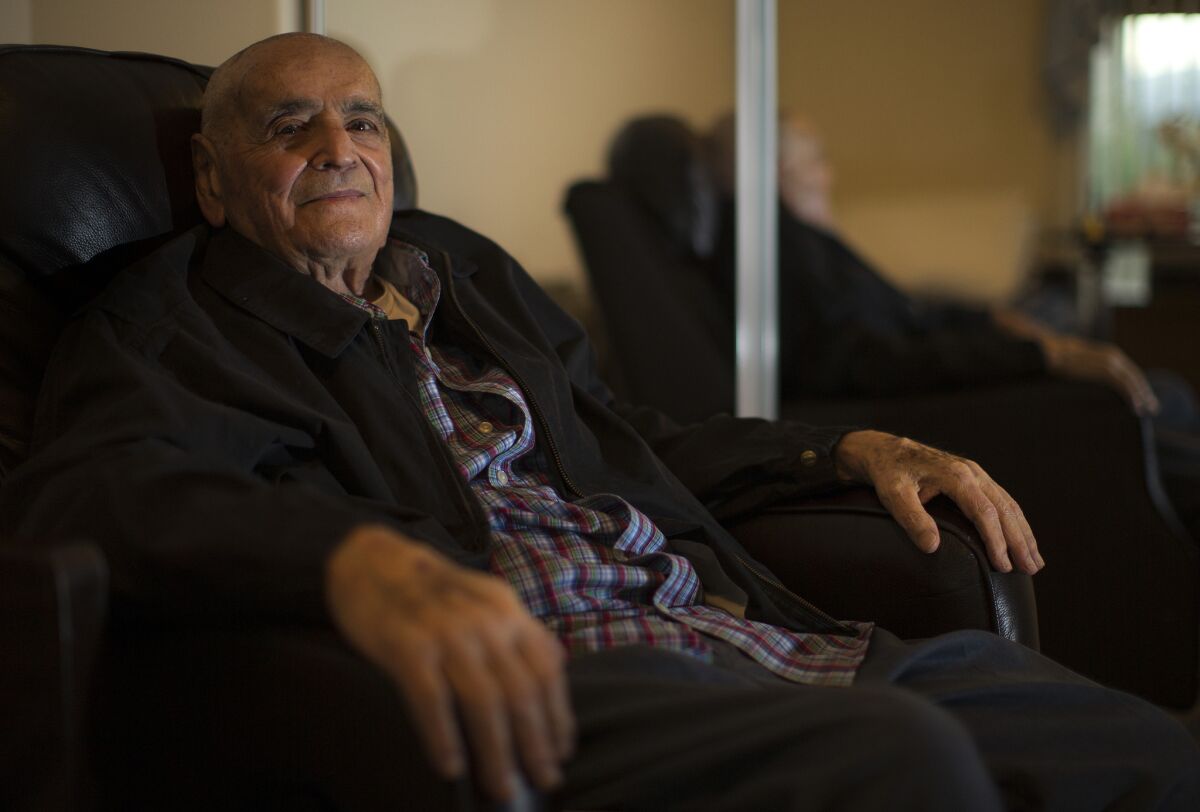 There is sand blowing outside his corner bedroom window. There are tumbleweeds dancing across the vacant lot next door.
Even while living a life of quiet remoteness in an assisted-living home at the end of a desert cul-de-sac in Cathedral City southeast of Palm Springs, Ben Agajanian, 96, constantly sees the earth shifting around him.
Yet it's about to churn in ways he can't even imagine.
See the most-read stories in Sports this hour>>
He hasn't caught the news in the last couple of days, there are no NFL fans in his modest stucco house, and most football folks outside of here have no idea he's still alive or how to find him. So he doesn't know. It's been three days since the announcement, but the oldest living Los Angeles Ram still doesn't know.
Upon meeting him Friday afternoon, a visitor feels humbly compelled to tell him.
After 21 years, his home team is coming home.
"Are they?" he says.
His eyes widen. He reflexively kicks up his famous right foot, the one missing four toes yet still strong enough to have kicked 10 field goals for the Rams in 1953.
"Are they going to play in the Coliseum?" he says.
His grin widens. His eyes shine. He moves to the edge of his bedroom recliner and leans out as if waiting for a parade. This must be what it looks like when a lost legacy has been found.
"Well, I'll be damned," he says.
::
Ben Agajanian was with the Rams only one season, but he was a Southern California kid who epitomized their Hollywood drama and Southern California cool.
"Bootin' Ben, the Toeless Wonder," they called him.
He didn't much like the second part of that nickname but, after losing four toes in an industrial accident during college and ordering the doctors to shave down the nubs to an identical size so he could still kick, he knows he had no gripe.
"You don't have your toes, so you can't say nothing," he says. "They call you 'Toeless?' Sure."
Ben Agajanian is the oldest living Los Angeles Rams and Charges player. As a kicker, he had a long career. He tells L.A. Time sports columnist Bill Plaschke about the pressure of playing in L.A.
Using a special squared-off shoe — the right shoe was size 7 1/2, the left shoe was size 11 — Agajanian became pro football's first true kicking specialist, and one of its first true characters.
"Lot of guys said I was cheating because I had the hard square toe," he recalls. "I said, 'Well, you can do it too. If it helps you, why not?'"
Playing for 10 different teams in three leagues over 13 seasons, he was a lovable nomad who, much to the dismay of his teammates, became the first player to steal the headlines with one swipe of the foot.
"Guys wouldn't like the fact I would jog in, jog out, and get all the publicity," he says. "They would get their nose broken and their head busted in . . . yet I'd be the one in the paper."
Oh, how the newspapers loved him. When he was signed by the Rams for the 1953 season, the news appeared under a bold two-deck headline with a large photo and 10-paragraph story, stunning for a guy who was not Norm Van Brocklin or Elroy Hirsch.
"There is room on my club for a specialist who can hit field goals from 50 yards with any consistency," announced then-Rams coach Hampton Pool.
That was the least of Agajanian's talents. Typical of the flashy Rams of that era, he had an uncanny ability to find the spotlight in the most unusual ways.
He felt that the art of kicking was so underappreciated, his jersey was always No. 3 to remind people exactly why he was there.
"Three points in a field goal, right?" he recalls.
He was such a single-minded kicker, he was once photographed standing on the sideline while the kick returner was still running upfield.
"I'm paid to kick, not tackle," he said at the time.
He retired four times and changed his mind four times. Kickers were considered even more disposable than they are today, and so he would get cut, or quit, then come back, again and again.
"Coaches didn't feel kicking was that damned important, and I would say, 'Fine, you don't want me, tell me, I'll go somewhere else," he says. "Well, they would tell me."
After one of those sabbaticals, he became the first and only kicker in the history of the Los Angeles Chargers in 1960 after their coach, Sid Gillman, pulled him out of the bleachers during training camp and said, "Hey old man, can you still kick?"
Today Agajanian sighs and says, "Somebody says they want you, that's the greatest thing in life. Once anyone wanted me, that's it, it doesn't matter how much they paid me, I would be there."
Sure enough, during the middle of the 1962 season, during contract negotiations with the Oakland Raiders, he blurted out, "Aw, hell, I'll just play for nothing." So they offered him nothing. And he accepted their offer. He played six games, living in the Long Beach area the entire time, joining the team every week just prior to kickoff, kicking the most inexpensive five field goals in the history of professional football.
"The Rams were Showtime before Showtime, and Ben Agajanian was part of that group," said Pete Donovan, longtime Rams publicity director and curator of the living museum of former Los Angeles Rams. "He's an amazing story."
The story continued after his retirement following the 1964 season when he molded himself into arguably the father of modern placekicking. He was the first kicker to insist on turning the laces outward. Even though he was a straight-on kicker, he came up with the idea of soccer-style kickers taking three steps back and two steps over before attempting their kicks. Working out of his Long Beach home, he eventually became a kicking coach for everyone from Southern California kids to the Dallas Cowboys, and supplied UCLA with its kickers for nearly two decades.
"Nobody knew more about the kicking game and kickers than Ben Agajanian," said former Bruins coach Terry Donahue. "So many times, I would just wait for him to tell me who would be kicking for me."
Yet , like the many bigger stars in the Rams' 49-year history here — guys like Jackie Slater and Jack Youngblood and Eric Dickerson — his impact has been lost.
While his kicking shoe is in the Pro Football Hall of Fame, he is not, partially because he has had no real home team to lobby for him.
"That is his one regret, his one last dying wish, and it's not going to happen," said daughter Lori Hinkle.
While he is remembered in New York as the oldest living Giant and a member of their 1956 championship team, Agajanian has spent the last 21 years in Southern California football anonymity, known mostly for his ownership of more than 50 racehorses.
"People forget, but that's good," he says. "Because I also forget."
It is the same attitude that helped him survive the loss of his toes in 1941 during a summer job at a Coca-Cola plant while kicking for the University of New Mexico. He says he was sitting on a barrel of syrup on a moving freight elevator when his dangling right foot smashed into a ledge. All but the little toe were irreparably damaged. He hopped into the hospital emergency room and immediately pleaded with doctors to save not only his life, but his football career.
"They had to amputate the toes, which meant that little toe would be sticking out, and that meant I couldn't kick anymore," he recalls. "So I asked the doctor if he could shave all the amputated toes down to the same size."
He returned to football with his shoe stuffed with socks and newspapers, but all he got was blood and numbness. So he contracted a shoemaker to make the same sort of shoe that was eventually worn by kicking legend Tom Dempsey, and it worked.
"I kicked better without the toes than with the toes," he says.
He kicked his first NFL field goal with the Pittsburgh Steelers in 1945 with his arm in a sling because he had broken it while playing as a lineman. After that, he became strictly a kicker, and established himself with a record 53-yard field goal in 1947 for the Los Angeles Dons of the All-America Football Conference, which lasted four seasons, cementing that record forever.
"Looking back now, it doesn't matter how you did, whether you were the best or whatever," he says. "The thing is, you were there, and you competed, and you played."
He was never happier than when playing for the Rams.
"L.A. was the biggest football town in the country, to come out on the Coliseum field and see 90,000 people in the stands was really something," he says. "The Rams were a great team and the city was a great spot and it's hard to believe they have been gone for so long."
Now that they're back, like hundreds of other Rams players, Agajanian is back.
"The bridge to generations of great football players has been rebuilt, legacies have been reborn," Donovan said. "Ben is now more than just an old guy living in Cathedral City. He's a former kicker for the Los Angeles Rams."
He gets around with the help of a walker these days, and doesn't stray far beyond his kitchen table, where he plays gin rummy a couple of times a week. Some pieces of his memorabilia have been stolen over the years, so the majority of his tangible memories are now being held for safe keeping by three children and other relatives. The only indication in his home that he ever played football can be found in a smattering of photos in his room, which include images of Tom Fears and Tom Landry and a young Agajanian kicking for the Dons.
"I think because he's so isolated, and away from a lot of people who would recognize him, it's easy for him to be forgotten, which is why the Rams' coming back to town is so great," said Shawn McEachern, his grandson. "His football days are what he lives for, he loves to reminisce and talk about things he's done."
And now, the things he's going to do. Ben Agajanian claims he can still kick — "Just have to find a ball and a tee" — and why not? His home team is coming home and the possibilities are endless.
"I'll be damned," says the oldest living Ram. "It's been a long time."
Follow Bill Plaschke on Twitter: @billplaschke
---
Get our high school sports newsletter
Prep Rally is devoted to the SoCal high school sports experience, bringing you scores, stories and a behind-the-scenes look at what makes prep sports so popular.
You may occasionally receive promotional content from the Los Angeles Times.