Report that friendly fire killed sergeant adds another layer of tragedy to Thousand Oaks shooting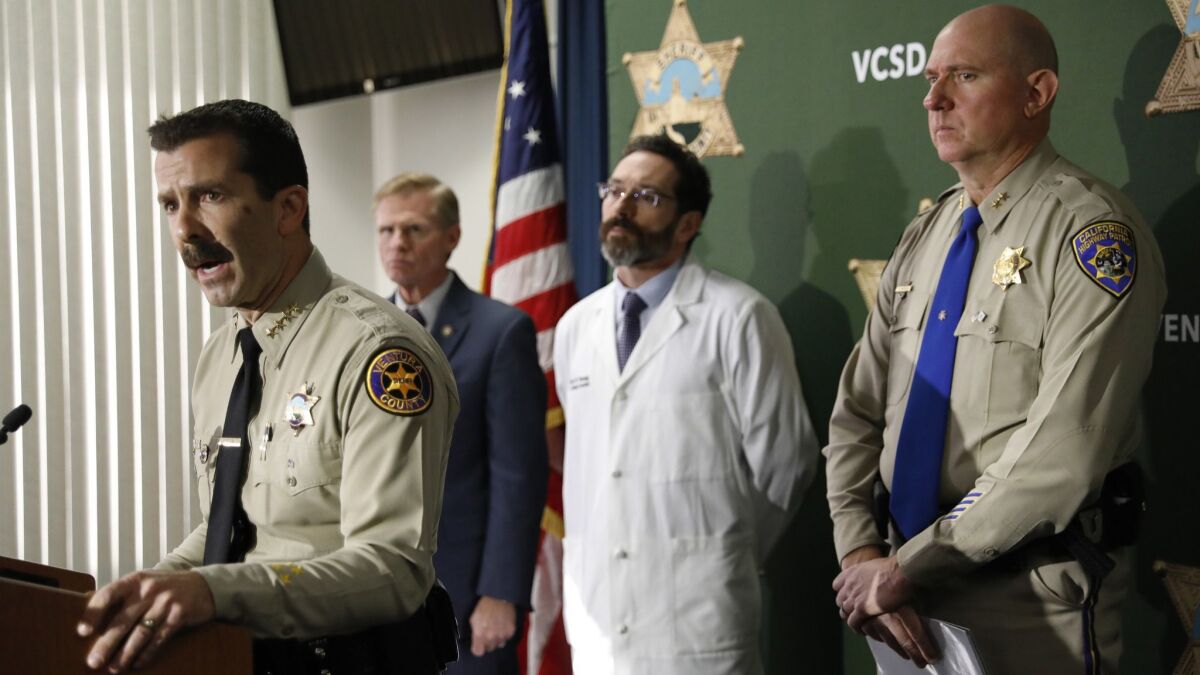 Minutes after a gunman fired shots in Borderline Bar and Grill, Sgt. Ron Helus arrived outside the Thousand Oaks restaurant, ready to rush in.
Patrons smashed windows to escape, injured and bloody. They raced through a parking lot as they fled the bar, where 28-year-old Ian Long had just killed several people.
Outside, Helus joined a California Highway Patrol officer who had also come to help. When the men heard the boom of gunshots coming from inside the doors, they ran in together.
The pair were ambushed by Long, who struck Helus with five bullets, authorities say.
But amid the commotion, the sergeant was also hit by a sixth bullet that punctured his heart, authorities revealed Friday. That bullet was fired by the CHP officer in what was likely an accident, officials said.
"Tragically, that bullet struck vital organs and was fatal," Ventura County Sheriff Bill Ayub told reporters.
In a somber news conference Friday, officials shared the latest developments from the investigation into the Borderline shooting, which left 12 people and the gunman dead. The update came on the one-month anniversary of the massacre and provided the clearest picture yet of what transpired in the bar that chaotic night.
The news of the sixth bullet adds another layer of tragedy to an incident that has already rattled Thousand Oaks, a suburban community just northwest of Los Angeles. The friendly fire also raises questions about how prepared officers are to charge into mass shooting scenes.
About 11:20 p.m. Nov. 7, the crack of gunfire echoed through Borderline as Long fired a .45-caliber Glock handgun. He also tossed smoke bombs that contributed to the chaos.
Helus, 54, was on the phone with his wife when those first shots were fired.
"I gotta go handle a call. I love you. I'll talk to you later," he told Karen, his wife of 29 years.
Helus and the CHP officer, the first law enforcement officials to respond to the shooting, exchanged gunfire with Long when they entered the bar. But officials said neither hit Long, who was a former U.S. Marine machine-gunner.
Helus sustained multiple gunshot wounds, and the CHP officer dragged him out of the building and from the line of fire. The 29-year veteran of the Ventura County Sheriff's Office was later pronounced dead.
Ventura County Medical Examiner Christopher Young said Friday that the five bullet wounds from Long's pistol caused "serious injuries, but potentially survivable injuries."
Forensic analysis revealed that the bullet surgeons pulled from Helus' heart was shot from a rifle, officials said. The officers were both carrying rifles.
"This is sad news and a tragedy, but ultimately this was the most severe injury sustained," Young said.
Young said two of the six bullets that struck Helus hit his protective vest — but near the edge, making the armor less effective.
He would not say whether the bullet fired by the CHP officer hit Helus from the front or the back. Helus was positioned between Long and the officer when he entered the bar, authorities said. L.D. Maples, chief of the CHP's Coastal Division, said the round was "targeted toward the suspect."
Ayub said officials were investigating whether the gun misfired or the officer mistook Helus for Long. He emphasized that the update in "no way diminishes the heroic actions both men exhibited at the Borderline" and that all blame for the violence that night lies with Long.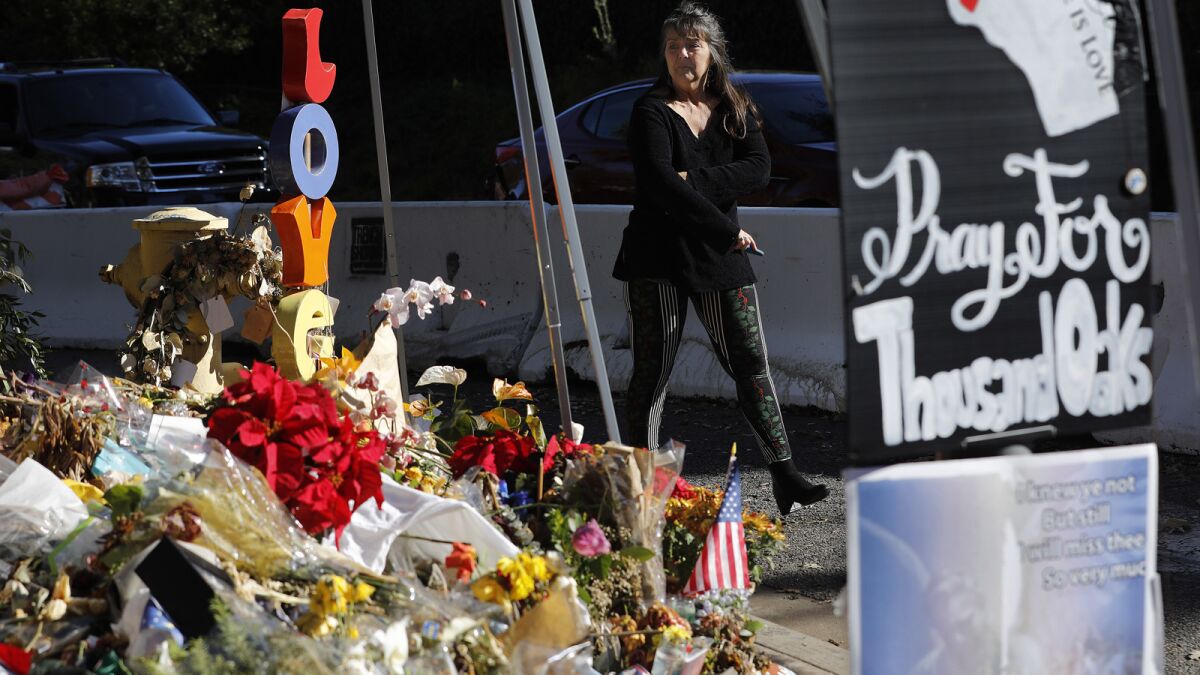 "Both Sgt. Helus and the CHP officer knowingly and willingly went into what can only be described as a combat situation, risking their own lives to save many others," Ayub said. "It is a fact that many lives were saved that night."
Long did not fire any more bullets after his exchange with the officers, other than one that he used to take his own life. He was later found inside the bar with a single gunshot wound to the head, which an autopsy confirmed he fired himself.
Other than Helus, no one else who died was hit by friendly fire, officials said.
Maples said he informed the officer Thursday that the bullet from his rifle had fatally struck Helus. The officer was devastated, he said.
The nine-year veteran of the CHP, who has a military background, is taking some voluntary time off. His name has not been released.
"The mere thought of something like this happening is devastating to all of us who are sworn to protect and save lives," said Maples, his expression grim.
Officials said they did not know whether the officer and Helus previously knew each other.
The Thousand Oaks shooting, one of the deadliest in modern American history, came just 11 days after another mass shooting at a synagogue in Pittsburgh. A year earlier was the deadliest mass shooting in modern U.S. history, at a music festival in Las Vegas.
When asked by a reporter whether all law enforcement should receive SWAT-style training to respond to active shooter situations, Ayub said he believes what happened was not preventable.
"It was just a tragic detail that unfolded so rapidly. In my view, it was unavoidable," he said. "It was just a horrific scene that the two men encountered inside the bar."
Ayub said sheriff's deputies are trained to respond to active shooter situations, but he could not recall a joint training with CHP. He said that with the large number of agencies that responded to the Borderline shooting — and that in general respond to such events — it was unrealistic to do joint training with every agency.
The news delivers a painful blow to the local law enforcement community, which has been working together to respond to the shooting and fires in the region.
CHP Commissioner Warren Stanley said the agency was "profoundly saddened" to learn of the new developments and extended condolences to Helus' family, friends and colleagues.
The news "underscores the difficult and dangerous circumstances law enforcement faces, often with only mere seconds to react," he said.
Helus' funeral last month drew several thousand people, most of them officers in uniform. He is the first Ventura County sheriff's officer to die in Thousand Oaks, which contracts with the agency for police services.
The Thousand Oaks City Council is looking into creating a memorial visible on the 101 Freeway to honor him as well as renaming a street near the bar after him.
"We've named streets and buildings after other folks in town who've contributed a lot to this community but certainly didn't give their life," said Thousand Oaks Mayor Andy Fox at a recent council meeting.
On Friday, at a makeshift memorial near the bar, flowers were piled high in front of a picture of Helus. Someone scrawled on the sidewalk: "You are a hero. Thank you for your bravery."
Times staff writers Hannah Fry, Richard Winton, Brittny Mejia, Andrea Castillo and Corina Knoll contributed to this report.
soumya.karlamangla@latimes.com
Twitter: @skarlamangla
The stories shaping California
Get up to speed with our Essential California newsletter, sent six days a week.
You may occasionally receive promotional content from the Los Angeles Times.