Boys will be boys? Gender-neutral Scouting sparks debate within Boy Scouts as well as Girl Scouts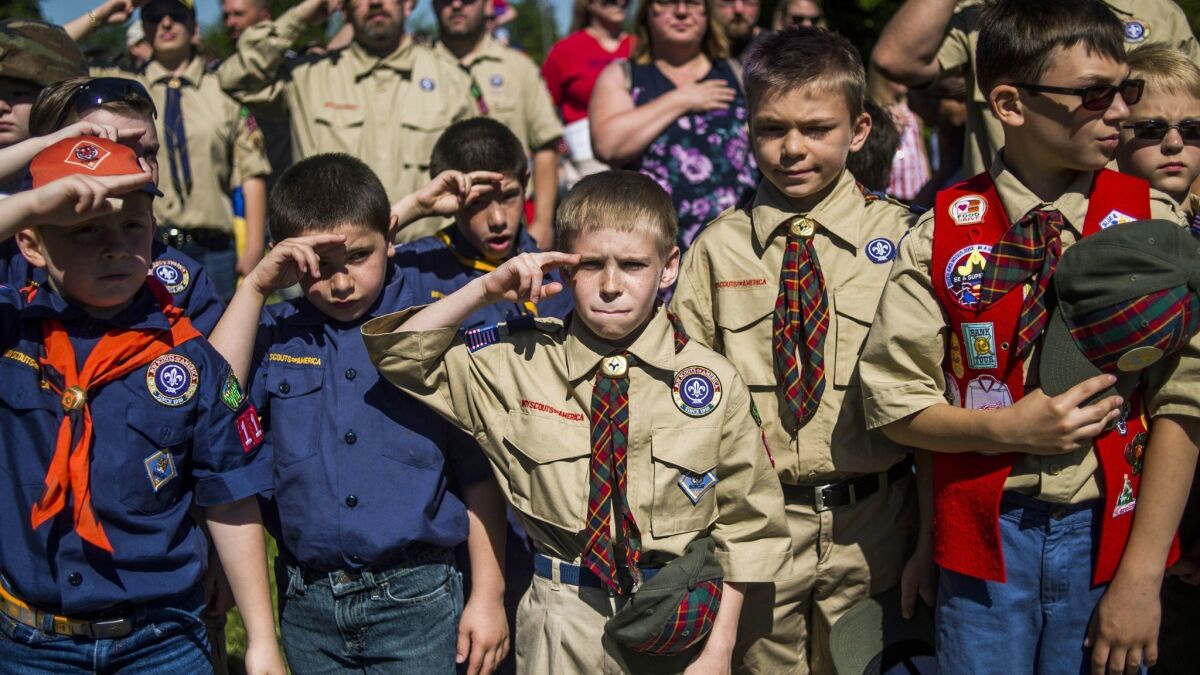 Julia Horowitz joined the Girl Scouts when she was 6 or 7. She sold cookies, of course, but also took part in crafts and community cleanups.
The Beverly Hills teenager liked some of the activities but said it bothered her that there were not more of the outdoor endeavors offered by the Boy Scouts, such as survival lessons.
"I like going outside and doing things in nature and learning how to defend myself rather than sitting inside and drawing," she said.
The gender barrier that for generations divided Scouting is slowly fading away, generating both cheers and concerns from within the organization and the Girl Scouts.
The Boy Scouts of America announced plans on Wednesday to change the name of its signature program for older youth, Boy Scouts, to the gender-neutral Scouts BSA.
The name is part of a rebranding effort to reflect the group's historic decision last year to accept girls. Since then, 3,000 girls have joined Cub Scouts, the program for younger children. Starting in 2019, the organization plans to admit female members to Scouts BSA, which would offer girls the chance to attain the rank of Eagle Scout.
The name change is the latest piece of a culture shift within the storied organization, which in recent years has lifted its ban on gay and transgender members after years of debate. It comes as Scouting has seen a decline in participation, something officials hope the modernization effort will reverse.
To some, this is all long overdue, the century-old Scouts catching up with changes in society.
"This change will allow local troops to decide the best approach for them and will eventually allow girls to earn the rank of Eagle Scout," Zach Wahls, an Eagle Scout who co-founded the group Scouts for Equality, said in a statement.
But there remain doubters.
Noah Blumofe, a West L.A. podiatrist who founded a Girl Scout troop and also has a son in Boy Scouts, said he disapproved of the Boy Scouts' decision to accept girls.
"Our society is making it so that boys can no longer be boys," he said. "While Girl Scouts don't accept boys, Boy Scouts are now accepting girls. It's somewhat hypocritical."
Stacie Davis, a Girl Scout troop leader for six years since her daughter, Jordan, entered Scouting in kindergarten, said she is "shocked — absolutely shocked."
"I think it can destroy the organization," the Laguna Niguel mother said. "Boys need to be around boys. Girls need to be around girls, developing friendships, making memories."
Davis cited as an example her troop's recent field trip to Santa Catalina Island to celebrate members' upcoming elementary school graduation. She challenged her Scouts to finish a rigorous mountain hike, overcoming thorny cactus and a really tough climb.
"They were so mad at me," she said. "But they pushed through and the view was simply gorgeous. They proved to themselves that as girls, they could achieve."
Marydale Leonard, a Laguna Niguel mother whose daughter, Gracie, joined the Girl Scouts back in second grade, said she heard about the name change a week ago. "Why confuse the girls with these options?" she asked. "There are enough things that are inclusive. Kids need to have some time to themselves and not to worry about how they look or how they act,. Boys and girls have different strengths, thoughts and dreams."
Others see the name change as a push for relevance — and membership — as it competes with Girl Scouts of the USA's all-girl market share.
The name change accompanies a new advertising campaign, called "Scout Me In," that puts girls front and center. In October, the Boy Scouts group announced it would allow girls to join its Cub Scouts program.
"As we enter a new era for our organization, it is important that all youth can see themselves in Scouting in every way possible," Michael Surbaugh, Chief Scout Executive of the Boy Scouts of America, said in a statement.
The arrival of Scouts BSA, however, does not mean that the organization is abandoning gender-segregated Scouting. The program will allow girls to participate and earn the same awards as boys, but they will still be separated by gender.
"It sounds like they're starting a Girl Scouts," said Kathryn Kolbert, director of the Athena Center for Leadership Studies, a program at Barnard College, a women's college in New York City. Kolbert has worked with Girl Scouts on some joint programming with Barnard. "To me this is just an act of desperation by an organization which has historically been extraordinarily discriminatory and is now facing the consequences."
Those consequences, Kolbert said, are smaller pools of interested children. Both Girl Scouts and Boy Scouts are struggling to retain and grow their membership.
Today, the Girl Scouts says it has 1.8 million members nationally and that participation has been falling steadily over the past decade. However, officials at the organization pointed out that the losses have become less severe, suggesting that membership could be stabilizing.
The Boy Scouts boast of membership of 2.3 million "youth members" — no longer just boys — but figures from its annual reports indicate that it has shrunk by about 300,000 members since 2012. There have also been reports of Scout councils having to sell their campgrounds.
The Girl Scouts said the group would respond to the change by redoubling its promotion and recruitment efforts.
"We do what we do very well. They [Boy Scouts] are now just added to our list of competitors for kids' time," said Girl Scouts of Greater Los Angeles marketing and advocacy director Kenya Yarbrough. "With the market confusion that they're relying on, they're looking at us to give them the answers."
In greater Los Angeles, Girl Scouts has increased membership over the last four years by about 5%, according to the group's own figures. This, despite declining birthrates and increasing gentrification, which has forced some families to relocate to the fringes of L.A. County.
The demographics have changed, too. Whereas the Girl Scouts in L.A. were majority white in 2014, by 2017 the organization was 39% white.
Some Boy Scouts stalwarts said they see the recent changes as a sad departure from tradition. One Scout leader in L.A. County, who agreed to speak to The Times on the condition that he remain unnamed, said he opposed the change but feared sharing that opinion publicly. Doing so could bring too much "blowback," he said.
Staff writer Anna M. Phillips contributed reporting.
---
The stories shaping California
Get up to speed with our Essential California newsletter, sent six days a week.
You may occasionally receive promotional content from the Los Angeles Times.