Caltrans offers plans, but little reassurance, to reduce Coronado bridge suicides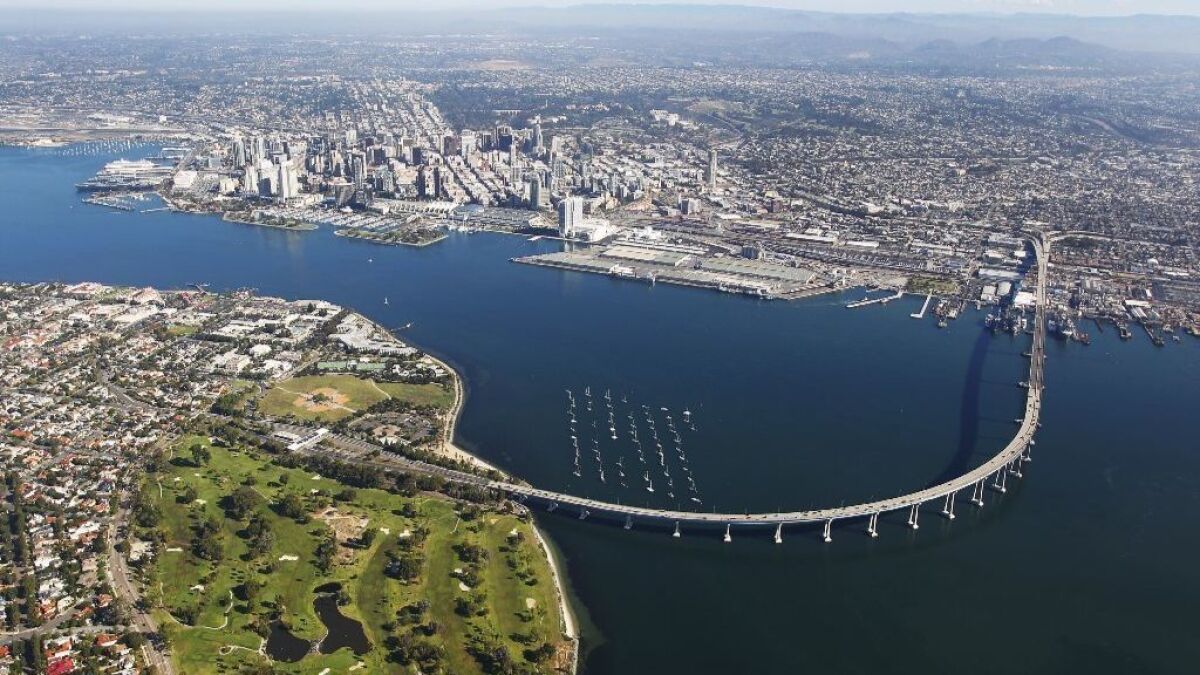 The San Diego-Coronado Bridge is among the deadliest spans in America for suicides.
Only the Golden Gate Bridge has regularly seen more people plunge to their death in recent years, and there officials are in the process of installing a net below its deck to deter would-be jumpers at a cost of roughly $204 million.
State transportation officials released a long-anticipated report outlining several prototypes intended to prevent or dissuade people from jumping off the Coronado bridge, including fencing, transparent barriers and netting.
The community of Coronado now hopes that one of the envisioned projects will soon stem the carnage that has claimed more than 400 lives in the bridge's roughly 50-year history — including 98 in the last six years.
However, while none of the proposals would take more than about two years to construct, authorities on Thursday emphasized that funding for design and construction was far from guaranteed.
Asked if the bridge would likely see a suicide-prevention alternative selected and built within the next decade, Division Chief for Caltrans District 11 Marcelo Peinado offered little reassurance.
"I just can't say," he said. "Think about the cost. These are weighty decisions."
The projected price tags in the recently released study range from $5 million for a short "thistle" barrier of hard plastic or metal spikes along the bridge's railing to $137 million for a transparent glass or plexiglass barrier.
Caltrans plans to select a handful of alternatives by this time next year to undergo environmental analysis. After that, state and federal funding would need to start rolling in to keep the process moving.
Local advocates for suicide prevention remain optimistic, hoping that efforts on the Golden Gate Bridge will provide a blueprint going forward. Roughly 40% of the funding for that project is coming from state coffers, with local public dollars and private donations making up the rest.
"They paved the way," said Rhonda Haiston, founder of Bridge Collaborative for Suicide Prevention. "It's an astounding amount of money they secured for their project. If they were able to do that, there's no way we will not be successful down here."
With limited funding in California available for mental health projects, elected officials have started looking to transportation funding, making the case that such projects are needed to ensure a free flow of traffic.
The 2-mile-long bridge serves about 83,000 vehicles a day, according to the Caltrans report. State Route 75 along the Silver Strand is the only other way on or off the peninsula.
Suicide attempts on the Coronado bridge can close it for hours as law enforcement crisis teams try to talk down a potential jumper, said Coronado Mayor Richard Bailey. "Most people don't actually jump, and the bridge gets shut down in both directions. Let's improve traffic efficiency by preventing suicides."
While this approach could help tap into more readily available public money, Bailey said his ultimate goal is ending the suicides.
"I know personally a couple individuals who have taken their lives on the bridge," he said. "I feel a moral obligation to prevent that where possible."
The suicides have for years deeply scarred the community, according to local residents. Last summer, for example, many mourned the loss of 49-year-old Susan Ahern, an active member in the community and St. Paul's Methodist Church. Her Facebook page is filled with tearful and loving messages posted as recently as March.
"We witness people taking their own lives," said Wayne Strickland, a retired Coronado firefighter who is president of the Bridge Collaborative for Suicide Prevention. "You see the abandoned cars. You see people looking over the side. A lot of times, people try to stop someone, and their life's in peril also."
Caltrans agreed to study the suicide-prevention alternatives after state Sen. Ben Hueso (D-San Diego) introduced legislation in February 2017 that would have required the agency report to the Legislature on such efforts.
The proposed law came after a man drove a pickup truck into the bridge's retaining wall and landed in Chicano Park, located about 60 feet below a section of the bridge suspended over Barrio Logan in the city of San Diego. Four people were killed and nine others injured as a result of the crash.
It's thought that some of the designs being proposed could have prevented the vehicle from toppling off the bridge.
"The safety of residents and visitors traveling on the bridge, and those who gather below it in Chicano Park, is of the utmost importance," Hueso said in an email. "Once we complete the final study, locating the funds will be my biggest priority."
Asked about the timing of its study, Caltrans said it was responding to public pressure.
"It was just the right time," said Peinado. "There was a little more coming from the community, a louder cry for doing something."
Beyond funding, suicide-prevention barriers often face opposition from residents concerned about obstructed views and aesthetic changes. Caltrans' feasibility study takes these concerns into account, and while the agency will make the final decision on which prototype to embrace, the agency plans to base its selection heavily on comments from the public in coming months and years.
Another option being considered would be to simply augment existing non-physical measures such as signs for a suicide counseling hotline, video monitoring and telephones or push-button intercoms.
According to the National Suicide Prevention Lifeline physical barriers are the most effective way to prevent bridge suicides.
Opposition to such projects is often rooted in the idea that people who are intent on dying will find other means, said Mark Sinyor, a professor in the department of psychiatry at the University of Toronto who specializes in issues around suicide.
"In fact, we know that suicidal crises are often fleeting and that removing a common means of suicide through an intervention like a bridge barrier is one of the most evidenced-based strategies for suicide prevention," he said.
The anti-suicide design for the Golden Gate Bridge was debated for decades. Those living in the shadow of the Coronado bridge are eager to move much more swiftly.
Smith writes for the San Diego Union-Tribune.
The stories shaping California
Get up to speed with our Essential California newsletter, sent six days a week.
You may occasionally receive promotional content from the Los Angeles Times.