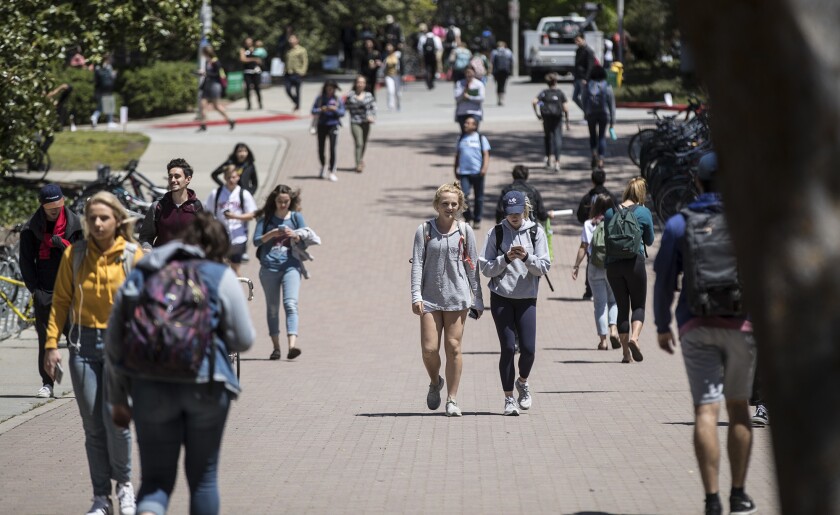 Cal Poly San Luis Obispo officials have asked the state attorney general's office to investigate after a new photo of a white student in blackface surfaced on a fraternity group's private Snapchat.
"I am outraged," Cal Poly President Jeffrey D. Armstrong said in a video address Friday to the campus. "These vile and absolutely unacceptable acts cannot continue. We must not allow these acts to define us as an institution."
Armstrong said the latest photo was intended to imitate an incident last month in which a white member of the Lambda Chi Alpha fraternity was photographed at a party wearing blackface.
Others at the party, which took place during a Cal Poly multicultural weekend celebration, were photographed wearing baggy jeans, fake tattoos and gold chains while flashing gang signs.
Photos also emerged of a party earlier this year at which members of the Sigma Nu fraternity wore ribbed tank tops and gold chains, with an accompanying caption on social media that referred to "la familia."
The frat-party photos caused an uproar — and sparked an ongoing discussion about the treatment of minority students — on the the predominantly white campus, where less than 1% of students are African American.
Cal Poly is the least diverse of the 23 California State University schools, with a student body that was 54.8% white in fall 2017, system data show. Cal State campuses are 23.5% white overall.
Cal Poly also has a higher percentage of white students than all 10 University of California campuses.
In his video address Friday, Armstrong sought to reassure the campus community.
"To all students, faculty and staff, regardless of your race, religion, ethnicity, gender, sexual orientation, I want you to know that we care about you," he said. "To those who are Muslim, Jewish, Christian, other beliefs or no belief, please know that our campus is for you. It is for all Cal Poly students."
Not all were receptive.
Iliana Salas, president of the Hispanic Business Student Assn., said Armstrong's message struck her as little more than an empty apology.
"It's like, 'We're sorry, but we're not going to do anything about it,' " she said, adding that she thinks students involved in the earlier racially charged photos should have been expelled.
Cal Poly officials said at the time that the students were protected by their constitutional right to free speech and could not be expelled.
Salas said she was not surprised that another blackface incident had occurred. Many on campus still refuse to think there was anything wrong about it, she said.
"Even after that first blackface incident, I heard remarks from people who just didn't see the problem with it," she said.
Last month, citing the racially charged incidents and referring to earlier problems involving hazing, sexual assault and the alcohol-related death of a freshman in 2008, Cal Poly officials announced an indefinite suspension of all Panhellenic sororities and Interfraternity Council fraternities.
The latest blackface photo, which was not made public, was brought to campus officials' attention by other fraternity members as "an act of accountability," Armstrong said.
Cal Poly officials did not identify the student in the latest photograph or his fraternity affiliation, citing the attorney general's probe. It will determine whether the incidents violate Cal State policy on discrimination and harassment.
"This incident, the entire Lambda Chi incident, as well as reports from several other fraternities and sororities, has been turned over to the California attorney general for investigation," Armstrong said. "We will report the results as permissible by law once the investigation is complete."
Twitter: @kchristensenLAT
Times staff writer Hailey Branson-Potts contributed to this report.
---