Cal State trustees grapple with boosting graduation rates and enrollment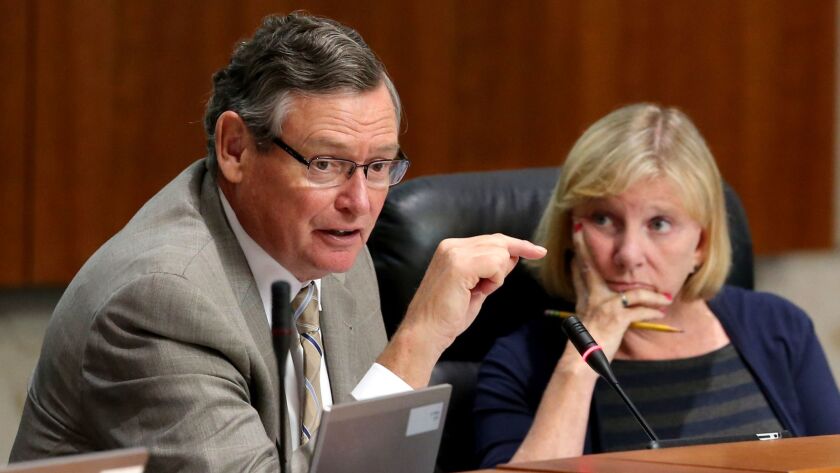 About 31,000 fully qualified students were turned away from California State University for the fall term because their desired school was at capacity, administrators told trustees during a meeting Tuesday as they discussed budget challenges and new directives to increase enrollment at the largest public university system in the nation.
Although Cal State has made room for an additional 30,000 students since 2013, administrators said, the number of eligible applications continues to outpace the amount of funding provided by the state. After months of lobbying by faculty, students and staff, Gov. Jerry Brown last month signed off on a $20-million boost dedicated to increasing enrollment by about 3,000 students across the 23-campus system.
The number of qualified students seeking a spot at Cal State is expected to grow in the years ahead — particularly as the state's community colleges embark on an effort to help more transfer into the university system. Officials are grappling with how to enroll every Californian who wants a shot at higher education — all while juggling efforts to double the Cal State system's four-year graduation rate to 40% by 2025, faculty salary demands and a number of other priorities.
"If you have too many first priorities, you end up having no priorities," Chancellor Timothy P. White said during the meeting in Long Beach.
Although the $3.4 billion in taxpayer funds earmarked this year for the system was more than what Brown initially proposed, it was not enough to reverse a controversial tuition increase and take on certain needs such as upgrading aging buildings and labs.
The state's 2017-18 budget gave Cal State an additional $177.2 million in recurring annual funds — $20 million more than earlier proposals. Brown also approved a one-time, $20-million expenditure for efforts to increase graduation rates, as well as to address student hunger and fund equal employment opportunity programs.
The funding boost for this fiscal year, which began July 1, amounted to about half of the additional money trustees had estimated was necessary to meet their budget needs. Revenue from the tuition increase will help cover some of the remaining budget gap.
According to policy directives included in Brown's budget, university officials have until May to develop a policy for redirecting rejected but qualified applicants to less-crowded campuses.
Officials also have to approve a policy that requires Cal State schools to give local students priority admission for impacted programs — undergraduate majors and programs with higher demand than campus resources are able to support. At Cal State L.A., for example, impacted programs include biology, criminal justice, psychology and social work.
The challenge with enrolling more students, officials said, is having enough faculty, staff and other resources to accommodate their needs while also supporting ongoing efforts to help more of the system's current 479,000 students graduate on time.
Administrators and staff have been working on basic student needs, such as housing and food security, as well as mental health services, academic support and extracurricular programs that help ensure a sense of belonging on campus. The trustees agreed that finding ways for students to connect meaningfully with a faculty member, a club or other student group makes a huge difference in motivating them to continue their studies.
"The challenge is making sure that the resources are there to provide support for both the graduation initiative and for access to new students," said Eric Forbes, assistant vice chancellor for student academic support.
Follow @RosannaXia for more education news
---
Get breaking news, investigations, analysis and more signature journalism from the Los Angeles Times in your inbox.
You may occasionally receive promotional content from the Los Angeles Times.