Amid CHP overtime fraud probe, Caltrans orders audit of highway funds used to pay officers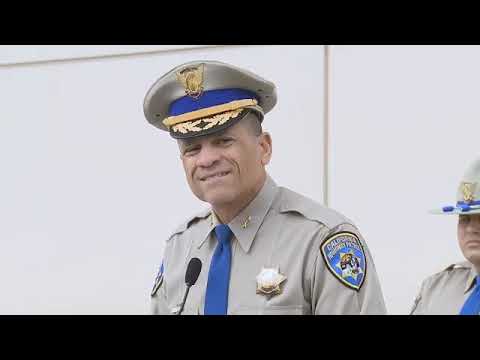 An investigation allegedly found evidence that some CHP officers exaggerated the number of hours they worked in protection details for Caltrans workers doing freeway maintenance. 
The director of Caltrans has ordered a state audit of expenditures tied to the protection of the agency's work crews by California Highway Patrol units after a CHP investigation uncovered evidence of fraudulent overtime among its officers.
The agency is looking to identify potential malfeasance and to potentially discipline any officials involved in misconduct in which the CHP said some officers in its East Los Angeles station exaggerated the number of hours they worked in protection details for Caltrans workers.
Director Laurie Berman on Monday announced the audit, which will be conducted by the agency's inspector general. It comes days after the CHP revealed that dozens of officers and supervisors have been temporarily relieved of duty while the department investigates an alleged massive overtime scheme involving officers getting paid for hours they did not work.
Calling it fraud, CHP Commissioner Warren Stanley and top officials said Friday they uncovered at least $360,000 in fake overtime and provided the evidence to the Los Angeles County district attorney's office for potential criminal prosecution.
The overtime is typically earned sitting in a cruiser at each end of a construction zone to ensure motorists don't get too close to Caltrans workers.
In California, funding to protect Caltrans work crews and contractors is used to pay CHP officers through programs that include the Construction Zone Enhanced Enforcement Program and Maintenance Zone Enhanced Enforcement Program. Those programs are run in a partnership between Caltrans and the CHP.
"Caltrans takes violations of the law very seriously and illegal activity of any kind is not tolerated within the department," Berman said in a statement to The Times. "The independent inspector general will conduct an audit of the [enhanced enforcement] program[s] to identify any weaknesses and where appropriate, make recommendations for improvements. If it is determined there was Caltrans employee misconduct, disciplinary action will be taken."
Each freeway work zone is supposed to have roving or static CHP vehicles, and officers generally work such assignments on overtime. The officers are required to conduct active speed control, DUI enforcement and assist with traffic flow.
Authorities expressed shock and disappointment at the scope of the alleged misconduct by law enforcement officials, saying it extended beyond officers to higher-level managers.
"Our supervisors were complicit in this," said Chief Mark Garrett, who oversees the CHP Southern Division. "I am extremely disheartened by the actions of these employees."
"I am frankly angered and appalled by the actions of those involved," Stanley said. "Let me be clear: The CHP does not tolerate misconduct by any of its employees. The moment CHP management discovered the potential misconduct, we immediately launched an investigation."
Garrett said a review of overtime processes in March uncovered irregularities that go back at least two years. The scheme involved not only officers but supervisors inside the East L.A. station, where 115 sworn personnel are employed, he said.
There were "ringleaders" in the scheme, and "numerous members" of the East Los Angeles station are involved, Garrett said. He declined to say whether any officers had confessed to their involvement, citing the ongoing investigation.
Officials examined records from the state's 103 CHP stations, and the improper activity appears to be confined to the East L.A. station, Stanley said.
Garrett said that once the discrepancies were discovered, the agency immediately initiated an investigation "to further identify any employees who betrayed the trust of the public and their fellow members of the CHP."
The chief said the agency has since altered its overtime practices to prevent further abuses. Any deviation from the new regulations would require Garrett's personal approval, he said.
So many officers are under scrutiny that CHP is shifting extra staffers to the Southern Division, which patrols the Los Angeles area, sources told The Times.
Twitter: @lacrimes
Sign up for Essential California for news, features and recommendations from the L.A. Times and beyond in your inbox six days a week.
You may occasionally receive promotional content from the Los Angeles Times.