Reporting from Magalia, Calif. —
The Thanksgiving holiday came to the communities devastated by California's worst fire with rain, grieving and a haunting silence.
In Magalia, a small town north of Paradise where the Camp fire ravaged so much, the hum of generators and the tap of rain echoed in a place suddenly devoid of many people.
The blackened husks of cars were still visible across the town. At the site of a gym on Pentz Road, all that remained were the contorted remains of elliptical machines atop a pile of ash.
As crews worked on repairing utility lines, searchers continued the grim process of looking for signs of human remains.
"They're looking for basically bone fragments. And they're just systematically going from burned house to burned house, looking to see if there's anything," said Capt. Matt Bergstrand of the California Department of Forestry and Fire Protection station in Magalia.
"We're just trying to get back to normal, whatever normal really is…. I don't know what normal is really going to entail," Bergstrand added. "A pretty big chunk of our area has been consumed."
The rain was helping firefighters contain the Camp fire, which has destroyed more than 12,000 structures and killed more than 80 people. But the biggest concern now is for the more than 800 who remain unaccounted for. Authorities have expressed concern that heavy rains could flood the ruins and wash away human remains, leaving authorities unable to find and identify every victim.
The National Weather Service issued a flash flood watch at noon Wednesday that continues through Friday morning for the Camp fire as well as the locations of several other recent massive blazes, including the Carr fire in Redding and the Mendocino Complex fire in Lake County.
Rain or snow will be heaviest at elevations of 5,500 feet and higher, according to a Wednesday morning bulletin from the Sacramento headquarters of the California Department of Forestry and Fire Protection.
The precipitation is expected in two waves, the first on Wednesday, stretching into the evening, and then again late Thursday and Friday, ending early Saturday. More storms are expected in the middle of next week.
Weather experts say rainfall in Southern California probably won't be intense enough for dangerous mud flows. Rich Thomas, a meteorologist with the National Weather Service, said there will be about only one-quarter to three-quarters of an inch of rainfall total locally. There's only a 10% to 20% chance the rain will become heavy enough to create mudflows, he said.
"There could be some minor debris flows, but nothing significant," Thomas said. "Rocks over the roadway, stuff like that."
Still, he said, residents should be prepared and pay attention to authorities for evacuation orders.
Despite the rain, the search for victims will continue in the Paradise area, officials said.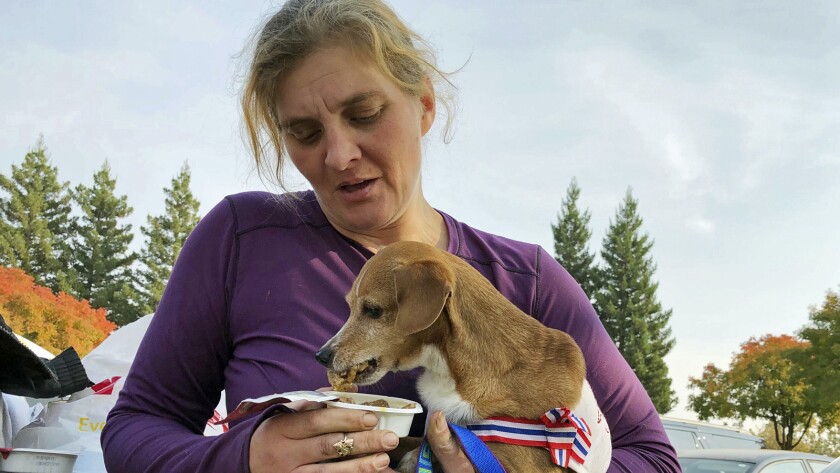 In Chico, where thousands of evacuees have gathered, it's going to be a Thanksgiving like no other. Some people who had been living in tents at a Wal-Mart parking lot began to move on, some going to shelters.
Volunteers have been out in force to help.
Sierra Nevada Brewing Co. in Chico along with other groups, including Chico State University and World Central Chicken, has been prepping a Thanksgiving meal that will feed about 15,000 people.
The meal will consist of turkey, pork, green beans, mashed potatoes and gravy. The meals will be served in waves starting at 11 a.m. then at 1, 3 and 5 p.m.
Leslie Jessee, 33, tore sheets of foil and stacked them as she prepped the turkey. She said she hoped the Thanksgiving meal would bring some sense of peace for the people affected by the fire.
Nearby, Ken Grossman, the owner and chief executive of the beer company, worked on making the gravy.
"On Thanksgiving I always make the turkey, the gravy and mashed potatoes for a big family," he said. "This time, it's a bigger family."
Grossman said about 40 of his employees lost homes to the Camp fire. He also has friends who have lost so much.
"Hopefully, family and friends will enjoy the meal," he said.
Lin and Vives reported from Paradise and Magalia, Blume and Reyes-Velarde from Los Angeles.
As deadly flames approached, a mother called her daughters to say goodbye »
---