Charles Manson hospitalized for a serious illness, sources say
Manson is serving life in prison for the murder of actress Sharon Tate and six others. (Jan. 4, 2017)
Mass murderer Charles Manson has been taken from a Central Valley prison to a hospital for an undisclosed medical issue, two sources familiar with the situation said.
One of the sources said Manson was seriously ill but could not provide specific information.
The sources requested anonymity because they were not authorized to speak publicly about the matter.
Officials with the California Department of Corrections and Rehabilitation declined to comment, citing federal and state laws and saying inmates' medical information is private.
"We do not disclose inmate movements for safety and security reasons," said Terry Thornton, a department spokeswoman.
However, she said: "He is alive."
The five victims slain the night of Aug. 9, 1969 at the Benedict Canyon Estate of Roman Polanski. From left, Voityck Frykowski, Sharon Tate, Stephen Parent, Jay Sebring, and Abigail Folger. The next night, it happened again. Rosemary and Leno LaBianca, a wealthy couple who lived across town, were stabbed to death in their home.
(Associated Press)
Charles Manson is led back to his cell after court appearance in 1970.
(Bill Murphy / Los Angeles Times)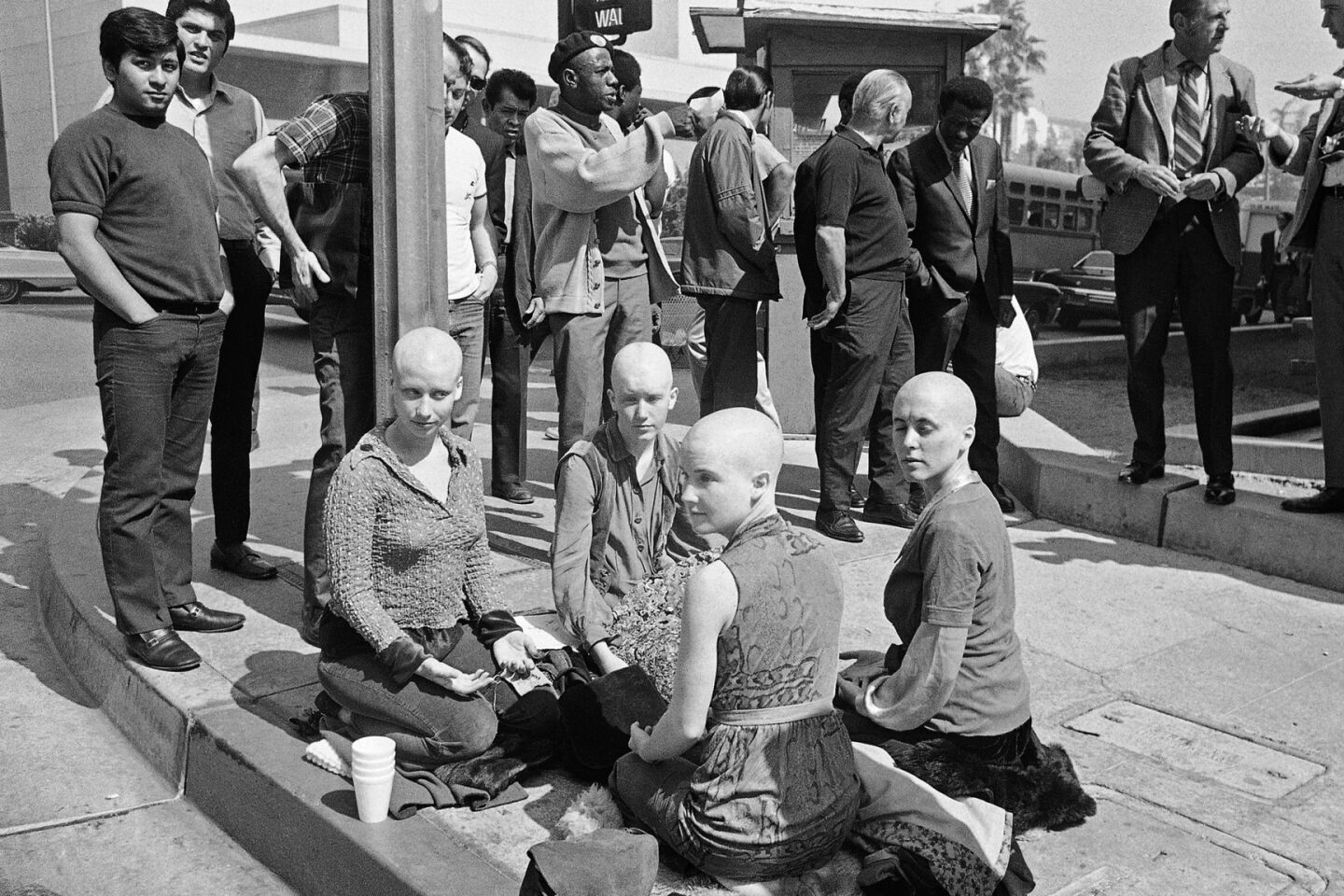 Four young female members of the Charles Manson "family" kneel outside the Los Angeles Hall of Justice on March 29, 1971, with their heads shaved. The women kept a vigil at the building throughout the long trial in which Manson and three others were convicted of murdering actress Sharon Tate and six others.
(Wally Fong / Associated Press)
Charles Manson is escorted to court for preliminary hearing in 1969.
(Bill Murphy / Los Angeles Times)
Charles Manson receives the news that he was denied parole in 1997, for the ninth time in March, 1997.
(Eric Risberg / Associated Press)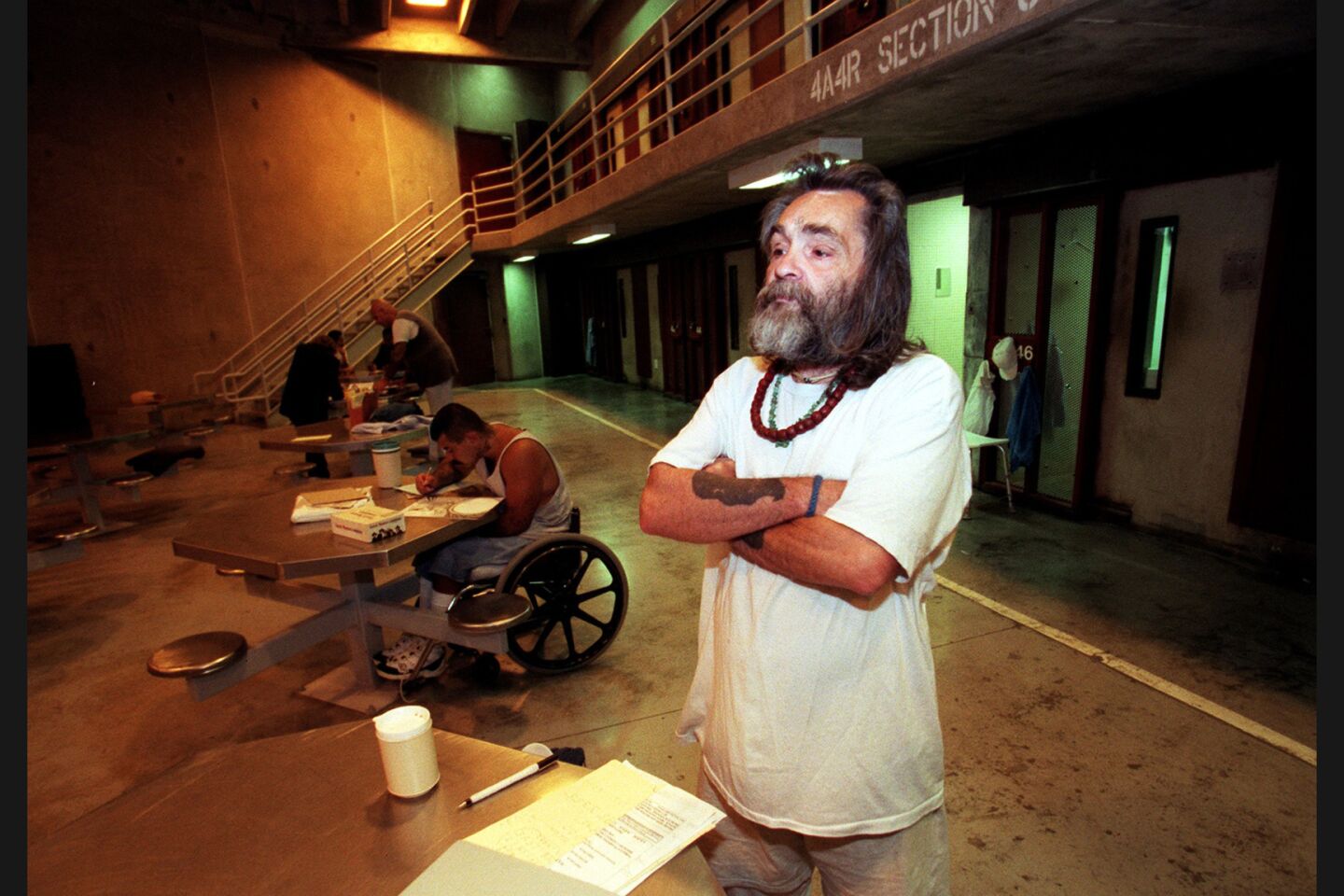 Charles Mansion in the high security area of the Corcoran State Prison in 1998.
(Kirk McKoy / Los Angeles Times)
On Wednesday, a San Joaquin Community Hospital of Bakersfield spokeswoman told The Times that Manson was not a patient at the facility or receiving treatment in any way. The hospital is one of two in the area that treats patients from Corcoran state prison.
At least one source, who was not authorized to discuss the matter, said Manson was admitted to Mercy Hospital earlier this week. Officials at Mercy Hospital in downtown Bakersfield have refused to comment. The hospital regularly treats patients from the state prison, and its emergency room is where many inmates end up when sudden life-threatening illness or injuries occur.
Manson and other members of his so-called family were convicted of killing actress Sharon Tate and six other people during a bloody rampage in the Los Angeles area during two August nights in 1969. Prosecutors said that Manson and his followers were trying to incite a race war that he believed was in the Beatles' song "Helter Skelter."
Tate, the wife of director Roman Polanski, was 8½ months pregnant when she was killed at her hilltop home in Benedict Canyon on Aug. 9, 1969. Besides Tate, four others were stabbed and shot to death: Jay Sebring, 35; Voytek Frykowski, 32; Abigail Folger, 25, a coffee heiress; and Steven Parent, 18, a friend of Tate's caretaker. The word "Pig" was written on the front door in blood. The next night, Manson rode along with his followers to the Los Feliz home of Leno and Rosemary LaBianca, then left three members to kill the couple.
Manson, now 82, has had "hundreds" of rules violations, prison officials say, and has been in trouble for having a cellphone and a homemade weapon while incarcerated. Manson has been denied parole 12 times. His next parole hearing is scheduled for 2027, when he will be 92. He has been in prison since 1971 and is serving his time at Corcoran State Prison.
In 2014, Manson and Afton Elaine Burton, a 26-year-old Manson devotee, were granted a marriage license, but it expired before the two could marry.
Last week, state parole officials postponed a decision on granting parole to Patricia Krenwinkel, a Manson follower and convicted killer, after her attorney made new claims that she had been abused by Manson or another person.
Krenwinkel was sent to death row in 1971 after a Los Angeles jury convicted her in the Tate murders.
Several Bakersfield media outlets said a corrections department van was parked outside Bakersfield's Mercy Hospital. The Bakersfield Californian reported Manson was admitted there Sunday under a "Joe Doe" name. The paper said Manson was not in the intensive care unit.
ALSO
Decision on former Manson follower Patricia Krenwinkel's parole postponed after attorney makes new claims
YouTube daredevil breaks feet jumping off Laguna Beach hotel, asks for money
State water officials are optimistic despite 'gloomy' California snowpack survey
---
UPDATES:
12:00 p.m.: This article was updated with comments from hospital officials.
7:43 a.m., Jan. 4: This article was updated with information about Manson follower Patricia Krenwinkel's parole hearing and a report that Manson was not in intensive care.
7:40 p.m.: Updated with more information about the hospital where Manson is being treating.
4:40 p.m.: This post was updated with more background.
This story was originally published at 2:59 p.m., Jan. 3.
The stories shaping California
Get up to speed with our Essential California newsletter, sent six days a week.
You may occasionally receive promotional content from the Los Angeles Times.