One week, two students dead at Claremont McKenna College. 'Deeply shocked and saddened'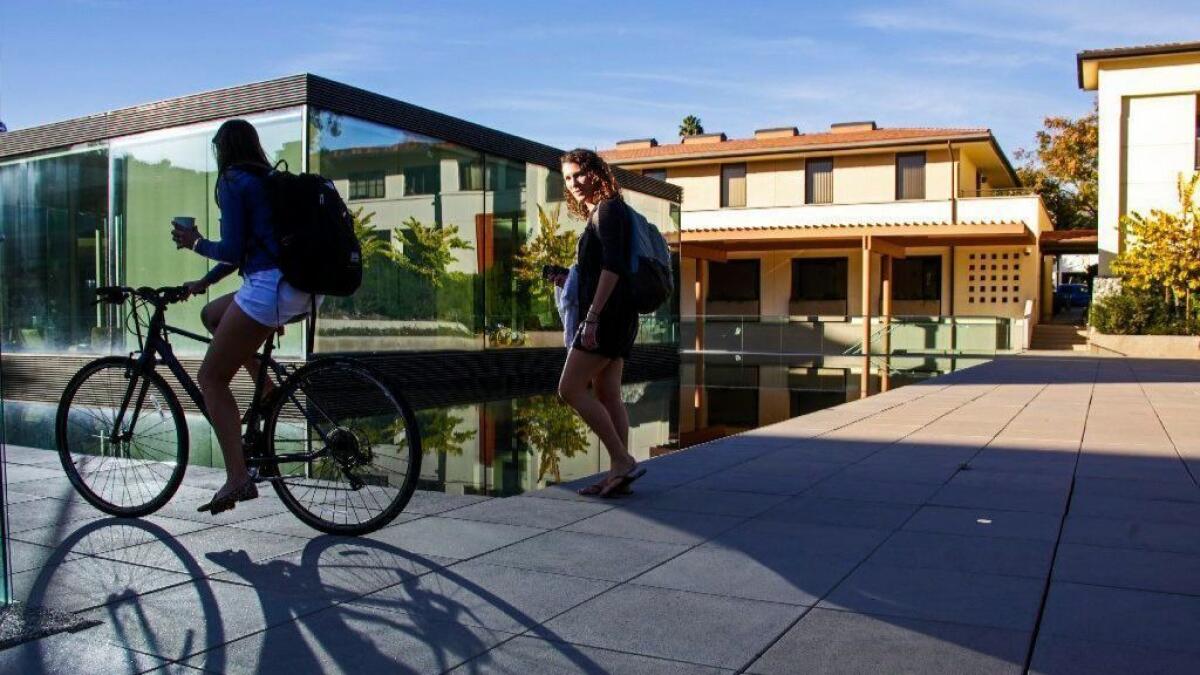 The president and several deans of Claremont McKenna College were meeting with the parents of a student who, a week earlier, had been found dead in his dorm room when the call came. There was another emergency in the dorms.
By the time Sharon Basso, the college's dean of students, arrived at the dormitory, it was surrounded by police, paramedics and other first responders. Basso told parents Thursday: A student was dead of a self-inflicted gunshot wound.
In one week, two students at this elite liberal arts school — part of a seven-college consortium in the foothills of the San Gabriel Mountains — had died on campus.
Jeremy Peterson was found dead in his bed the morning of Feb. 19, after his parents — who had not heard from their son in several days — asked administrators to check on him. The Los Angeles County coroner's office has not determined a cause of death. A college spokesman said there's no indication of foul play.
Eric Cramer died by suicide in his dorm room Tuesday afternoon, according to the coroner's office. Basso said firearms were not allowed on campus and that administrators had no knowledge Cramer had one before his death.
Both Peterson and Cramer were 22. Peterson was from Princeton, N.J. Cramer was from San Diego.
Although they both enrolled at Claremont McKenna with the class of 2018, they had not finished their degrees and were taking classes when they died. Peterson was studying economics and psychology; Cramer, biophysics and French.
Their deaths shook the small college and its student body of just 1,318. Hiram Chodosh, president of the college, said the school was "deeply shocked and saddened by the deaths of two students within a week."
Though the deaths reverberated sharply among such a tightknit student body, that closeness would also prove its strength, Basso said.
"We have the advantage of being a very small community of people who are very invested in that community," she said.
At a vigil Wednesday night, Chodosh remembered Peterson as the chess player and adventurer who talked his father — a Claremont McKenna graduate himself — into skydiving; Cramer as the Bach-loving scientist who wrote his college essay about a bench and the opportunities it affords, both for self-reflection and the chance to meet someone new.
"I won't play chess again without thinking about Jeremy in a Trenton Boys and Girls Club," Chodosh said, according to notes of his remarks. "I won't sit on a bench without thinking about Eric's three directives: Know someone new, know someone better, know yourself better."
The college did not allow a Times reporter to speak with students on campus Thursday.
College counseling centers have reported increases in the number of students who say they've considered suicide or have attempted suicide, according to the Center for Collegiate Mental Health at Penn State University, which compiled data from counseling centers at 152 colleges and universities in the 2017-18 school year.
More than 1 in 3 college students who sought help at a counseling center said they had seriously considered attempting suicide, according to the Penn State center, and 10% of students who sought counseling said they had made a suicide attempt.
For those needing help, you can call the National Suicide Prevention Lifeline: (800) 273-8255.
Sign up for Essential California for news, features and recommendations from the L.A. Times and beyond in your inbox six days a week.
You may occasionally receive promotional content from the Los Angeles Times.