Column: The No. 2 Metro bus connects the fantasies and realities of Los Angeles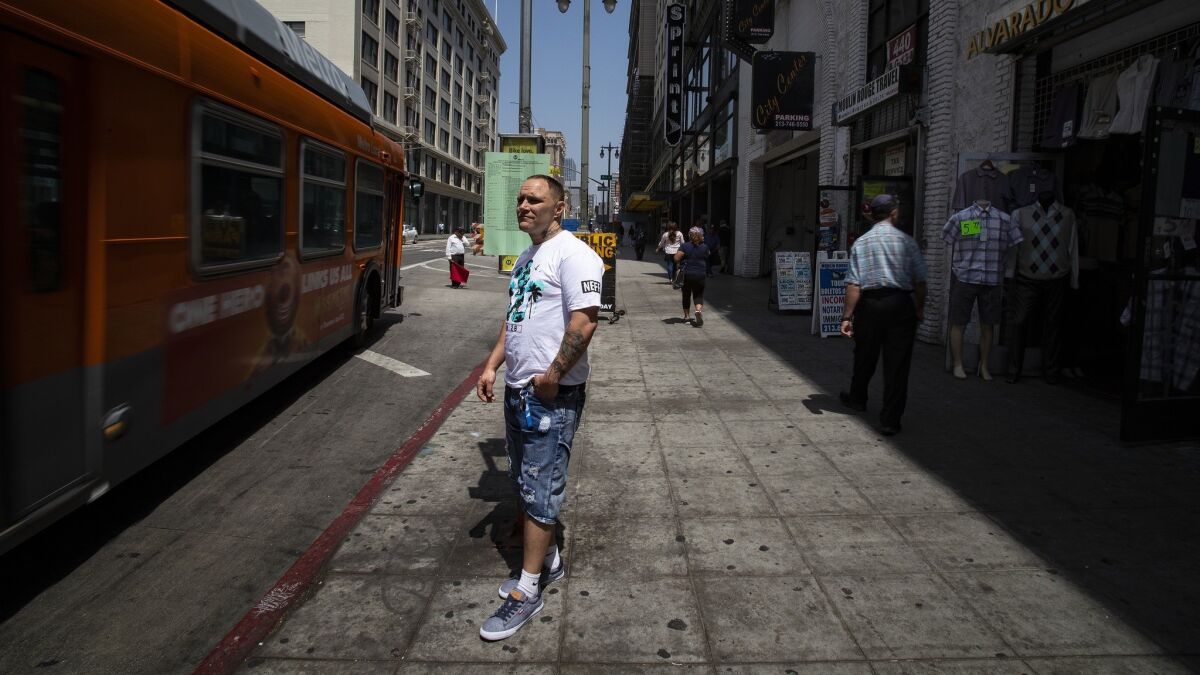 For the last week, I've been riding the No. 2 Metro bus back and forth between UCLA and downtown Los Angeles.
The route connects some of L.A.'s richest ZIP codes to some of its poorest, the eastbound route starting in Westwood and taking Sunset Boulevard all the way downtown, where it terminates in front of a Jack in the Box on a block that always smells like urine.
An estimated 1.6 million people ride the bus in L.A. County every day, even though it's not the smoothest ride, or the quietest. The bus clanks and creaks its way down Sunset, sometimes howling like a TIE fighter, other times merely roaring like a commercial jet. It stops with a symphony of delicate squeals, and sometimes curtsies to let people with wheelchairs and canes get out.
As a freshman at UCLA, back when rides only cost $1.25, I rode this line all the way to Chinatown whenever I craved dim sum; to Echo Park Lake, near where I had elote and huitlacoche in a blue corn quesadilla; down Broadway Avenue past what was then the L.A. Times building, and dreamed of working there someday.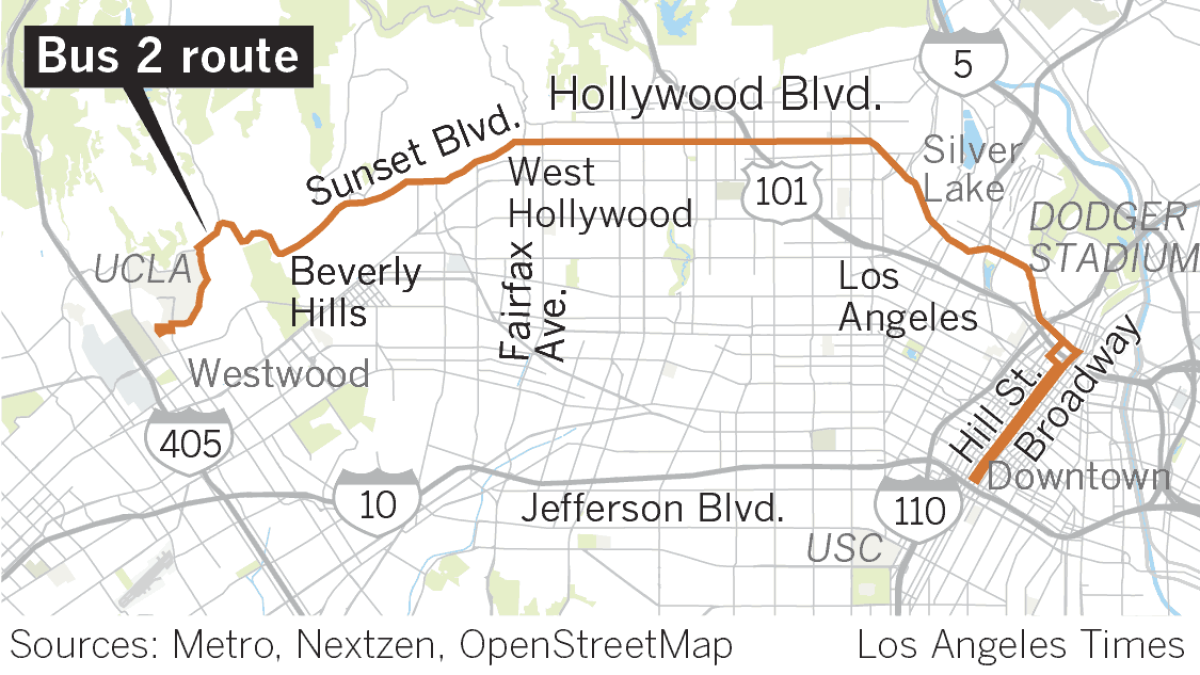 The bus helped me let go of the fantasy of sunshine and palm trees that I and so many other transplants arrive with. The windows put the beauty and inequality of the city on a single roll of film, walls of greenery hiding palatial homes giving way to pastel pink, yellow and gray stucco marked with graffiti. At night, the view became a Technicolor neon smear.
What I most appreciated about the bus, and what I think a lot of us love about the idea of public transit, is the people. Because a city is its people, and in L.A., people are from everywhere and go through everything. Poverty, mental illness, struggle, exhaustion and kaleidoscopic diversity — the bus makes you look all of that in the face.
According to a recent survey, 92% of Metro's bus riders are people of color, and 66% of riders are Latino. The median income of riders is $16,218. The bus is an environmentally friendly commute, but more importantly, it's a safety net — most people ride the bus in L.A. because they have no other option.
Here are some of the people I met this past week: elderly Armenian men, a Filipino woman with three grandchildren, Korean students commuting to UCLA, even a Japanese woman in a kimono accompanied by a Japanese man who was so incongruously large that I had to resist asking him if he was a sumo wrestler. (They spoke Japanese. English only gets you so far on the bus.)
I met Danetta and Angela Bates, a pair of black women wearing matching white T-shirts and jeans, who happened to be twins. Danetta, 60, had restaurant recommendations, and encouraged me to take my mother to the $20 all-you-can-eat seafood buffet at King Buffet on Western.
"And the bulgogi is to die for," she said.
On every bus I rode, there were Latina women in practical outfits and comfortable shoes, headed to jobs cleaning houses and hotel rooms on the Westside. Many seemed to know one another. They tapped on shoulders and smiled, shared seats and laughed at their children's Instagram posts. I always tried to speak with them but most just smiled kindly and said "no English."
Defeated, I return later with a Spanish-speaking reporter, Melissa Gomez, who strikes up a conversation with Adela, 60.
Adela, who declined to give her last name because of privacy concerns, commutes to the Westside twice a week for her job cleaning houses. A lot of the women riding the bus are doing the same. Today she's headed to a three-bed, 3½-bathroom place. She'll wash and change the sheets in the rooms, mop each surface and vacuum. It's tough on her back. She doesn't get home until 7 p.m.
During the two-hour ride, she often stares out the window and thinks about her family back in Chiapas, Mexico. Her mother is getting older, and Adela wants to be with her. Maybe next year, after she saves up enough money. Maybe in two years. One house at a time.
On another westbound ride with the green walls of Beverly Hills rushing by, Jonath Acosta, his mom, Valentina, and I are the only people left on the bus. I can't help but recoil when they tell me they're coming from Rowland Heights, about 50 miles away. They nod emphatically. We commiserate about the traffic on the 60 Freeway for a while, once rated the fifth most congested stretch of road in the state.
Jonath, 19, is tall and gangly with dyed blond hair that falls past his ears. He's headed to UCLA for a blood test. Three years ago he was diagnosed with a rare disease in which blood-filled blisters form on his lungs and burst, causing intense pain, suffocation and weakness. His lungs have been collapsed twice.
Actually, he said, the disease is so rare that his doctor may name the condition after him, which he's pretty happy about, all things considering.
Jonath wants to study business at Mt. San Antonio College and go into real estate, but he's got to get better first. The best doctors, everyone tells them, are at UCLA. So a few times a month, he and his mom spend the entire day on the bus. They leave home by 7 a.m. and don't get back until 5 p.m.
On a gray Monday morning, westbound on the 2, I meet Paul Hughes, 61, and his wife, Paulina, 69, of South Los Angeles. Paul is traveling to West Hollywood, where he works as a handyman, and Paulina is just hanging out.
The route spurs reminiscing. On Broadway, Paulina points out Valeria's Bridal, where she bought her wedding dress. At the Los Angeles Theatre, Paul watched "Super Fly," the original starring Ron O'Neal, with the Curtis Mayfield soundtrack. We pass the old Herald-Examiner building, where Paulina used to work security, and Paul used to deliver papers. They didn't know each other then — the couple met at a party 11 years ago, they tell me.
"A friend of mine introduced me to her, and that was it," says Paul. Their eyes meet for a moment, and they laugh.
As we lurch along Sunset, Paulina rests her head on Paul's shoulder and closes her eyes. Paul is carrying her purse, as well as a stuffed elephant that Paulina likes to have with her. Near Historic Filipinotown, Paul talks about joining the Navy after he finished high school, and about shore leave in Manila, where he tried fried chicken feet for the first time.
"And lumpia man, I could eat a billion lumpia," he said.
Paul knows a lot about the city. He points out Gower Gulch, a Western-style strip mall, and informs me that actual cowboys used to hang out there as they waited to be hired as extras in Hollywood westerns. And did I know that the bus system used to be called Rapid Transit District?
He used to work as a machinist, but he got laid off. His hips started hurting, and for a while, Paul and Paulina were homeless, like a lot of people who ride the bus — 61% of Metro bus riders live below the poverty line.
As we pass a new apartment complex (the marketing poster reads "This place is perf") Paul tells me how they're back on their feet now and staying in a room at a friend's house. They're applying for Section 8 housing, but even if they get it, he doesn't know if they'll be able to find a place in Los Angeles.
"The people that live here, it's just a lot of money, man," Paul says.
Heading east that same day, I meet Byron Wade Taylor, a 35-year-old supervisor at Gwen, a restaurant in Hollywood.
I comment on his palm tree tattoo and ready a snarky joke. But Byron explains that living in South Los Angeles for the last five years, he's seen chaos, drama and violence. Every day he sees the palm trees stand tall above everything. They bend in storms and high winds, but they never break. He sees the trees as an example.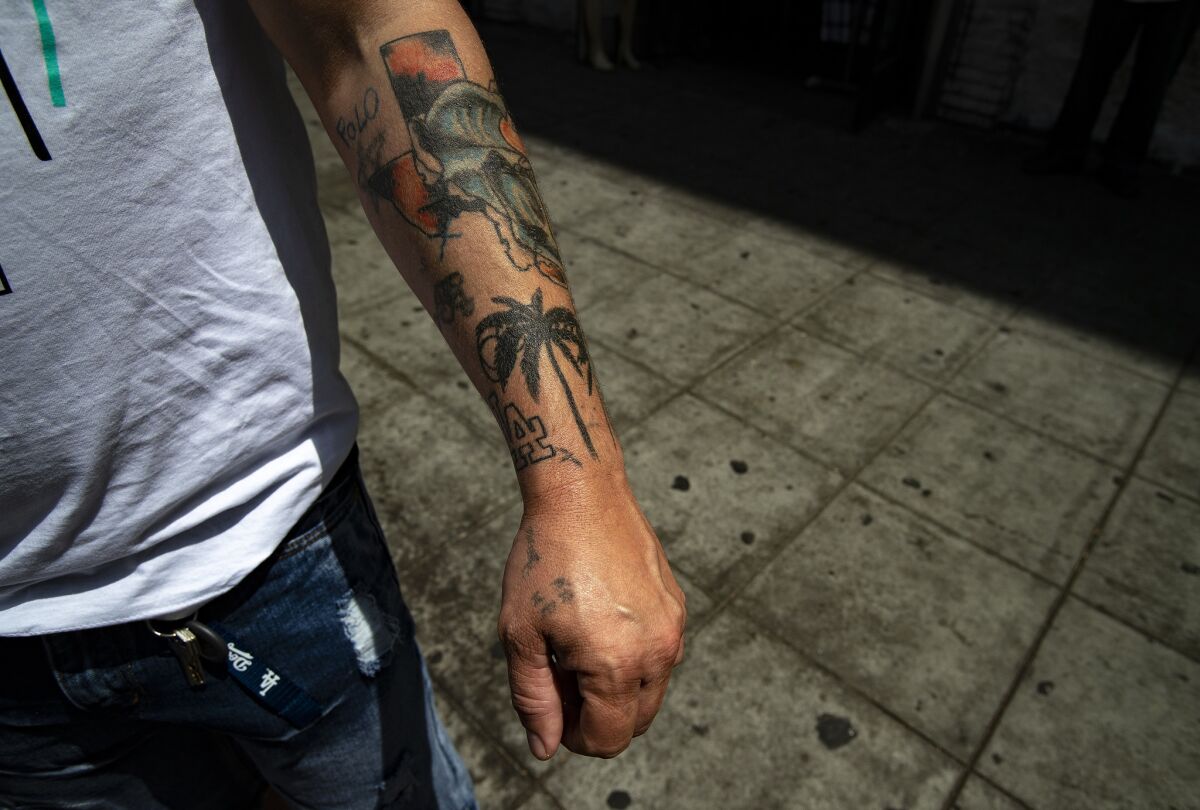 Byron has been in and out of prison ever since he was young. He's been a drug addict and a bad father to his first son in Texas.
In 2010 he got out of prison for the last time. He decided to move to Los Angeles to be a father to his newborn son. But he couldn't quit smoking weed, and didn't work to support the family. His ex-wife stopped letting him visit his son, Elijah.
He decided to quit drugs completely. He enrolled in a jobs program at Chrysalis. He and his ex-wife went to court. Last June, he won visitation rights. He moved to an apartment five blocks from Elijah's house, so they could walk to each other's houses. One night, Elijah asked for a story.
Byron made one up on the spot. He was pleased with the story, and kept writing it, tapping it out on his phone during bus rides to the restaurant. He wrote for a whole year. The story became a trilogy, with parables for his son, and sometimes for himself.
In "The Adventures of Aya and Dada," he and his son are talking dogs that travel the world and go on adventures. One of the villains is a giant snake named Pride, to remind Taylor that he cannot be too proud to mop the floor or wash dishes. One plot line has them seeking a treasure that turns out to be a rare flower named Chrysalis, named for the program that gave him a second chance.
My joke about palm trees was long forgotten. I said the only thing I could think of.
"Man, that is the most meaningful palm tree tattoo I've ever seen."
Times staff writer Melissa Gomez contributed to this report.
The stories shaping California
Get up to speed with our Essential California newsletter, sent six days a week.
You may occasionally receive promotional content from the Los Angeles Times.