California confronts its Confederate past as monuments are abruptly removed
The backhoe crept into the graveyard as the city lay still.
It had come for the six-foot granite monument with the bronze plaque, a salute to the Confederate Army veterans interred below.
Hollywood Forever Cemetery had housed the marker since 1925, but the recent events in Charlottesville, Va., had sparked phone calls, emails and social media rants calling for its removal. An online petition circulated. Vandalism threats were made. By Tuesday, the word "No" had been written across the monument in black. The staff of a generally beloved institution was overwhelmed; the monument owners uneasy.
And so at 3 a.m. Wednesday, the monument aged with a green patina was excavated, covered with a blue tarp and carted away in a pickup, a patch of fresh sod patted into its place.
Sitting far from the battlefields of the Civil War, California is often viewed as a region far removed from that era. But historians say racism ran rampant through the state and that the emancipation proclamation was widely unpopular. There also were high-profile legislators who spoke in support of slavery or slipped off to fight for the Confederacy and found a significant number of supporters.
California remained a Union state during the war. But Southern California was a "hotbed" of Confederate sympathizers, many of whom had migrated west from Texas and Kentucky, and boasted a Confederate newspaper, said Glenna Matthews, author of "The Golden State in the Civil War."
"In some ways, Los Angeles was a militarized town in order to keep the Union in control, because a lot of the local politicians supported the Confederacy," she said.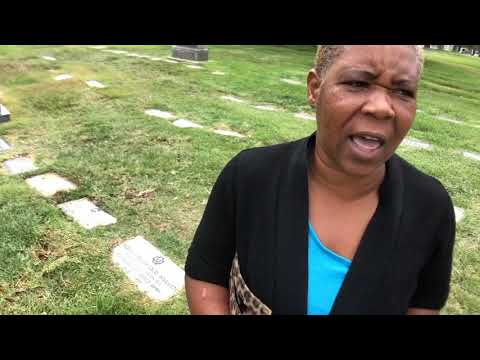 Los Angeles resident Monique Edwards says historical monuments, like the Confederate statue removed from Hollywood Forever Cemetery, need to be preserved and used as teachable moments.
For those who go looking, there are Confederate tributes scattered across the state. In recent years, those symbols have been up for debate, with many calling the tributes heralds of racism, while others argue that they help preserve the past.
Around the same time that Hollywood Forever removed its Confederate memorial, a similar ritual was underway in downtown San Diego.
The city quietly removed a plaque honoring Jefferson Davis, the president of the Confederacy, which for decades sat at Horton Plaza.
"San Diegans stand together against Confederate symbols of division," Mayor Kevin Faulconer said in announcing the move.
California has been grappling with uncomfortable symbols of past racism and cruelty for years.
In 2009, officials changed the name of Malibu's Negrohead Mountain (which was itself a 1960s refinement of the N-word that formed its original name). The peak, an unlikely memorial to a former slave, was renamed John Ballard Mountain.
In 2014, California adopted a law banning the display or sale of merchandise with the Confederate flag on it.
The next year, activists pressured the Long Beach Unified School District to change the name of Robert E. Lee Elementary weeks after a young man who had posed with the Confederate flag in photos fatally shot nine black men and women in Charleston, S.C.
A year later, the school board voted the campus would no longer be the namesake of a Confederate general, but that of Olivia Herrera, a woman who founded a nonprofit that serves impoverished neighborhoods. Around the same time, a school in San Diego named after Lee was also given a new moniker.
Though debates about homages to Confederate leaders are far from new, tensions have deepened since the white supremacist rally in Charlottesville, where a counter-protester was killed. The rally was planned in protest of the removal of a statue of Lee.
Such tributes smack of racism and need to go, many say. But others argue there is validity in both preserving the past and honoring the fallen.
Patrons of Fairhaven Memorial Park in Santa Ana, where about 300 Civil War veterans are buried, including some Confederates, worry that the outrage against such symbols is misplaced.
"Where do you stop? Where do you draw the line?" asked La Habra resident Ebbe Rosendahl, who arrived Wednesday to tour the antique headstones. "It doesn't erase the past if you want these monuments gone. You want to learn from the past. If people don't see it, how can they remember if mistakes were made?"
The 52-year-old was curious about California's Civil War connection, which he had heard little about.
"I feel history should be alive and breathing," Rosendahl said. "Why would we hide what happened? We're told that George Washington was a slave owner. If that's the case, why are his statues and tributes still everywhere?"
The group that owns the Confederate monument that once stood at Hollywood Forever said it does not condone violence, slavery or white supremacy. The marker was merely a show of respect for people who had died. The group said it felt forced into removing the grave marker so that it would not be defaced or cause problems for the cemetery.
"We really think that anything to do with a cemetery has to be respected," said Scarlett Stahl, president of the California division of United Daughters of the Confederacy. "It's shocking to me that this would happen in the United States of America. There is an awful lot of hatred being displayed throughout the country on both sides. I'm uncomfortable. I didn't think I'd ever feel this way in the United States. It's very surreal."
For now, the monument will be kept in storage. If the group decides to return it to the cemetery, officials will consult with the state Department of Consumer Affairs and local police to follow necessary regulations, a cemetery spokesperson said.
On Wednesday, hours after the monument was removed, the grounds of the cemetery were nearly empty, with only security and police standing by in case of protesters. They never appeared. The remains of at least 37 Confederate veterans and their families remained undisturbed.
esmeralda.bermudez@latimes.com
Times staff writers Veronica Rocha and Alene Tchekmedyian contributed to this report.
ALSO
George Skelton: Don't be too smug, California: The state has its own shameful history of racism and bigotry
Thousands march in Charlottesville against racism and violence
Phoenix mayor calls on Trump to halt campaign-style rally next week
---
UPDATES:
4:25 p.m.: This article was updated with additional background on other Confederate monuments in California and the state's Civil War history.
This article was originally published at 12:40 p.m.
Sign up for Essential California for news, features and recommendations from the L.A. Times and beyond in your inbox six days a week.
You may occasionally receive promotional content from the Los Angeles Times.