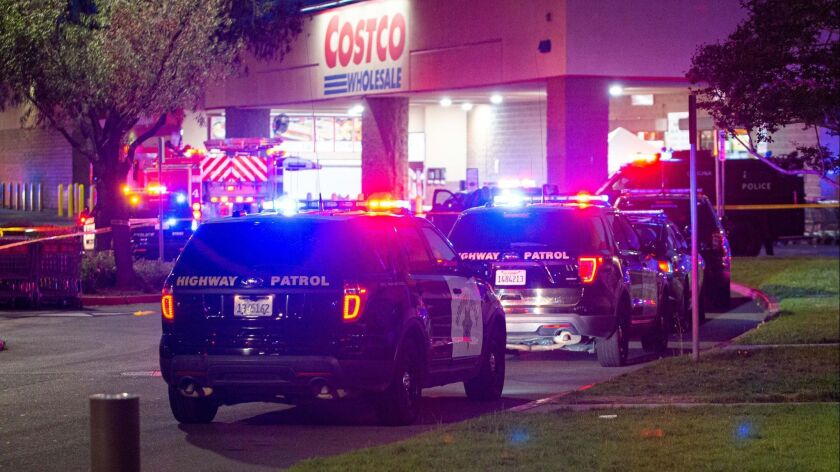 An off-duty LAPD officer was shopping with his family at a Corona Costco on Friday night, carrying his young son in his arms.
Nearby, a couple were roaming the aisle with their 32-year-old son, Kenneth French, who family members have said had an intellectual disability.
The two families came together in a lethal encounter in a food sample line at the warehouse store. There was an altercation and then gunfire from the officer. French was killed and his parents were wounded.
It likely will take weeks or more for Corona police to complete their investigation.
Legal experts said the case could come down to whether the officer was acting out of a fear for his life or the lives of others. That distinction remains a lingering question as detectives continue their work.
Here is what we know:
What investigations are underway?
The Corona Police Department is in the middle of a criminal investigation while the LAPD is looking at the case in terms of use of force by an officer.
Corona officials said this week they were still interviewing witnesses and had not determined when a decision would be made about criminal charges. So far, no arrests have been made.
Once Corona police wrap up their probe, the Riverside County district attorney will ultimately decide whether the officer — who has been identified by multiple sources as Salvador Sanchez, a patrol officer in the LAPD's Southwest Division — will face criminal charges.
RELATED: Would the Costco shooter be in jail if he weren't a cop? »
For the LAPD, an administrative investigation is standard whenever an officer fires a gun. The five-person Police Commission ultimately decides whether officers were justified in opening fire and whether they followed department rules before pulling the trigger.
In 2018, the Police Commission determined that Officer Kevin Ferguson violated the department's rules when he fired his gun while off duty during a clash with a group of teenagers in Anaheim a year earlier, a caught-on-camera dispute that went viral and triggered days of protests.
"I'll wait for the full investigation before commenting on the officer's decision to use deadly force," LAPD Chief Michel Moore said earlier this week of the Costco shooting. "The use of deadly force, whether on- or off-duty, is a matter that is the most scrutinized decision that we have in this organization, and in this instance, it will be as well."
What happened?
Two sharply different accounts have emerged. Officials said there was video showing at least parts of the encounter, but that video has not yet been released.
The officer's attorney, David Winslow, said his client was getting a food sample for his son when he was attacked and briefly knocked out by French.
"He was shopping with his wife and 1½-year-old at Costco. His son was in his arms, and he was feeding his son some samples when, within seconds, he was on the ground and woke up from being unconscious and he was fighting for his life," Winslow said.
The French family attorney, Dale K. Galipo, said Kenneth French pushed the officer in the food sample line but that the exchange wasn't justification for a shooting.
Before the officer fired his gun, there was a gap in time when he declared he was a police officer and French's father stepped between the two men. Galipo said the security video showed that interaction.
"His father was trying to intervene," Galipo said.
French is normally calm, but he had had a recent change in medication that might have affected his behavior, Galipo said. The attorney said French was "nonverbal."
"The shooting was excessive and completely unjustified," Galipo said, noting that French was unarmed.
What do legal experts say?
Much will depend on what the video shows, they say, and whether the investigation finds the officer felt an imminent threat to himself or others.
Off-duty police, like private citizens with firearm permits in California, are legally allowed to fire their guns in self-defense in the event of an imminent attack if they're unable to retreat from the situation, said Jody Armour, a law professor at USC.
"The real question will be whether a reasonable person in the situation of the shooter would have believed he was under attack, threatened with death or serious bodily injury," he said. "The shooter has to feel like they're about to be attacked and there was no less drastic alternative."
If the officer was knocked unconscious during the attack, as his attorney alleges, it could justify the use of deadly force, said Ed Obayashi, a Plumas County sheriff's deputy and use-of-force advisor to the California Assn. of Police Training Officers.
The injury makes him a victim of a serious violent felony — one that would likely have made him disoriented, groggy and launched his brain into a "fight or flight" mode — as opposed to a misdemeanor battery in which the injury was not as significant, Obayashi said.
"What type of person punches a parent and knocks them out carrying a baby?" he said. "The justification based on this has really jumped way off the scale. He has every right to defend himself under those circumstances."
What about de-escalation?
The LAPD in 2017 changed its use-of-force policy to require officers to try, whenever possible, to defuse tense encounters before using deadly force — a decades-old concept known as de-escalation.
The department also has been examining whether officers involved in shootings did all they could to defuse tense situations before they used force.
Seth Stoughton, a law professor at the University of South Carolina and a former police officer, noted that off-duty officers usually do not have other tools for de-escalation at hand.
"On-duty officers have other weapons: batons, Tasers, not to mention radios to call for backup," he said.
What do we know about those involved?
Although the officer has not been officially identified, multiple sources have confirmed to The Times it was Sanchez, a patrol officer in the Southwest Division. Sanchez has been employed with the LAPD since May 2012, according to department records.
He suffered minor injuries in the incident.
The French parents — who family members said were dedicated caregivers to their son — are in the hospital.
Paola French remains in critical condition. Russell French is slowly recovering but remains in serious condition, according to Galipo. Neither is well enough to be interviewed by police, the attorney said.
---