Shoppers at a Costco in Corona struggle with deadly shooting in a food-tasting line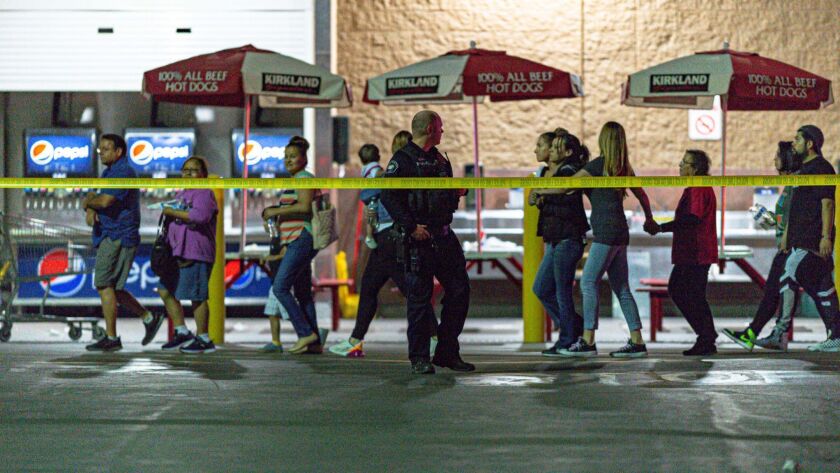 The Costco store in Corona was busy as usual on Thursday afternoon. Families were taking home large pizzas and rotisserie chickens for dinner and hauling away packs of toilet paper and paper towels to last the month.
There was little physical sign of what happened nearly a week earlier when an off-duty Los Angeles police officer opened fire in a food-tasting line, killing a man and seriously injuring his parents.
But the June 14 incident was on the minds of some shoppers, who found themselves wrestling with questions about the shooting, which has been described in starkly different terms by the officer's lawyer and those who have spoken on behalf of the shooting victims.
Some said they had been thinking about the children and families who would have crowded the store during the shooting. They wanted to know whether Salvador Sanchez, a patrol officer in the Southwest Division, was justified when he opened fire, killing Kenneth French, a 32-year-old Riverside man who a family member has said was nonverbal and had the mental capacity of a teenager.
"If it was just a normal argument, did he have the right to pull out a gun and shoot him?" asked Griselda Marrufo, 39, of Riverside. "Especially with his kids there, not thinking of everybody else who is in the store?"
Others sympathized with Sanchez, who they said was being unfairly criticized.
"I feel really bad that [the French family] had to have that terrible thing happen to them. I really do," said Carol Nieblas, 70, of Riverside. "I just feel the policeman is getting hammered."
Still others had heard about the shooting, which has made headlines around the country, but said it hadn't had much of an effect on them, given how common shootings are.
"It could happen anywhere nowadays, everybody has access to the guns," said Sergio Barrera, 54, of Corona.
Costco shooting: Mother wounded by LAPD officer who killed her son is still in a coma »
An attorney for Sanchez has said his client was holding his 1½-year-old son while in line for a food sample when he was attacked and briefly knocked out by French.
Corona police have said the assault was unprovoked. The incident was captured on Costco security cameras, but those videos have not been made public.
Attorney Dale K. Galipo, who represents the French family, has said it is unclear why French pushed the officer. But the attorney said that the officer's life was not threatened and that the officer acted out of anger because someone had pushed him.
Marrufo said she had heard the differing accounts and wanted to know more in order to decide whether the shooting was justified.
She and her husband had talked about shopping at the store the night of the shooting, she said.
In its aftermath, she thought about her 10-year-old daughter, whom she sometimes lets stand alone in line for samples at the store.
Ann Pena, 58, of Riverside said she was also following the story closely and was not certain what to believe.
"If it was an unjustified shooting, it's something we'd like to know," she said.
Costco shooting: Man killed by off-duty officer had an intellectual disability, cousin says »
Nieblas, who said she has shopped at the Corona store since it opened, said she had felt conflicted about the shooting until Sanchez's lawyer said last week that the officer had been knocked out by French.
"I feel the policeman is getting a bad rap," she said. "Pretty soon nobody is going to want to be a policeman. What are we going to do when nobody wants to be a policeman? They can't be perfect in every situation."
For more Inland Empire news follow me @palomaesquivel
---
The stories shaping California
Get up to speed with our Essential California newsletter, sent six days a week.
You may occasionally receive promotional content from the Los Angeles Times.