Death sentences plummet across California. Riverside County, which led the U.S. in 2017, has had zero this year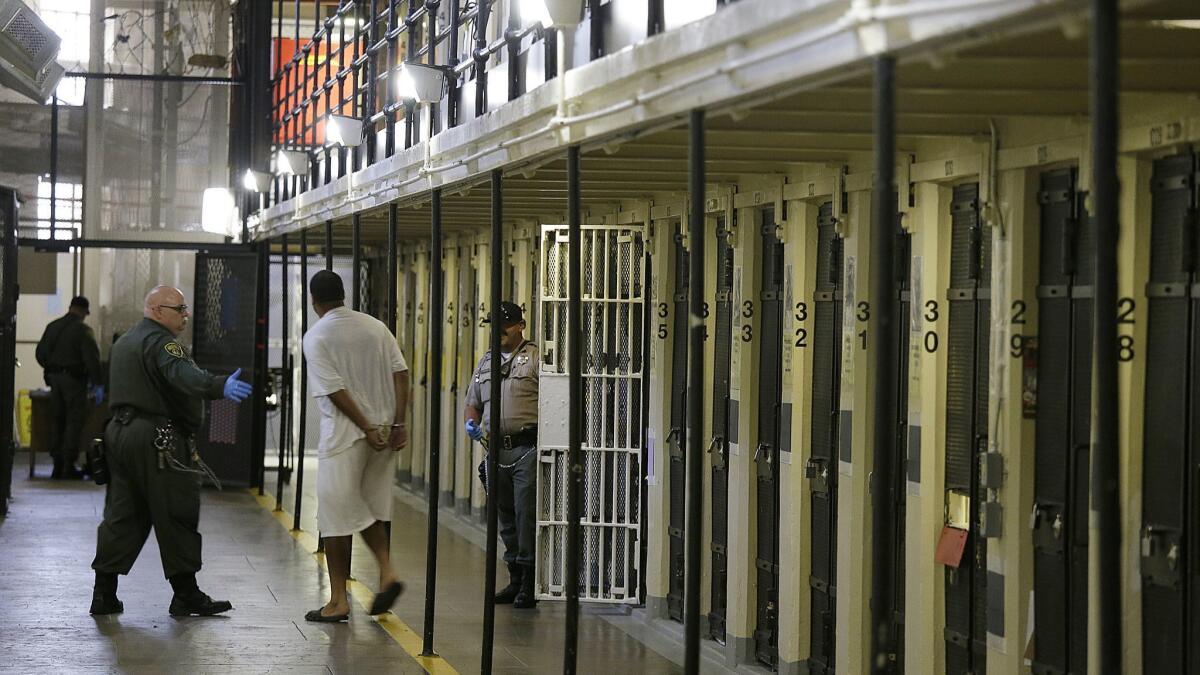 In 2015 and again in 2017, Riverside County held the grim distinction of sending more people to death row than any other county in the nation.
But so far this year, no one in Riverside County has been sentenced to death, reflecting a trend seen in California and across the country, according to a new report.
Five California counties, among the 10 with the most death sentences nationwide in the last five years, either had no sentences or no more than two, according to the report by the Death Penalty Information Center.
In fact, no U.S. county handed down more than two death sentences — a first since executions resumed more than 40 years ago after they had been halted by the U.S. Supreme Court.
Analysts attributed the decline to more selective charging by prosecutors and more skeptical juries. Some pointed to frustration in California about the lack of executions as well as the bloating of death row and the costs of capital trials.
"While small year-to-year fluctuations in sentencing numbers are to be expected," the report said, "the nationwide data reflects significantly greater reluctance by prosecutors and juries to seek and impose death sentences from a decade ago or even five years ago."
The report said Riverside, Los Angeles, Orange, Kern and San Bernardino counties were among the top 10 producers of death sentences nationwide in the last five years.
Riverside went from 17 death sentences in those years to zero this year, Los Angeles from 14 to two, Orange from six to one, Kern from four to zero, and San Bernardino from three to zero.
Riverside County Public Defender Steven Harmon said prosecutors there seek far fewer death sentences than they did a decade ago, a decline he attributed to more selective charging by newer district attorneys.
County Dist. Atty. Mike Hestrin, who was just elected to his second term, supports the death penalty and has sought death sentences in 2018 in cases that have not yet been resolved, Harmon said.
"But his view of when to use the death penalty is far more measured than past district attorneys here in Riverside," Harmon said. "So the number of cases filed as death penalty cases has been reduced dramatically."
Although support for the death penalty has been waning, California voters in recent years have decided to keep it.
Instead of abolishing it, voters most recently passed a measure intended to speed up executions.
The new law removed some impediments to executions, but they remain blocked by court orders.
A death penalty prosecution can take three or more years to complete, so the number of sentences handed down each year reflects charging decisions that were made in the past.
Hestrin noted that in his first year as district attorney, Riverside handed down more death sentences than any other county in the country, a reflection of charging decisions by his predecessor.
"I definitely am pro-death penalty, but I do believe it should be reserved for those cases that absolutely need it," Hestrin said.
He said he decides whether to seek the death penalty after talking to victims and considering the defendant's background and the gravity of the offense, not the cost to the county, he said.
Capital cases are expensive to try, and appeals are costly and time-consuming.
"If I started thinking about the cost, we wouldn't ever do it," Hestrin said.
Riverside County remains strongly in favor of the death penalty, Hestrin said, and jurors recommend death in the vast majority of capital cases prosecutors bring.
Los Angeles County Dist. Atty. Jackie Lacey attributed the decline in part to her office's "pretty intense" screening of about 200 murder cases annually that could result in a death sentence.
She said a committee goes over the facts of the crime, whether there were multiple victims, whether rape or torture was involved and whether the defendant had a disability or other possible mitigating circumstances. The evidence of guilt has to be "super strong," she added.
She said her office sought a death sentence in only 2.7% of the cases that were reviewed in the last year.
"The decline reflects my view that while the death penalty is legal, it should not be imposed haphazardly, and it should be reserved for a very small number of cases," she said.
The Death Penalty Information Center, which generally takes a critical look at capital punishment, said 25 people in eight states were executed in 2018, the fourth straight year with fewer than 30 executions. Texas accounted for more than half at 13.
Outgoing Kern County Dist. Atty. Lisa Green said she has a formalized process for deciding whether to seek the death penalty that includes no consideration of expense or the fact that California has not executed anyone in 12 years.
She said she suspects her process may have led to more selective charging than that of her predecessor, who served for 28 years.
"We waive death in many more cases than we seek it," said Green, who is retiring.
Green's office did seek the death penalty in a trial this year, but the jury deadlocked. She said her office decided not to seek a new trial, and the defendant received a life sentence.
San Bernardino County Public Defender Chris Gardner said prosecutors there are seeking fewer death sentences because juries aren't supporting them.
A death penalty trial in San Bernardino County this year ended in a sentence of life without parole instead of death, he said.
San Bernardino prosecutors are spending more time evaluating potential capital cases and seeking information from defense lawyers before charging, Gardner said.
The death penalty report said that 62 executions were scheduled in 2018 across the U.S. but that many were postponed for consideration of such things as new evidence or mental competency and others were halted by commutations or reprieves.
"For the first time in 25 years, fewer than 2,500 prisoners face active death sentences," the report said.
Kent Scheidegger, legal director of the pro-death penalty Criminal Justice Legal Foundation, noted there will be random variations in death sentences for any one county from year to year.
He attributed the downward trend in death sentences to a lower murder rate and a tendency by prosecutors and jurors to be more selective.
"That does not obviate the need for the death penalty in a truly heinous case," Scheidegger said.
When capital punishment was first restored in the 1970s, prosecutors often sought the death penalty for every defendant for whom it was possible, he said.
Now "there is more of a general agreement not to seek it in routine cases," he said.
New death sentences nationwide this year remained near record lows, at 42, the report said. One in seven were imposed by judges without a unanimous jury recommendation.
Among those newly sentenced to death were at least two foreign nationals, three who were 21 or younger at the time of the crimes and several who exhibited "clear signs" of mental illness, the report said.
Washington this year became the 20th state to end the death penalty when its Supreme Court found its application unconstitutional.
Times staff writer David G. Savage in Washington contributed to this report.
Sign up for Essential California for news, features and recommendations from the L.A. Times and beyond in your inbox six days a week.
You may occasionally receive promotional content from the Los Angeles Times.