After 11-year hiatus, could death penalty soon be carried out again in California?
The California Supreme Court decided Aug. 24 that Proposition 66 did not set strict deadlines for resolving death penalty appeals. (Aug. 24, 2017) (Sign up for our free video newsletter here http://bit.ly/2n6VKPR)
The California Supreme Court on Thursday made a key ruling in the long-running question over the state's use of the death penalty.
The high court decided that a key provision in Proposition 66, last year's ballot measure to speed executions, failed to impose strict deadlines for resolving death penalty appeals. The ruling left most of the initiative intact, and that could mean the resumption of executions.
Here's a review of the issue from the pages of The Times:
---
What is Proposition 66?
Sponsored by prosecutors, it would require courts to rapidly review death penalty appeals, force more criminal defense lawyers to represent death row inmates and remove public review requirements for the state's lethal injection procedures.
California has the largest death row population in the country, with more than 740 inmates awaiting punishment after executions were suspended in 2006, when the state's method for lethal injection was challenged in court. Their appeals go directly to the state Supreme Court and take an average of 25 years.
Proposition 66 would designate trial courts to take on some initial challenges to convictions and require appointed lawyers who don't typically take capital appeals cases to represent death row inmates. It also would require that the entire appeals process be limited to within five years of a death sentence.
What was the opposition to it?
Opponents of the death penalty sued to block Proposition 66 after the November election, in which the ballot measure gained 51% of the vote.
They argued it usurped the power of the judicial branch to run the courts and said Proposition 66 infringes on offenders' rights and impairs "the constitutional and inherent powers of the courts."
What is the process for appealing a death sentence?
California law allows each person given the death penalty an automatic appeal and a separate habeas corpus challenge to the California Supreme Court.
The appeal is based on the written record of what happened at trial and could involve, for example, a challenge of a judge's ruling on whether to admit evidence.
It can take a decade or longer for the California Supreme Court to rule on an automatic appeal.
Afterward, the court considers the inmate's habeas challenge. That is based on events that were not reflected in the trial transcript, such as newly discovered evidence of juror misconduct.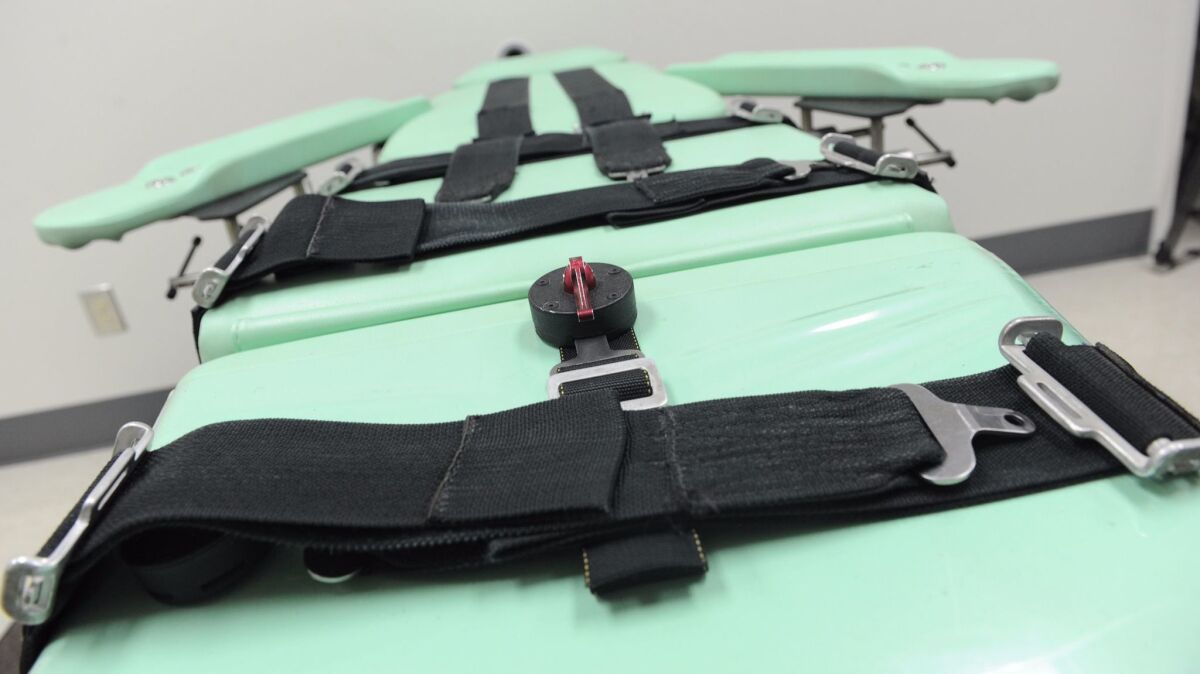 Why has the death penalty in California been stalled for so long?
California has not executed an inmate since 2006 because of issues related to the lethal injection method used. Courts struck down California's previous three-drug lethal injection method, and Gov. Jerry Brown's administration did not propose a new protocol until last year.
California's death row is the largest in the country, and more than 15 prisoners have exhausted their appeals and could be executed.
The inmates facing imminent execution are older than 50 — one is approaching 80 — and were condemned for crimes that took place decades ago.
With Thursday's ruling, Proposition 66 backers predict that executions would resume in months. But some are skeptical.
Kent Scheidegger, legal counsel for the Criminal Justice Legal Foundation and an author of Proposition 66, said that if the court decides appeals more quickly, "we should see a very substantial speedup."
But Christina Von der Ahe Rayburn, who represented the challengers, said federal courts could delay the resumption of executions.
"Nobody is going to be executed tomorrow, thank goodness," she said. "But it does make executions more possible in the short term."
She noted that a federal judge's legal hold on executions remains in force until the state devises a new lethal injection protocol the court can review.
The proponents' prediction of executions occurring in months is "overly optimistic on their part," she said.
"I just can't imagine the federal case gets resolved that quickly, especially if it can go up on appeal," she said.
The stories shaping California
Get up to speed with our Essential California newsletter, sent six days a week.
You may occasionally receive promotional content from the Los Angeles Times.