A party to celebrate a woman's perseverance: 40 years on dialysis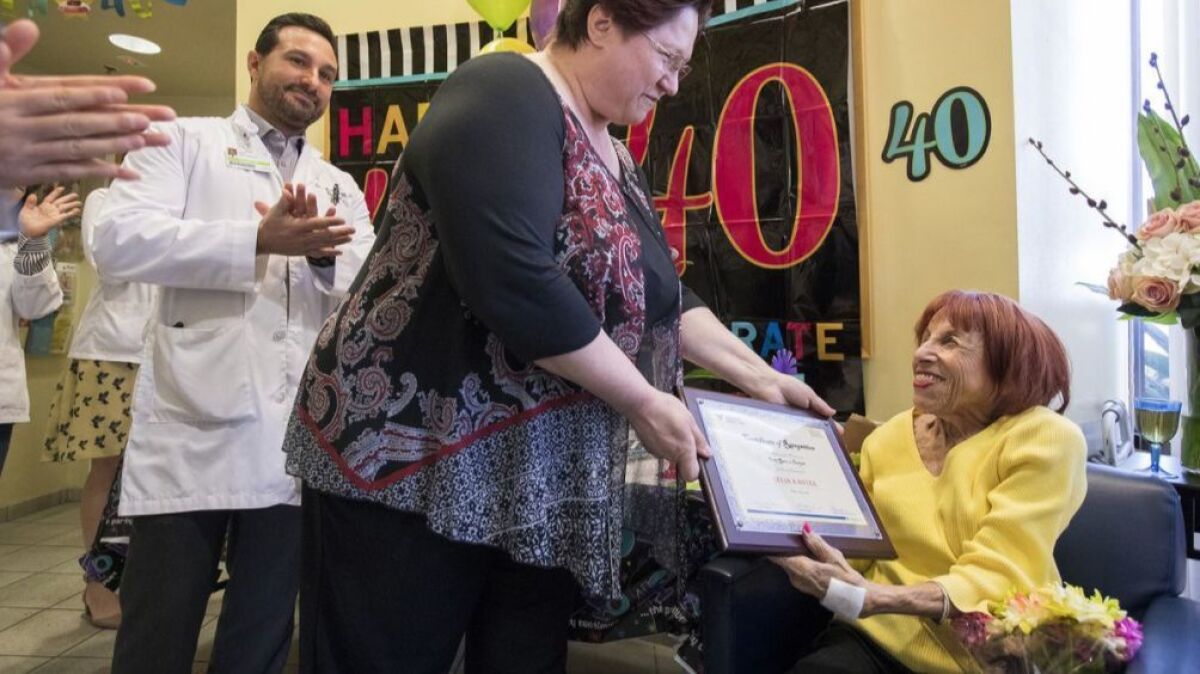 Hundreds of thousands of people with advanced kidney disease, like Celia Kanter, require dialysis treatments to clean their blood.
But far fewer people in the world, also like Kanter, have lived with dialysis for 40 years.
Kanter, 77, celebrated life and persistence Friday with a party at the Newport Beach Dialysis center, where she takes treatments three days a week for about 3½ hours per session.
She inspires others with her warmth and energy, her friends say.
"It's trite to say it, living every day like it's your last, but that's what I do," Kanter said.
She remembers the day of her first treatment: Feb. 15, 1978.
Seven years before, Kanter was 30 years old with a baby and a career as an elementary school teacher. She went for an annual physical. Her doctor noticed that the fit, clean-living mom had high blood pressure and ordered tests, including X-rays.
The X-rays showed her kidneys were the size of walnuts. Normal kidneys are about the size of a fist.
It wasn't clear why they had shrunk. Many kidney diseases are inherited, but there were no warning signs in Kanter's family history.
Kanter was never on the kidney transplant list. Her sister once tested to be a donor but was a poor match. And Kanter wasn't keen to have the surgery anyway. In the late 1970s, she said, transplant patients faced poor prognoses.
"I thought, 'I don't want to go through that,'" she said.
She saw dialysis as her chance for a normal life.
When kidney functionality drops to about 15% to 10%, a patient needs dialysis. With hemodialysis, machines filter the blood outside the body via a dialyzer — essentially an artificial kidney — and return it to the body. The process removes toxins, waste and excess fluid that would normally be excreted through urine.
About 468,000 people rely on that procedure, according to the National Kidney Foundation.
Guinness World Records lists a British man as having lived the longest on dialysis, 42 years and 85 days between 1975 and 2017. A Texas woman was set to surpass that in January.
But the average life expectancy of a dialysis patient is five to 10 years, the National Kidney Foundation says.
Edda Spinelli, a nurse and the regional director of operations for Avantus Renal Therapy in Newport Beach, said the people who do best on dialysis accept it as part of their routine.
From the start, Kanter was determined to have as normal a life as possible. She asked her doctor for his medical books so she could study the treatments. She took the dietary restrictions — limited fluid, protein, salt, potassium and other electrolytes — to heart because living was more important.
After she went on dialysis, she set aside her teaching career. But within a few years she picked up a new vocation, tax preparation, and worked at that until she was 72. Sometimes she would take her work with her to the clinic.
Kanter, a world traveler, has not let her dialysis routine limit her wanderings. She researches clinics at her destinations ahead of time and becomes a temporary patient. She's also taken several cruises with Dialysis at Sea; nephrologists and nurses administer treatments aboard the ships.
When home, she enjoys going to lunch with friends and playing bridge. Until recently, she practiced yoga.
Cristina Rabano met Kanter about five years ago at a yoga class in Newport. Rabano had kidney issues as well but was afraid of dialysis.
Kanter never tried to sway her, but instead gave her tips and support. About a year later, Rabano joined Kanter at the Newport Beach clinic.
"She's a role model for a lot of us," Rabano said. "What a spirit."
Kanter, a former resident of the San Fernando Valley, moved to Newport Beach 18 years ago to be closer to her daughter, Caryn Schultz, who lives in San Clemente.
Schultz was 7 when Kanter began dialysis. Doctors told the family at the time that Kanter was unlikely live to see her daughter's 10th birthday.
The two are exceptionally close. Schultz said her mom is her rock; her mom says the same about her.
Schultz attributed Kanter's longevity to something innate and simple — she lives because she wants to.
"Her will to live is off the charts," Schultz said.
---
The stories shaping California
Get up to speed with our Essential California newsletter, sent six days a week.
You may occasionally receive promotional content from the Los Angeles Times.