With snow piling up in the Sierra, what will it take to end California's drought?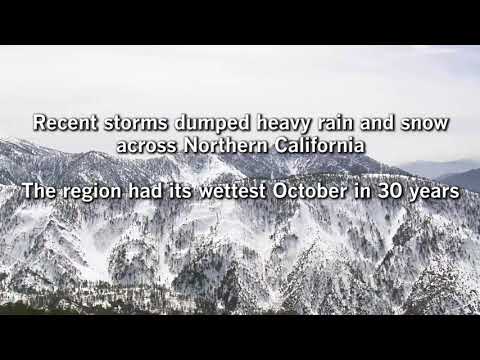 Melted snow provides 30% of the state's water as it flows into streams, rivers and reservoirs over the spring and summer.
Reporting from AUBURN, Calif. —
The resort town of Phillips high in the Sierra Nevada has long been a barometer of California's drought.
Snow measuring station 3 in the El Dorado County town was where Gov. Jerry Brown came in April 2015 to announce major drought restrictions, using the dry, snow-less landscape as a stark backdrop.
On Tuesday, Frank Gehrke of the California Department of Water Resources performed the manual measurement at the same spot, this time covered in three feet of snow.
It measured just 53% of the seasonal average, but officials took that as further proof California's six-year drought was easing.
"While that seems perhaps a little gloomy, keep in mind that we had pretty much bare ground here about a week ago," Gehrke said.
The measurement came as the latest in a series of storms dumped heavy rain and snow across Northern California. The region had its wettest October in 30 years in 2016, followed by above-average precipitation December. More than 20 inches of snow dropped across the northern Sierra Nevada last weekend and another set of storms could provide an additional four feet by early next week, said Zach Tolby of the National Weather Service.
Melted snow provides 30% of the state's water as it flows into streams, rivers and reservoirs over the spring and summer.
The conditions haven't added up to a drought-buster quite yet. But officials said that if the wet conditions extend into the spring, 2017 could prove a turning point for the epic dry spell.
"Generally speaking, to get out of the drought California would need to establish a trend of above-average snow-water content, above-average storage in reservoirs and above-average precipitation," said Doug Carlson, a spokesman for the Department of Water Resources. "We're on a great trend. We'd like to see it all year."
The statewide snowpack measurement was 70% of the seasonal average Tuesday. The current water content in the northern Sierra Nevada is 68% of average for this time of year; the central Sierra clocked in at 65% and the southern Sierra at 73%, according to the Department of Water Resources.
The reservoirs are closer to normal levels. According to Tuesday's data, Lake Shasta reservoir was at 118% of its historical average, while Lake Oroville, the biggest contributor to the State Water Project, was 91% of its historical average.
Water officials stressed that other parts of the state remain mired in serious drought.
In Tulare County, residents still receive rationed water. Southern California remains significantly dryer than in the north, despite a month of healthy rain in December. Moreover, warmer temperatures across the state are causing the snow to melt quick, and making the water more difficult to capture for use in cities and farmlands.
But in the Sierra, signs of drought conditions are getting harder to find.
Interstate 80 travelers trapped in Truckee below the infamous Donner Pass overnight Monday were able to leave Tuesday during a brief break in the snow storm.
After the break, said Marilyn Colquhoun at the California Welcome Center in Truckee as she read the week's weather forecast aloud, "it is snow, snow, snow showers, rain — that's not good — then snow, snow, snow."
Following three years of drought with minimal Sierra snowpack, Colquhoun was enthusiastic about the squall.
"It will be a mess," she said. "It's a great storm!"
It will be a mess. It's a great storm!
— Marilyn Colquhoun, California Welcome Center
Transportation was already snarled again by early Tuesday afternoon, and requirements to install snow chains had created delays on Interstate 80 heading over the mountain passes. Colquhoun said Greyhound and Amtrak buses were delayed, "but still expected."
The nonprofit Avalanche Warning Center posted warnings Tuesday for increased danger in popular backcountry ski areas, elevating the warnings by the evening from "considerable" to "high," the greatest warning.
Drifting snow on high ridges and slopes already showed signs of wind slabs that could come crashing down. The combination of new heavy snow and a deep ice crust laid down by rain two weeks ago will increase the hazards. Avalanches triggered by people were reported Monday in Carson Pass and at Castle Peak at Donner Summit, where the state operates a popular Interstate 80 snow park.
"I would suggest people stay out of backcountry until it settles," said Mickey Kaiserman, president of the El Dorado Nordic Ski Patrol. The volunteer group maintains backcountry ski trail markers in the El Dorado National Forest south of Lake Tahoe and helps rescue sojourners who run into trouble.
"The backcountry use is increasing exponentially, and people get caught unprepared. It's dangerous out there," Kaiserman said.
Phone lines to the Sierra Club's Clair Tappaan Lodge in Norden were jammed with expected guests calling ahead to find out if they could still reach the 1930s mountain getaway. Others already there were planning on staying put and riding out the storm at 7,000 feet atop Donner Summit.
"I don't think we've seen a storm system like this for six years," said operations manager Brandon Smith, who was banking on the week of supplies brought in ahead of time.
Smith hadn't heard yet from anyone staying in one of the four backcountry huts the Sierra Club rents, reachable only by a half-day or so trek on foot. One group headed to a hut Monday sought to rent avalanche beacons for their trip, he said, "but I don't know if they found any."
He looked through the window outside.
"It is beautiful out there," Smith said. "Overall, it's a wonderful thing."
Serna reported from Los Angeles, St. John from Auburn.
ALSO
Steve Lopez: Not rich, not poor, and not ready for the cost of growing old
LAX construction was on hold for the holidays. Now it resumes, with new road closures, shuttle route changes
Sign up for Essential California for news, features and recommendations from the L.A. Times and beyond in your inbox six days a week.
You may occasionally receive promotional content from the Los Angeles Times.