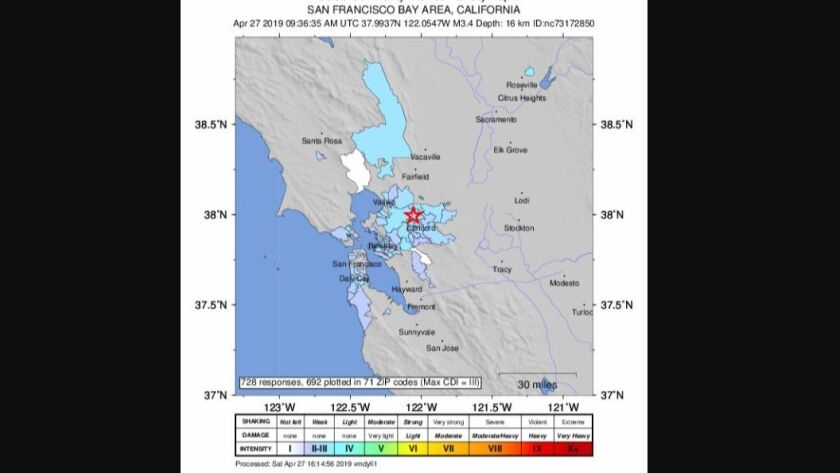 A magnitude 3.4 earthquake struck the Bay Area Saturday morning, centered just west of Concord.
The U.S. Geological Survey said light shaking — intensity level 4 on the Modified Mercalli Intensity Scale — was felt closest to the epicenter, located at Buchanan Field Airport. Light shaking is not strong enough to cause damage.
The earthquake occurred at 2:36 a.m. More than 700 people said they felt light to weak shaking throughout the region, including in Oakland, Berkeley, San Francisco and Vallejo, according to the USGS' Did You Feel It? website, which asks people to submit what they felt.
In the last 12 months, there have been more than 200 earthquakes of magnitude 3 or greater in California and Nevada, and about 15 in the greater Bay Area.
The last time there was a magnitude 6 or greater earthquake in California was the 2014 Napa earthquake, which fatally injured a 65-year-old woman after an unstrapped television set struck her in the head.
Saturday's earthquake occurred near the Concord-Green Valley fault, one of the Bay Area's most significant earthquake faults.
Besides the better-known San Andreas and Hayward faults, a substantial temblor on the Concord-Green Valley fault would "cause damage to infrastructure systems and impact the entire Bay Area," according to the Assn. of Bay Area Governments, because it would "produce strong shaking across large areas that are dense with regional infrastructure systems."
A hypothetical magnitude 6.8 quake on that fault would be strong enough to cause liquefaction in all Bay Area counties, the association said.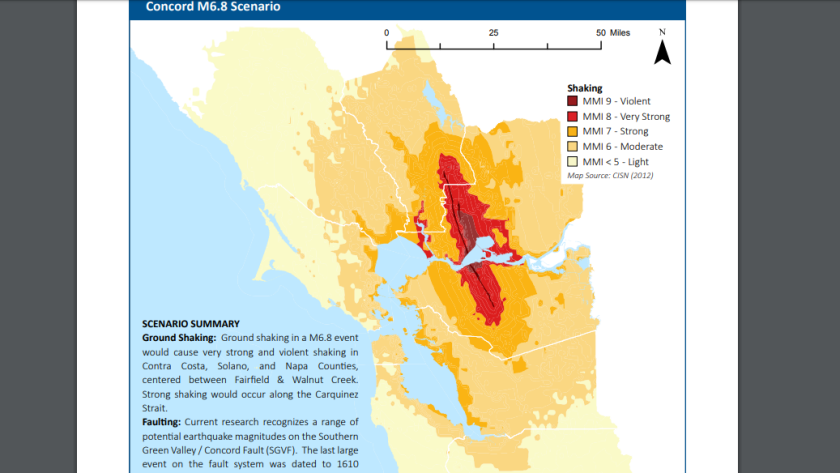 The worst shaking from such a quake would be felt in Contra Costa, Solano, and Napa counties, centered between Walnut Creek and Fairfield, the association said. Strong shaking would also be felt in the Carquinez Strait, the narrow waterway connecting San Francisco and San Pablo bays to California's two longest rivers, the Sacramento and San Joaquin.
The shaking could cause the edges of dredged water channels to fall into the waterways, according to the association.
Particularly vulnerable is the Bay Area's fuel infrastructure. A strong quake on the Concord-Green Valley fault could literally break open the ground along the path of the fault, causing damage to Kinder Morgan's Concord pumping station, responsible for pumping fuel across the northern half of California.
All five of the Bay Area's refineries export their refined fuel through that Concord pumping station, according to the association's report.
(There are separate refined fuel pipelines that reach San Jose and Brisbane from the Chevron refinery in Richmond, but they represent a small share of the region's fuel supply, the report said.)
The last large quake on the Concord-Green Valley fault occurred in 1610. A more moderate magnitude 5.4 earthquake occurred on the fault in 1955.
Read more about Southern California earthquakes.
---