L.A. school transportation employees fired or pressured to resign for alleged drinking and drug use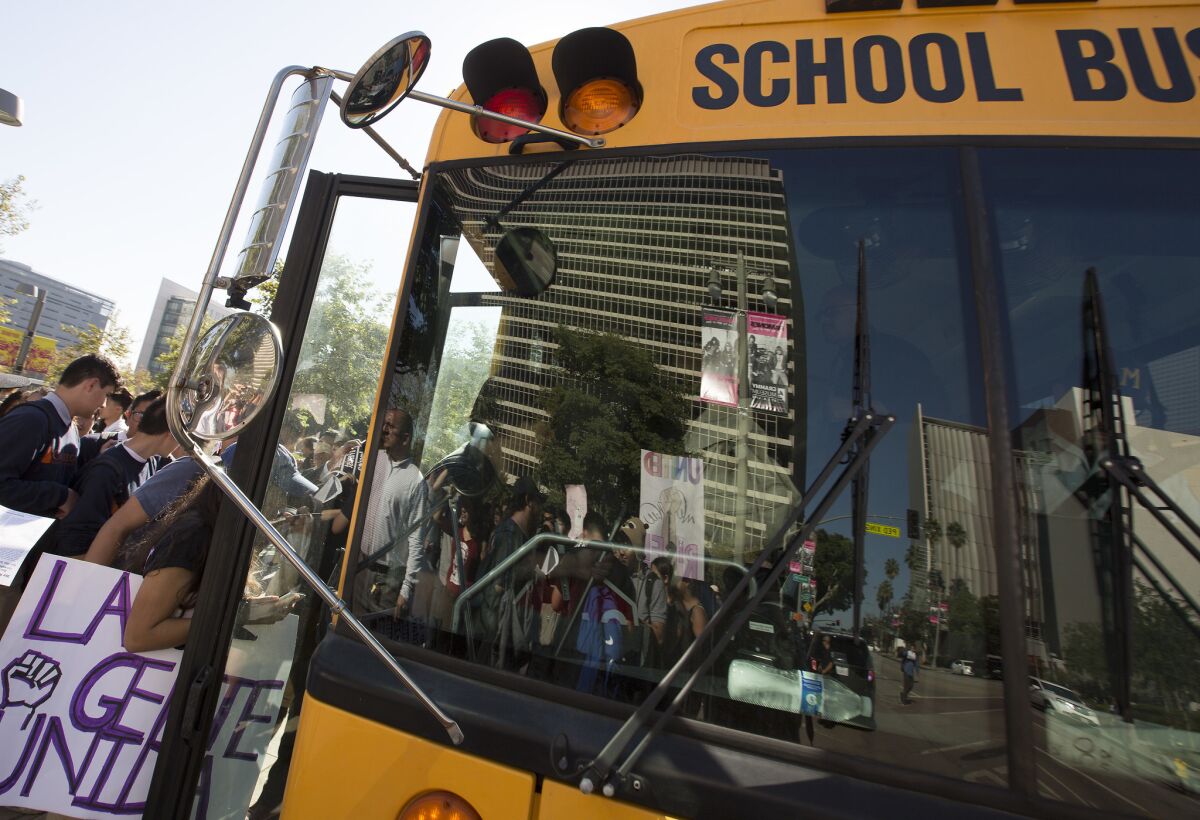 A Los Angeles Unified School District bus supervisor was fired and two assistant bus supervisors resigned after being accused of workplace drinking, drug possession and inappropriate behavior, some of it caught on camera, school officials disclosed this week.
The district recommended the dismissal of all three, but the subordinates resigned, said Christine Wood, an attorney with L.A. Unified.
As these three cases were being resolved, the head of the transportation services division, Donald Wilkes, resigned, as did a manager who worked under him, Salvador Beltran. District officials declined to comment on whether there was a connection between those departures and the alleged misconduct of the three employees.
In recommending dismissal of the three employees, the district cited three incidents from September 2013 to May 2015 in which they and possibly others drank alcohol or had marijuana on them at the end of a workday.
There was no evidence that a bus driver was drunk or high while transporting students, said district general counsel David Holmquist. One of the assistant bus supervisors was working as a driver at the time.
The district recommended the dismissals in October. The actions and supporting documents were disclosed to The Times this week in response to a public-record request.
The district accused area bus supervisor Jorge Diaz of failing to report improper conduct while also engaging in it on three occasions with a small group of fellow employees — consuming alcohol and making inappropriate comments about homosexuals, blacks and sex among employees. In particular, the district criticized him for being part of a conversation in which someone said that blacks "should be slaves."
The allegations are almost identical against assistant area bus supervisor Victor Ruiz, listing two dates on which he allegedly engaged in misconduct.
Miguel Ruiz, another assistant area bus supervisor, was cited for misconduct on Feb. 14, in the incident apparently recorded on a computer camera. He also allegedly was in possession of marijuana.
At one point, the men in conversation noticed the red recording light — right after one of them, identified by the initials S.B., protested that he didn't hate blacks: "No, no, no, I don't, dude. Actually I love them. I wish — I think everyone, everyone wants to have five Negroes at their house as servants."
According to the transcript, Miguel Ruiz then says : "Hey, stop recording. ...There's a red light right there, dude."
An unidentified speaker then jokes: "We're gonna be on YouTube, bro. We're all all [expletive] fired on Monday."
The former transportation workers could not be reached Thursday. But at their October hearings, they acknowledged only that they had been presented with the district's evidence against them. They did not admit guilt.
Diaz has hired an attorney to challenge his dismissal, district officials said.
MORE LOCAL NEWS
Rapper Chief Keef among those detained in armed robbery at producer's home
Man shot by El Cajon police had cocaine in his system, autopsy finds
ICE agents arrive at San Francisco nonprofit, rattling staff; agents were seeking sex offender nearby
2 hikers injured in avalanche near Mt. Baldy
---
The stories shaping California
Get up to speed with our Essential California newsletter, sent six days a week.
You may occasionally receive promotional content from the Los Angeles Times.