With teachers on strike, LAUSD schools turn into movie theaters — and parents aren't thrilled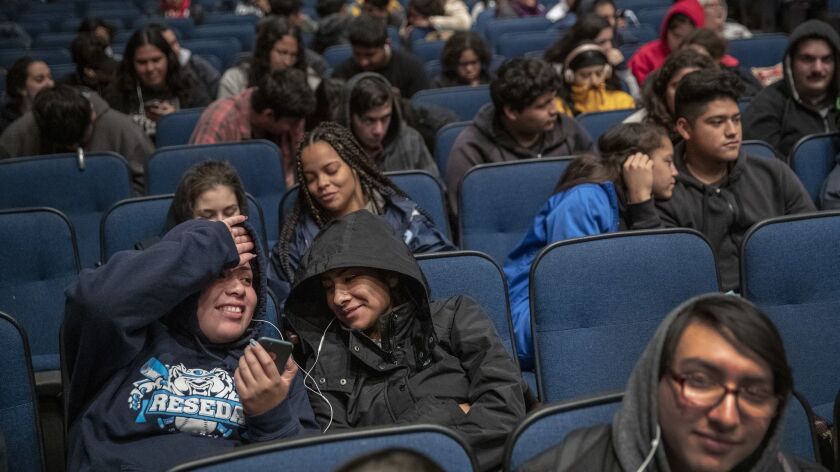 Los Angeles students who go to school during the teachers' strike may be more likely to spend their days watching movies than receiving academic instruction in a classroom.
And some of the titles that have been screened could give them nightmares.
When The Times asked parents to name the movies that their students had watched, one said that her eighth-grader and classmates had been shown the unrated Korean zombie apocalypse movie "Train to Busan."
Films being shown included teen dramas such as "The Hate U Give," and "Wonder," and historical biopics.
Ordinarily, hardworking students might welcome a movie break. But warehoused in large, noisy rooms with few staff to supervise them, quite a few students said they'd rather stay home.
"We won't be sending her back to school during the strike, because it's detrimental to her education," said Joe Utsler of Valley Village, after his 15-year-old came home from Van Nuys High and said she'd been stuck in an overcrowded gym, where she watched the movie "Lincoln."
"And not even the good one with the vampire hunting," her father said. "I assume it was chosen because it's theoretically historical."
Utsler said his daughter tried to huddle with a group of friends to study for the AP chemistry exam they'll be taking in the spring, but there was so little space to work that it was impossible.
"She ended up watching 'He-Man' on her phone," he said. "You get to a point in the day where you recognize there's no education that's going to happen. It's a poorly managed babysitting service right now."
He said she'll skip school for the duration of the strike and find better activities: studying at a North Hollywood library, visiting the Natural History Museum.
At Sutter Middle School in Winnetka, "Tangled" also didn't get any love. It probably didn't help that it was played on the kind of school projector used to put up math problems.
Nathan Martinez, 12, said that while the movie screened in his school gym, dozens of students were on their phones or playing video games. There was an intermission in which they were given yogurt snacks. It was hardly the popcorn-and-plush-theater-seat experience.
"Nobody was paying attention to the movie," Nathan said. "There was just one person in the gym with us. I didn't recognize her. She wasn't an actual teacher. She just came up and put on the movie."
Once that was done, it was Disney shorts until the bell rung at 2:45 p.m.
He, too, chose to stay home the next day.
"I just let him because I know the situation is difficult right now and I don't want them to be in any kind of danger," said Nathan's mom, Monica Martinez, adding that she'd heard the supervising staff didn't get thorough background checks.
One parent wrote anonymously to The Times about what 10th-graders had been shown at Diego Rivera Learning Complex.
They watched "The Fast and the Furious," the parent said. "They do not have my permission. May consider legal action."
Utsler said he'd heard of other problem choices elsewhere. At a Van Nuys elementary school, he said, the adults on hand began playing an animated movie for young kids. They were told to choose something more educational.
So they switched to a nature program that showed animals tearing their prey apart.
The result was crying children, he said.
Playing now at an L.A. Unified School near you:
"Big Hero 6"
"Black Panther"
"Braveheart"
"Charlotte's Web"
"Chicken Little"
"Coco"
"Finding Nemo"
"Ghostbusters"
"Guardians of the Galaxy"
"Hidden Figures"
"Ice Age"
"Lincoln"
"Selma"
"Sing"
"Tangled"
"The Boss Baby"
"The Fast and the Furious"
"The Hate U Give"
"Train to Busan"
"Trolls"
"Wonder"
alejandra.reyesvelarde@latimes.com
Twitter: @r_valejandra
---
The stories shaping California
Get up to speed with our Essential California newsletter, sent six days a week.
You may occasionally receive promotional content from the Los Angeles Times.