More than 120 layoffs proposed in L.A. school district budget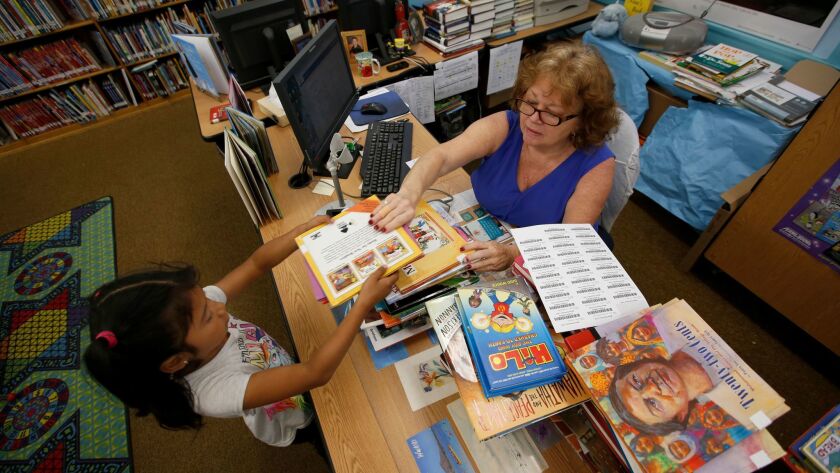 A $7.5-billion Los Angeles schools budget set for approval Tuesday includes 121 layoffs and 180 "reassignments" that would result in pay cuts and possible additional job losses.
Among the hardest hit in the proposal are library aides: 30 would lose their jobs, leaving 43 elementary schools without library staffing because some of the aides work at two campuses. That's about 9% of the library aides in the nation's second-largest school system.
Others who would lose their jobs include some clerks, payroll specialists, accounting technicians, teaching aides and security aides. The number of central office administrators, coordinators and managers also would shrink by about 150. Many of them have tenure as school administrators or teachers and could return to these other positions — with reduced pay. The district believes it will have enough vacancies to accommodate them.
No teachers are targeted for layoffs. Although declining enrollment means fewer positions for instructors, the reduction is expected to come through attrition, such as teacher retirements.
The hardest direct hit would be on Los Angeles 500, the local chapter of the California School Employees Assn., whose membership would be hit by 87 layoffs and 120 reassignments, said union President Letetsia A. Fox.
"It's like we're being punished for asking for and receiving a raise," said Fox, who is the senior financial manager for Dorsey High School in the Baldwin Hills/Crenshaw area.
Her union members, who include library aides, clerks, accounting specialists and technicians, received a 9.96% raise over a three-year contract that ends in June. Fox's members earn as little as $13 an hour, she said, even though the district announced three years ago that all employees would earn at least $15 an hour.
In all, Los Angeles Unified employs more than 60,000 full- and part-time workers.
The library aides would be an unusual breed of budget victims. They would lose their jobs because their schools decided to spend the salaries elsewhere, said Franny Parrish, a library aide and L.A. 500's political action chairwoman.
Although the district provides money for library aides to work three hours a day, using the funds for this purpose is discretionary. As a result, several dozen schools are spending the money on other things, such as classroom teaching aides or to make up for less revenue overall.
The salary reductions would come in several forms. Some employees would get a shorter work year and less pay. Other employees would "bump" to lower positions based on seniority rules. Then the less-senior employee would bump downward until there was an opening or nowhere to go, resulting in another layoff.
Many factors are contributing to a short- and long-term budget crunch.
In the budget proposal, district officials cut the schools' expected share of federal anti-poverty aid, called Title 1, by 20%, anticipating that the Trump administration and a Republican-controlled Congress will provide fewer dollars. That has yet to happen in Washington, D.C., but L.A. Unified officials said they don't want to take chances.
As a result, the district estimates a 1.1% decline in revenue compared with last year, and has factored that reduction into school and district budgets. Even so, overall spending is expected to rise 6.7%, compared with last year, cutting deeply into district reserves.
Another pinch for principals comes from the recent extension of health benefits to more part-time employees, said Juan Flecha, head of the Associated Administrators of Los Angeles union. Flecha said he supports measures that will help the families of valued employees, but that a side effect is that the central office told schools they must contribute $5,000 for each employee who newly qualifies for benefits.
The district's long-term budget woes include increasing pension costs, lifetime health benefits for retired employees and declining enrollment.
Times staff writer Anna M. Phillips contributed to this report.
ALSO
Five things to know about L.A.'s school budget
In Lynwood, Advanced Placement classes are no longer only for the elite
DeVos' new transgender student guidance changes course on bathroom access cases
---
The stories shaping California
Get up to speed with our Essential California newsletter, sent six days a week.
You may occasionally receive promotional content from the Los Angeles Times.