Hearing delay gives both sides more time in Ref Rodriguez's potential trial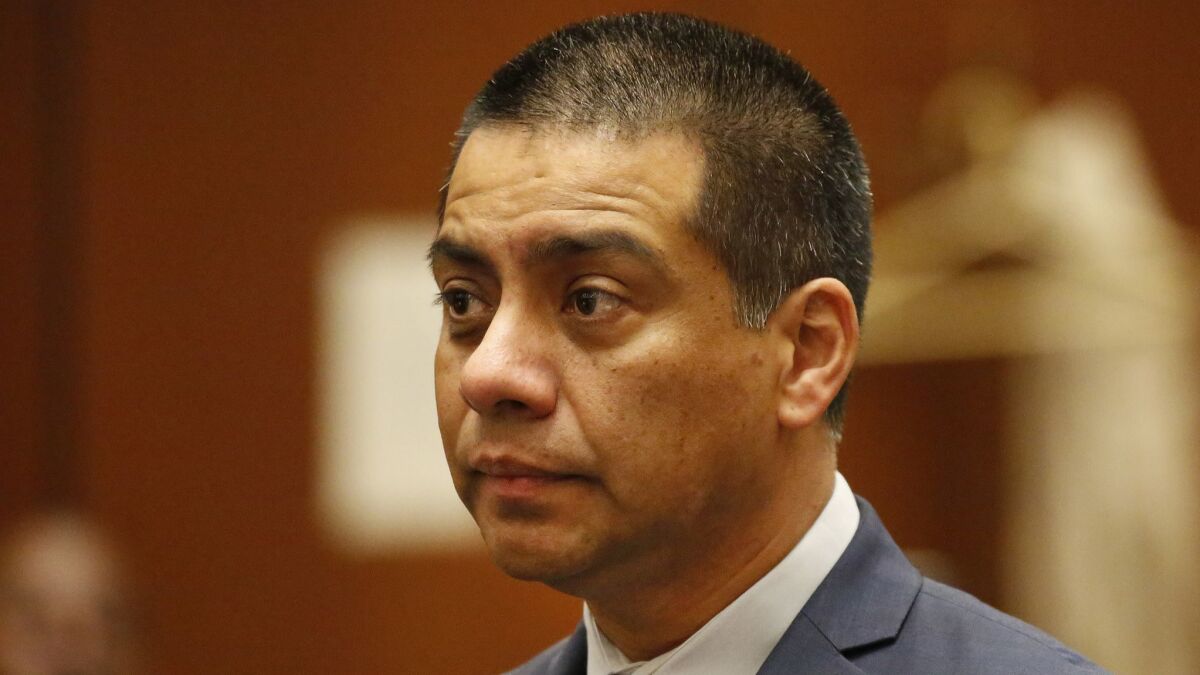 Ref Rodriguez and his attorneys will have more time to prepare their defense against charges of political money laundering, a judge ruled Monday.
The preliminary hearing in the case had been scheduled to begin May 9, but that date will now be pushed back to July 23 per the ruling from L.A. Superior Court Judge Deborah S. Brazil.
Rodriguez, 46, faces three felony charges of conspiracy, perjury and procuring and offering a false or forged instrument, as well as 25 misdemeanor counts related to the alleged campaign money laundering.
Prosecutors say Rodriguez had friends and relatives donate more than $24,000 to his campaign with the understanding that he would reimburse them fully.
He could have donated the money legally to his own campaign, but he allegedly broke the law by concealing the true source of the contributions — denying voters accurate information about support for his campaign, according to the Los Angeles County district attorney's office and the Los Angeles Ethics Commission.
His cousin Elizabeth Tinajero Melendrez faces related misdemeanor charges. The postponement applies to her case as well.
Rodriguez and Melendrez have denied wrongdoing.
The purpose of a preliminary hearing is to determine if there is enough evidence for a case to go trial.
After Monday's court appearance, Rodriguez's attorney said he has learned that the prosecution's presentation could last several days.
Rodriguez's team needs more time to prepare, especially because of additional evidence that has come to light, attorney Daniel Nixon said.
Nixon did not elaborate. But after the charges were filed in September, administrators at the charter-school group that Rodriguez co-founded made unrelated conflict-of-interest allegations against him. These allegations date from before Rodriguez won election to the school board in 2015, when he was a senior administrator for the school group.
Officials at the charter group accused Rodriguez of writing or authorizing about $285,000 in checks drawn from the charter group to a nonprofit under his control and to a for-profit company in which he may have had an ownership interest.
The charter group alerted state and local authorities, who have taken no action to date.
Soon after he was charged in September, Rodriguez resigned as school board president, but he retained his seat on the Board of Education. He and the other six board members are expected to name a new L.A. schools superintendent on Tuesday.
The front-runner is former investment banker Austin Beutner. Also in the running is interim Supt. Vivian Ekchian.
Rodriguez's vote could be key, which has upset some parent and community groups. About 20 protesters gathered outside the courthouse Monday calling for Rodriguez's resignation. Some also called on other members of the board to exclude Rodriguez from that decision.
Inside the courthouse, members of the group confronted Rodriguez, who was standing down the hall from Dept. 30, where the hearing was about to be held.
The protesters asked Rodriguez to recuse himself from the superintendent selection. He listened, with a pained expression on his face. Melendrez, who had worked for her cousin at the charter-school organization, stepped in protectively between Rodriguez and the group and calmly but firmly asked them to make appointments with him if they wanted to talk.
Rocio Rivas, a community activist, said she had tried to do that without success.
A parent in the group said she had waited six hours to speak to Rodriguez.
Rodriguez broke in, asking when that had happened.
The parent said she had waited six hours to testify at a school board meeting but Rodriguez left before the public-comment period began.
Nixon eventually steered his client and Melendrez away, saying, "We have a matter to attend to."
"So do we," the protesters called after them.
Separately, many of the protesters also have been campaigning against Beutner, saying they prefer to have an experienced educator like Ekchian. Beutner enjoys strong support from a core of civic leaders. He is a former publisher of the Los Angeles Times.
Twitter: @howardblume
---
UPDATES:
5 p.m.: This article was updated with additional details from the court hearing and from a confrontation between Rodriguez and demonstrators.
This article was originally published at 1:50 p.m.
---
The stories shaping California
Get up to speed with our Essential California newsletter, sent six days a week.
You may occasionally receive promotional content from the Los Angeles Times.