School officials postpone decision on first part of one-stop enrollment for L.A. Unified programs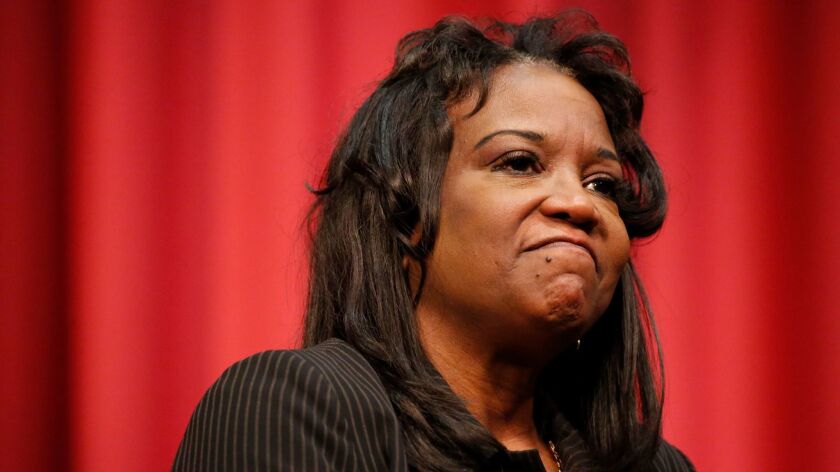 Los Angeles school officials pulled back this week from a plan to quickly install a one-stop online student enrollment system in the nation's second-largest school system.
The apparent problem was that Supt. Michelle King didn't have a solid majority on the Board of Education to approve the purchase of the necessary technology. As a result, officials quietly removed a vote on the $24-million budget item from the agenda of the Tuesday board meeting at the last minute.
The effort to match families with academic programs and draw in new enrollment has become a major early initiative of King, who took office about 15 months ago. She would like some features of the enrollment system ready by the fall. That timeline is now in doubt.
A unified enrollment system would allow parents to research all education options for their children at one online location and then fill out a single application form. Getting to that point would take several years, although some elements, including a search tool to find descriptions of schools and programs, could have been ready in several months.
Members of the Board of Education signaled some discomfort with the plan last week, when senior staff presented the concept at a board committee meeting. Some board members may not go along if charter schools are included; others might balk if charters are excluded.
Charters are privately operated and exempt from some rules that govern traditional campuses. They also are growing in numbers and enrollment, which exacerbates financial strains on the L.A. Unified School District. For King and other backers, unified enrollment is one way to try to win students back and otherwise increase enrollment.
Last week, however, staff members working on the project could not cite an example of a district in which unified enrollment had brought students back from charter schools. They said it's difficult to find a district to compare with L.A. Unified, the nation's second largest. L.A. Unified has more charter schools and more charter students than any other system, although charter students still account for only about 16% of district enrollment.
For now, charters are not part of the unified enrollment proposal.
Board members last week also expressed concerns about the potential for another technology fiasco, as happened in recent years with an iPads-for-all plan and a student records system.
---
The stories shaping California
Get up to speed with our Essential California newsletter, sent six days a week.
You may occasionally receive promotional content from the Los Angeles Times.