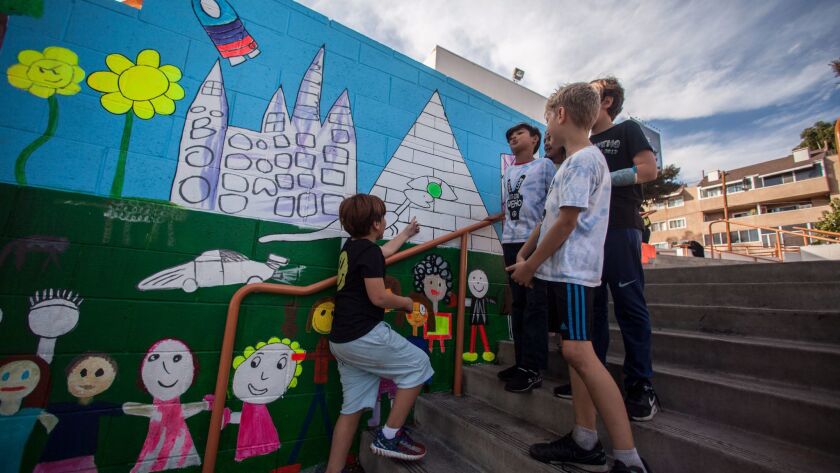 The tale of a new mural in a local schoolyard includes a dash of Charles Dickens and a hint of Hustler Hollywood.
It's also a telling look at how business gets done and at the differences between public schools in areas of poverty and privilege.
Unveiled last week at West Hollywood Elementary School, the mural is made up of images and concepts the school's students suggested to English pop artist Peter Blake, perhaps best known for the cover of the Beatles album "Sgt. Pepper's Lonely Hearts Club Band."
Blake designed the mural, which was executed on this side of the pond by artist Debi Cable, known for colorful 3-D images, which she incorporated in the school art.
The moving force behind the project was the Arts Club of London, co-founded by Dickens way back in 1863. The august institution struggled financially in recent times, then reemerged seven years ago as an investor-driven enterprise. While the mural fits into the club's art and public service mission, the project also ties in with its commercial objective in West Hollywood: Club executives have proposed an eight-story building on the Sunset Strip, around the corner from the school.
Executive director Alice Chadwyck-Healey says the building would include a free first-floor art gallery with rotating exhibits as well as retail and office space and facilities for club members. In London, the annual membership fee is about $2,700.
If The Arts Club wins approval, its building will displace Hustler Hollywood, a retail store that sells erotica and sex toys and that is the current tenant in a two-story building slated for demolition, Chadwyck-Healey said.
Current and former West Hollywood city officials attended the unveiling of the school mural and cheered warmly as actress Gwyneth Paltrow, an Arts Club member and shareholder, pulled the cord for the reveal. The mural stretches across sections of three terraced walls.
Its whimsical humans, animals, trees, flowers and rainbows have a child's hand-drawn simplicity. They combine with Blake's eye for placement and Cable's gift for color, which she calls the secret to painting in three dimensions. She handed out 3-D glasses for people to view the mural, although the mural doesn't depend on them. The project also will glow under ultraviolet light, she said, if anyone wants to stop by at night to check it out.
Third-grader Parsa Montazeri, 9, saw a peace symbol in the mural, just like the one he submitted. "I was thinking 'world peace,'" he said. "No one be mad. No one be angry. No one violent. Just be kind."
Fifth-grader Maxou Susini, 11, was pleased to see that what he called an "illuminati" — an eye inside a pyramid, like the one on the back of a dollar bill — had made its way from his drawing to the mural.
"I drew it because it was funny," Maxou said. "And it was a meme in our class."
Third-grader Asher Levine, 9, liked watching Cable working on the project off and on over a five-month period.
"It was like. 'Oh, my god, you see a really live artist," Asher said. "It says that this school really likes art."
The mural joins an eclectic, surprisingly large collection of art, sculpture, architecture and historic objects under the care of the nation's second-largest school system, in which many campuses stand out for penitentiary-like fencing and treeless asphalt expanses.
Some of the most valuable pieces and artifacts are stashed within a vault, but more accessible works of artistic and historic significance include Helen Lundeberg's companion murals, "Quests of Mankind," from 1940, at Canoga Park High.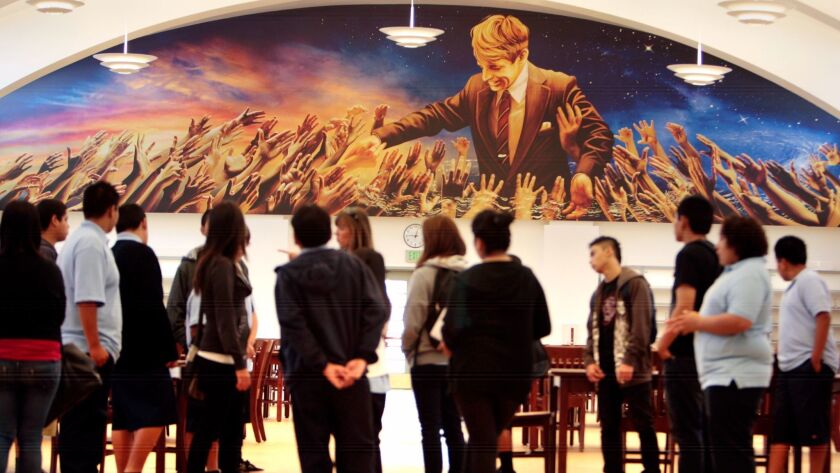 In Koreatown, at the Robert F. Kennedy Community Schools, which opened in 2010, artist Judith Baca created two murals in the library. One portrays Kennedy's presidential campaign and "Ripple of Hope" speech; the other records his meeting with farm worker organizer Cesar Chavez.
At West Hollywood Elementary, art is all over. Tiles hand-painted by students arch over one doorway. Murals cover walls. Veteran Principal Peter Pannell, in his fourth year at the school, said he relies on an array of gifted parent volunteers, many in arts or entertainment, who take on art and literary projects. Parents also enrich the school by raising half a million dollars a year to supplement public funding, he said.
Just under 14% of its students are from low-income families — compared with a poverty rate across the Los Angeles Unified School District of nearly 80%. In a district that is 74% Latino, West Hollywood Elementary is two-thirds white, though its students represent 16 different languages and cultures. Nearly 87% of its students meet or exceed state testing standards in English; more than 80% in math.
The school is relatively immune from high-stakes funding battles elsewhere in the district, as well as from the ongoing competition with independent charter schools, whose growth is a major factor threatening the district's solvency. Elsewhere, schools with a core of middle-class families, such as Reed Middle School in North Hollywood, are fighting ferociously to maintain the funding that keeps their schools appealing to the middle class. Meanwhile, advocates for schools in high-poverty, high-crime areas, such as La Salle Elementary in South L.A., have sued the district for a greater share of funding.
La Salle gets much more public funding than West Hollywood and some private aid as well, but it could use more of the largesse that flows into campuses that need it less.
The West Hollywood parents, of course, don't take their school's success for granted. They and the school staff work hard to ensure it.
"This school is very into the arts," said parent Stacey Susini. "We host various school art shows — and beyond visual arts we have theater, music, dance .... It's what I would expect for this school."
---