Investigation of L.A. school board member Ref Rodriguez now includes conflict-of-interest allegations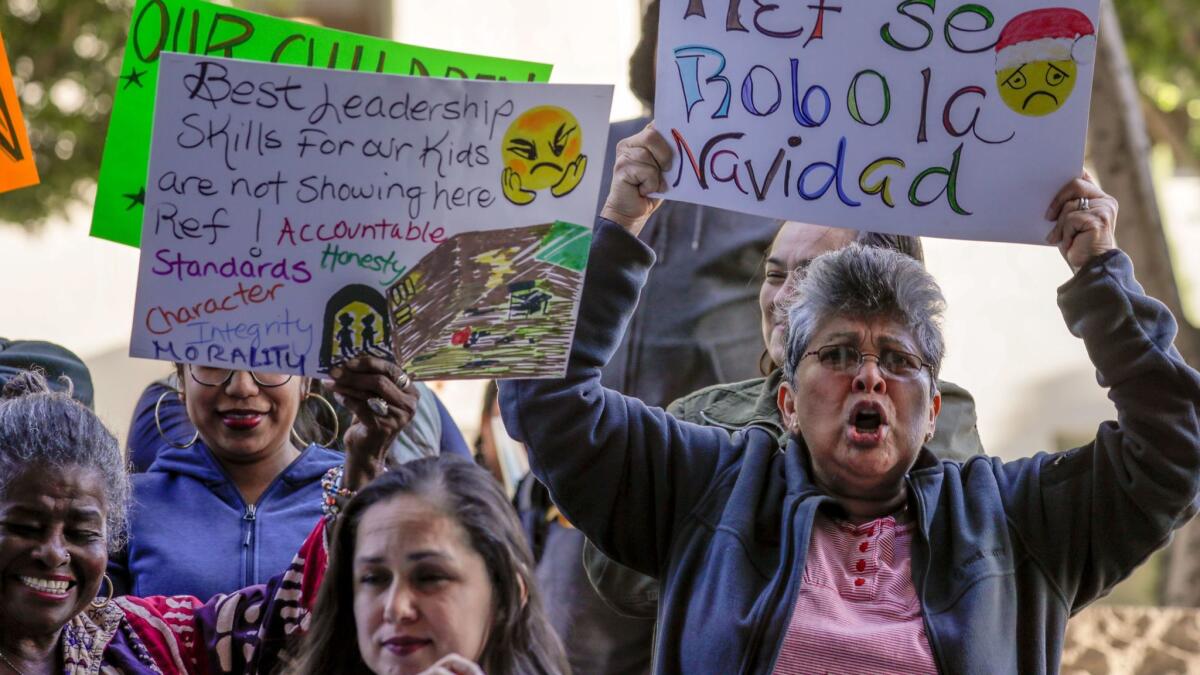 In the three months since prosecutors filed criminal charges against him, Ref Rodriguez has continued to go about his duties on the Los Angeles Board of Education. He attends meetings, sponsors resolutions, tweets life-affirming messages — and firmly brushes aside calls to step down.
When the initial commotion over his legal woes subsided, he seemed to settle right back into his $125,000-a-year job.

For the record:
4:05 p.m. Dec. 14, 2017A previous version of this post listed the date of the school district's recent letter to PUC Schools as Dec. 8. The date on the letter is Dec. 7.
But the criminal case against him inched forward, and on Wednesday sources close to it confirmed that the scope of the investigation has widened.
Rodriguez already was facing felony campaign money-laundering charges, but investigators, according to the sources, have moved into other areas, including separate allegations that he had conflicts of interest.
Through his attorneys, Rodriguez denies any wrongdoing.
The broadening investigation is one reason why attorneys on both sides agreed in court Wednesday to further delay the timeline of steps that could lead to a trial. The first presentation of evidence in court, at a preliminary hearing, will not take place before February.
"It's an ongoing situation," said L.A. County Deputy Dist. Atty. Susan Ser. "There have been subsequent revelations."
Ser said she could not discuss particulars but confirmed that conflict-of-interest allegations had entered the picture and that there might be other new issues as well.
Another source close to the case, who asked for anonymity because he was not authorized to discuss it, also confirmed the developments.
In making their case, prosecutors are not restricted to the original charges, Ser said.
The conflict-of-interest allegations, first reported in The Times, have to do with the latter part of Rodriguez's long tenure as a senior executive at Partnerships to Uplift Communities, the charter school organization he co-founded. PUC Schools operates 17 campuses in Los Angeles and one in Rochester, N.Y.
PUC administrators allege that in 2014, Rodriguez signed or co-signed $265,000 worth of checks drawn on PUC accounts that were payable to a separate nonprofit under his control. Public records list Rodriguez as president and chief executive of this nonprofit, which was called Partners for Developing Futures.
Early on, philanthropists funded the nonprofit, which had been started to help create minority-led charter school organizations. Nonprofits report their activities on special tax forms that are available to the public, but there are no such tax filings for this organization after 2012.
PUC administrators also flagged another possible conflict from 2014, when Rodriguez allegedly authorized payments of $20,400 to a private company called Better 4 You Fundraising. That November, as a candidate for the school board, he reported in disclosure forms submitted to the city that he owned a stake in the company. It's unclear whether he did at the time the checks were drawn.
In October, PUC administrators reported these potential conflicts to state regulators and to the L.A. Unified School District, which authorizes the local PUC schools.
Rodriguez, 46, currently faces three felony charges for conspiracy, perjury and procuring and offering a false or forged instrument, as well as 25 misdemeanor counts related to alleged campaign money laundering during his successful 2015 run for office.
Prosecutors say Rodriguez gave $24,250 to his own campaign while illegally representing that the donations had been made by 25 friends and family members. Thirteen of them worked for his charter school organization.
Also appearing in court Wednesday was Rodriguez's cousin Elizabeth Tinajero Melendrez, a former PUC administrator who is charged with helping launder the contributions. She also has denied wrongdoing.
In a separate development last week, the charter division of L.A. Unified accused PUC administrators of underplaying their responsibility for the alleged conflicts of interest.
"PUC stated that it was 'shocked' to discover the misconduct," specialist Aida Tatiossian and fiscal services manager Sandra Melendez wrote in a Dec. 7 letter. "The District brought these issues to PUC's attention several times in the past through a series of notices."
PUC insisted that it has cooperated fully with L.A. Unified and other oversight agencies.
Outside court on Wednesday, about 40 parents staged the latest demonstration calling for Rodriguez to resign.
"You can focus on defending yourself in court or focus on being a good advocate for the school district," said Josh Rutkoff, a parent at Aldama Elementary in Mount Washington. "I don't think you can do both."
---
UPDATES:
7:40 p.m.: This article has been updated throughout with additional details and comments, including a school district letter criticizing PUC Schools.
This article was originally published at 11:25 a.m.
Sign up for Essential California for news, features and recommendations from the L.A. Times and beyond in your inbox six days a week.
You may occasionally receive promotional content from the Los Angeles Times.