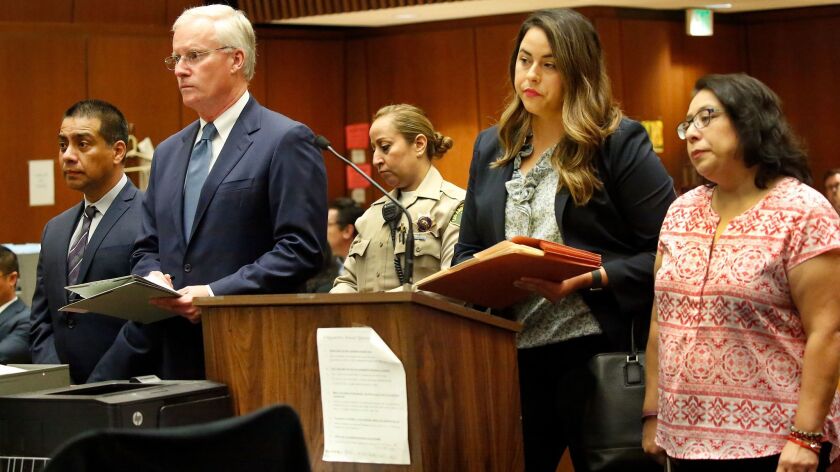 Ref Rodriguez's closest allies on the Los Angeles school board on Tuesday called on him to step aside until he resolves his criminal case and other legal problems.
Rodriguez flatly refused, in a statement he posted on social media.
The three board members made their request on a day that Rodriguez appeared in court, pleading not guilty to felony and misdemeanor charges for alleged campaign money laundering.
Their joint statement was a stunning development, given what was at stake. They and Rodriguez now essentially control the board with a 4-3 majority. All the members of the bloc were elected with substantial financial support from charter-school supporters. The loss of the majority could stall the goals of those charter advocates.
But Rodriguez's continued presence on the board — while he faces criminal charges — comes with its own set of perils, particularly when it comes to the bloc's reputation.
Rodriguez indicated from the start that he planned to remain on the board as his criminal case moves forward. Before Tuesday, board members had publicly maintained a wait-and-see attitude regarding the criminal case and separate questions about conflicts of interest.
They issued their statement at about 1 p.m. Tuesday, just as board members gathered for a study session.
"Nobody should be tried in the press or the court of public opinion without having a fair hearing," board members Monica Garcia, Nick Melvoin and Kelly Gonez said of the allegations that Rodriguez illegally reimbursed 25 donors to his 2015 campaign. "But in order to keep making progress towards our goal of 100% graduation, we have asked Dr. Rodriguez to take a leave of absence from the Board."
Rodriguez did not speak to reporters during his court appearance. At a later school board meeting, he seemed composed and engaged.
He made his statement about two hours after his colleagues' made theirs, while the board session was still in progress.
"Earlier today, three members of the LAUSD Board requested that I take a leave of absence. I am not doing so," he wrote. "I have dedicated my life to provide better educational opportunities to all students in our communities. I have worked with parents, community members, and students to tear down barriers to success, and together, we have proven that grassroots policy making is alive and well."
Rodriguez knew what his colleagues were planning, said Melvoin's chief of staff, Sarah Angel.
Around midday Monday, Garcia and Melvoin visited Rodriguez in his office at district headquarters, and pleaded with him to take a leave, Angel said. They also told him they were prepared to go public with the request.
"In light of our ask, I disagree with his decision," Melvoin said in a statement Tuesday afternoon, "but of course will continue my focus on moving the district forward and putting kids first."
The trio, in a way, ended up with a double win. The board members were able to take a strong public stand for clean government, while still seeing their four-vote majority preserved.
The public dispute puts L.A. Unified in uncharted territory. District officials searching through records dating to 1935 could find no previous instance of a board member who has taken a leave.
Senior district administrators were scrambling to determine how they would proceed in such a scenario. The district's general counsel, David Holmquist, said the board has no authority to compel Rodriguez to step aside.
"This is a gentler rebuke than asking him to resign," Charles Kerchner, professor emeritus at Claremont Graduate University, said of the board members' statement. "But a leave of absence — that's weird. I don't know how a leave of absence from a public body works. It seems you're a sitting member of a body like that or you're not."
In the money-laundering case, Rodriguez, 46, is charged with three felony and 25 misdemeanor counts. If convicted, he faces up to four years and four months in jail.
Prosecutors accuse him of giving $24,250 to his own campaign while illegally representing that the donations had been made by more than two dozen friends and family members, including 13 who worked for his charter school organization.
The donations were made in their names, and prosecutors say he used his own money to pay them back. He faces felony charges of conspiracy, perjury, and procuring and offering a false or forged instrument, as well as the misdemeanor counts — one for each of the 25 donors he is accused of illegally reimbursing.
The charges grew out of an investigation by the Los Angeles City Ethics Commission.
Also appearing Tuesday morning in the downtown Los Angeles criminal courthouse was Rodriguez's cousin Elizabeth Tinajero Melendrez, 45, who is charged with assisting Rodriguez and also pleaded not guilty.
Rodriguez's morning court appearance conflicted with the start of a 10 a.m. school board meeting in closed session, which included a briefing from the school system's inspector general.
That briefing was probably to cover a problem for Rodriguez that emerged last week. The charter school network that he co-founded alleged that Rodriguez had a possible conflict of interest when he authorized $285,000 in payments in 2014, the year before he joined the Board of Education.
Most of that money went from the charter group Partnerships to Uplift Communities, or PUC Schools, to a nonprofit that Rodriguez ran. The nonprofit, Partners to Develop Futures, had been set up to develop minority-led charter schools and train minority educators for leadership roles.
An attorney representing PUC Schools said he has so far found little or no evidence that the charter network received a benefit for these payments.
PUC alerted the L.A. Unified School District, which has oversight responsibilities for charter schools, and filed a conflict-of-interest complaint with the state's Fair Political Practices Commission.
The FPPC said it will not consider opening an investigation until the criminal case is resolved.
In another development, which would normally be major news in the nation's second-largest school system, Supt. Michelle King announced in an email Tuesday that her medical leave would be extended through year's end. Her last day in the office was Sept. 15. She had previously projected a return by Nov 1. Neither she nor the district has released details about her medical issues.
Twitter: @howardblume
sonali.kohli@latimes.com
Twitter: @Sonali_Kohli
---
UPDATES:
7:30 p.m.: This article was updated throughout for context.
4 p.m.: This article was updated with Rodriguez saying he will stay put on the board.
2:15 p.m.: This article was updated with board members urging Rodriguez to take a leave of absence.
11:45 a.m.: This article was updated with comments from Nixon and Ser.
10:35 a.m.: This article was updated with a photo from the arraignment and entering of pleas.
10:05 a.m.: This article was updated with details on Melendrez's plea.
This article was originally published at 9:40 a.m.
---