Emergency alerts from Santa Barbara County didn't go out until after mudslides began in Montecito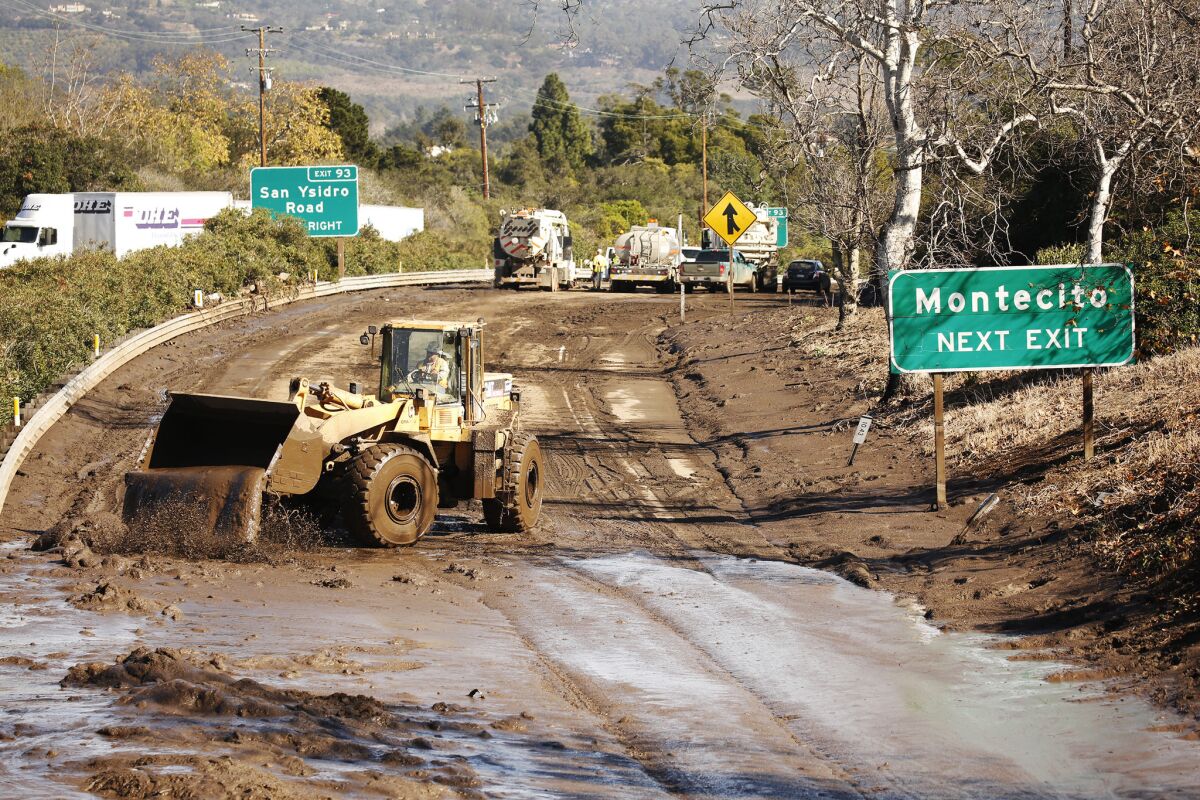 Santa Barbara County officials chose not to send an emergency alert to cellphones warning of mudslides until destructive flooding had already begun in Montecito, officials said Wednesday.
The message, similar to an Amber Alert for abducted children, was sent about 3:50 a.m. Tuesday to all registered cellphones in areas that were under voluntary and mandatory evacuations because of heavy rains that threatened mudflows in the wake of the Thomas fire, officials said.
It's unclear how many people actually got the alert. But by then, tons of mud, trees, rocks and other debris were rolling down hills that had been burned in the largest fire on record in California. At least 17 people died and more than 100 homes were destroyed in the mudslides.
Jeff Gater, Santa Barbara County's emergency manager, said the alert was sent because of deteriorating conditions and followed one issued by the National Weather Service.
Officials expected heavy rain, but the downpour was much worse than anticipated and it became clear mudslides were occurring.
In the days leading up to the storm, the county had issued numerous warnings about the possibility of mudflows on the county's website and social media, through news outlets and via community information emails that residents can sign up to receive. Gater said more than 200,000 emails and other warning messages were sent out. But the county decided not to use the the push alert system to cellphones out of concern that it might not be taken seriously.
"If you tell everyone to get out, everyone get out, the next time people won't listen," he said. "If you cry wolf, people stop listening."
Deadly natural disasters in California over the last few months have sparked debate over how best to warn the public about an impending safety threat. More than 40 people died in October when fires swept through wine country. Some residents said they got little or no warning, in part because Sonoma County decided not to use the cellphone bulletins as the fire approached Santa Rosa subdivisions.
The wine country fires, as well as December's Thomas fire, highlighted weaknesses in emergency warning systems that officials are now trying to address. Among the problems: Cellphone alerts are not getting to those targeted, and television warnings are not being broadcast properly.
It's unclear how many people would have heeded an emergency evacuation order had it been issued earlier in Montecito. Numerous residents said they knew about the mudslide risk from warnings but decided to stay in their homes anyway. Some said that after fleeing from fire in December, they doubted the rains would pose much of a risk.
David Cradduck, 66, was one of many people in his Montecito neighborhood who stayed.
"I think all of us have learned our lessons on this one. We were all bad children and ignored the warning," he said.
After the fires, some said they had disaster fatigue.
"We were all tired of it," Cradduck said. "Now here we are, shovels in hand, trying to get our vehicles out. Mother Nature came back and dealt us a big blow, but it's our fault. We should have heeded the warning."
Gater was also skeptical about whether more alerts could have changed minds, especially in the early morning hours when many people were asleep.
"A lot of people don't listen to their phones when they go to bed," he said. "That's why we messaged people on Sunday for something that was 30 hours away."
Mandatory evacuation orders issued Sunday had focused on foothill communities home to about 7,000 people above Montecito, areas closer to where the Thomas fire had burned. Deputies had gone door-to-door there Monday night, including in Romero Canyon, where scores of people were stranded Tuesday and Wednesday after the mudslides.
Voluntary evacuation orders were issued at the same time for about 23,000 others, including in some neighborhoods where mudflows buried homes and killed people.
"This isn't an exact science in terms of actually defining where something is going to happen," Santa Barbara County Sheriff Bill Brown told reporters Tuesday. "Obviously a lot depends on Mother Nature — the magnitude of the rainfall, the magnitude of the mudslides."
Gater said research by the county and federal experts suggested that although mudflows were likely to result from the storm, officials didn't think they would go as far south as they did. Debris from the burned areas overwhelmed creeks, sending the flow into neighborhoods and then down onto the 101 Freeway.
Despite the destruction, Gater said, he believes the warnings and preparations paid off.
Times staff writers Brittny Mejia in Montecito and Ruben Vives in Los Angeles contributed to this report.
Twitter: @josephserna
---
UPDATES:
11:05 p.m.: The headline was updated to reflect that it was the county's alerts, specifically, that didn't go out until after the mudslides began.
This article was originally published at 7:40 p.m.
The stories shaping California
Get up to speed with our Essential California newsletter, sent six days a week.
You may occasionally receive promotional content from the Los Angeles Times.