State investigating allegations of lead-sampling problems, derogatory remarks by Exide cleanup contractor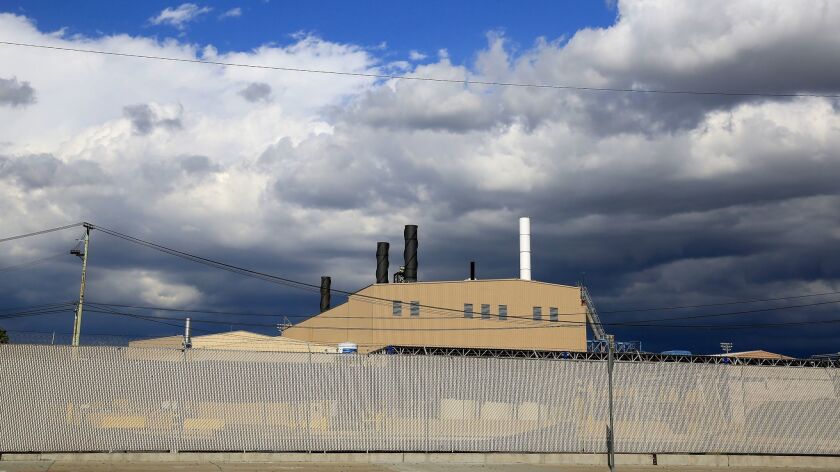 California toxic waste regulators are investigating complaints about a contractor hired to test homes for lead contamination near a closed battery recycler in Vernon, including accusations that its employees made racially derogatory remarks.
In a letter Thursday to Arcadis U.S. Inc., the Department of Toxic Substances Control said it was "recently made aware of allegations regarding Arcadis' compliance with established soil sampling protocols" and concerns about its data collection in southeast Los Angeles County neighborhoods.
Chief Deputy Director Francesca Negri wrote that the department had also heard accusations that Arcadis staff made "insensitive or derogatory comments … some of which have been construed as racially charged" while sampling in the largely Latino neighborhoods around the plant.
Arcadis, which was awarded a $6.6-million state contract last year, is one of two contractors sampling homes for lead near the Exide Technologies recycling plant.
An emailed statement by an Arcadis spokesman did not directly address the allegations but said the company provides safe working conditions and complies with state requirements to employ a diverse, local staff.
If substantiated, such allegations could create another headache for officials in charge of California's largest cleanup of lead contamination.
State regulators have faced repeated criticism from community groups and lawmakers over the pace of cleanup, which spans an area of 10,000 homes across half a dozen communities polluted over decades by the now-closed recycling plant.
Mark Lopez, who heads East Yard Communities for Environmental Justice, has seen a list of the complaints and said they raise "deep concerns about the integrity of the entire Exide cleanup."
While members of a community advisory group on the cleanup were planning a special meeting to address the concerns, state officials said they learned of the complaints only recently and are still trying get a handle on them.
"We are taking these allegations very seriously and we will aggressively investigate them," said Rosanna Westmoreland, a spokeswoman for the toxic substances department.
At least some of the complaints came from lead-sampling technicians concerned about breathing toxic fumes from a soil-drying procedure, according to the department's letter. The state-approved process heats samples in pans over propane stoves to prepare them for on-site measurements of contamination.
Earlier this week the department directed the company to stop the procedure, citing recent concerns by technicians about breathing propane and lead fumes, but described it as a precautionary measure. Industrial hygienists for the department conducted testing of the breathing zone and found "no threat to worker health or safety," according to the letter.
The department began investigating concerns about soil-drying when they were first raised several months ago and now sends all soil samples to an off-site laboratory for analysis, Westmoreland said.
California lawmakers have approved more than $180 million to test and clean communities near the Exide plant, which was forced to close in 2015 after a long history of environmental violations.
The testing is underway, but work to remove contaminated soil from thousands of homes has been at a standstill since last summer as the state conducts an environmental review.
---
Get breaking news, investigations, analysis and more signature journalism from the Los Angeles Times in your inbox.
You may occasionally receive promotional content from the Los Angeles Times.