California's deadliest fires set off debate about illegal immigration and sanctuary policies
Reporting from Santa Rosa, Calif. —
Deadly wildfires in Northern California that destroyed or damaged nearly 10,000 homes have set off a contentious debate over something seemingly unrelated: immigration.
At the center of the dispute are the top cops of Sonoma County and Immigration and Customs Enforcement, who have been sparring publicly this week in what marks the latest instance of state and federal authorities tangling over immigration policies.
ICE Acting Director Thomas Homan blasted Sonoma County for so-called sanctuary policies that he said has "left their community vulnerable to dangerous individuals and preventable crimes."
Sonoma County Sheriff Rob Giordano lashed back, saying Homan's statement was "inaccurate, inflammatory and damages the relationship we have with our community."
"ICE attacked the Sheriff's Office in the midst of the largest natural disaster this county has ever experienced," Giordano said. "ICE's misleading statement stirs fear in some of our community members who are already exhausted and scared."
The controversy stemmed from the arrest Sunday of a homeless man accused of felony arson. Jesus Fabian Gonzalez, who immigration officials said has been returned twice to Mexico, told deputies he set a fire in Maxwell Farms Park in Sonoma Valley, where he's been seen sleeping, to stay warm. He is being held on $200,000 bail.
A day later, federal immigration authorities said they lodged a detainer, or a request to local jailers to keep an inmate behind bars for up to two extra days, against Gonzalez.
Far-right news outlet Breitbart inflated the story in a report published Tuesday, suggesting that Gonzalez was behind the string of wildfires since Oct. 8 that have devastated the wine country and claimed more than 40 lives.
Giordano quickly and vigorously shot down Breitbart's claim.
"There is a story out there that he's the arsonist in these fires. That's not the case. There's no indication he's related to these fires at all," Giordano said of Gonzalez. "I wanted to kill that speculation right now, so we didn't have things running too far out of control."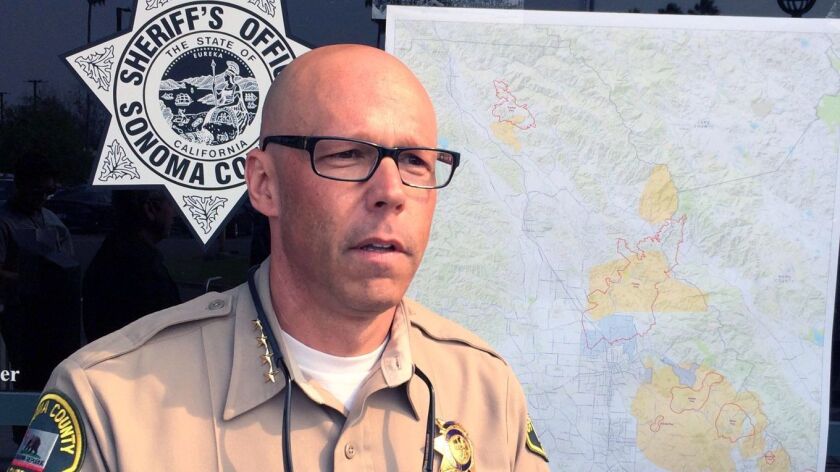 Homan later said Gonzalez had been arrested four times over the past year in Sonoma County and, after each arrest, the federal agency filed a detainer against him. But, he said, ICE was never notified of his releases.
"The residents of Sonoma County, and the state of California, deserve better than policies that expose them to avoidable dangers," Homan said in a statement. "Non-cooperation policies — now enshrined in California state law — ensure only one thing: criminals who would otherwise be deported will be released and left free to re-offend as they please."
Sanctuary policies have taken root across California as a potent symbol of resistance to the Trump administration's pledges to ramp up deportations. Just this month, Gov. Jerry Brown signed landmark legislation that limits who can be held, questioned and transferred at the request of federal immigration authorities.
Giordano said ICE's detainer request was not signed by a judge and therefore not legally enforceable. He also said that Gonzalez has been in Sonoma County jail eight times for minor misdemeanor offenses and that his staff notified ICE of his release in several of those cases.
"Multiple federal court cases have determined these administrative detainers are unconstitutional," Giordano said. "If ICE obtains a warrant, I can legally hold the person and would be happy to do so."
He also reiterated that there's no evidence Gonzalez started the wildfires, the causes of which are still under investigation. Giordano went as far as to say "it appears highly unlikely" that Gonzalez was involved.
As the immigration debate played out, firefighters continued to increase containment on the devastating blazes. By Thursday, most mandatory evacuations throughout the region had been lifted, but about 22,000 people in Sonoma County were still displaced, either because their homes are still at risk or were in a burn zone, said county spokesman Scott Alonso.
Officials called it the deadliest week in California fire history, with at least 42 confirmed fatalities.
Preliminary loss figures released Thursday by State Insurance Commissioner Dave Jones estimate the wildfires have caused more than $1 billion in insured losses.
The insurers — eight of California's largest — also found that there were 5,449 total residential losses, 4,177 partial residential losses, 601 commercial property losses and more than 3,000 auto losses.
Jones, who released the findings Thursday afternoon in Los Angeles, noted that it will take months to finalize the total insured losses.
"We know this number will climb as more victims go through the claims process, as they secure the safety of their loved ones and themselves, and begin to reach out to their insurance agents and insurance companies," he said.
Better weather this week has helped firefighters continue to control flames and prevent additional damage.
The objective in the days to come will be to make sure that no spot fires grow out of control and that crews who have been here for nearly two weeks stay vigilant and avoid mishaps, officials from the California Department of Forestry and Fire Protection said in a morning briefing at the Sonoma County Fairgrounds.
"Just give us your best for a few more days," Cal Fire Incident Cmdr. Bret Gouvea told firefighters Thursday.
At their peak, the state's large fires had drawn about 11,000 firefighters into the battle. But with the largest blazes in Sonoma, Napa and Mendocino counties nearing full containment, firefighters have begun to trickle back to their home states, counties and districts.
Sonoma County is holding community meetings on the process for getting state and federal aid to clean ash and debris, Alonso said.
Cleanup of the hazardous materials can be dangerous and expensive, he said.
"We're really concerned about people touching the debris, trying to remove ash. We will have hazardous materials teams deployed … to help homeowners with large-scale removal," Alonso said. "We don't want folks doing it on their own."
Tchekmedyian reported from Los Angeles, Serna reported from Santa Rosa. Times staff writers Sonali Kohli and Makeda Easter contributed to this report.
ALSO
Big-rig driver charged in deadly tour bus crash that killed 13
Couple accused of sex crimes at South L.A. school are arrested in Florida after 17 years on the run
California Republicans increase security at state convention ahead of Steve Bannon speech
---
UPDATES:
9:45 p.m.: This article was updated with an additional quote from the Sonoma County sheriff.
This article was originally published at 8:41 p.m.
---
Life is stressful. Our weekly mental wellness newsletter can help.
You may occasionally receive promotional content from the Los Angeles Times.