Garcetti now faces a pivotal choice tinged with politics, race and gender: Selecting a new chief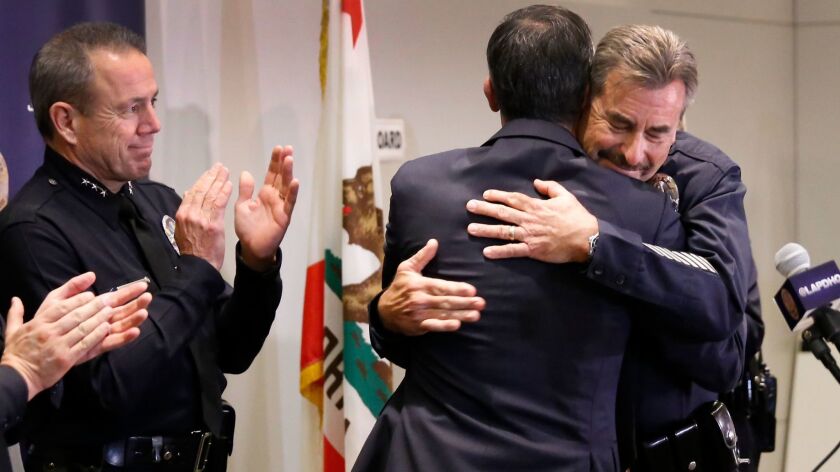 Shortly after Charlie Beck announced he will retire as chief of the Los Angeles Police Department, City Councilman Joe Buscaino declared on Twitter that it was time for a woman to take his place.
Others speculated Friday about whether the department should be led by an insider or an outsider, someone who will keep the department on the same path or radically change its course, or someone who reflects the diversity of Los Angeles — perhaps a Latino, or an Asian American.
The question of who should replace Beck is a pivotal one for Mayor Eric Garcetti. It is a closely watched decision laced with sensitive matters of race and gender, tied to the politically perilous terrain of crime rates, at a time when Garcetti has said he is thinking about a run for president.
Beck, 64, was sworn in as chief in 2009. Whoever fills his shoes will be the face of a department with a storied and frequently troubled history, charged with policing the second most populous city in the country as it faces surging homelessness, thorny dilemmas spawned by new technology, and clashes with the Trump administration over immigration enforcement.
In the past year, local lawmakers have complained that the department needs to put more officers on the street and speed up response times. And then there's the crime rate. In Los Angeles, violent crime was up for the fourth year in a row last year, although homicides fell, according to recent statistics.
"Mayors feel tethered to the coattails of the police," said Eli Silverman, professor emeritus at John Jay College of Criminal Justice in New York. "They feel that if crime has gone up, they're going to be responsible."
Selecting a police chief is one of the most sensitive decisions an L.A. mayor must make.
After the 1992 riots, then-Mayor Tom Bradley selected L.A.'s first African American police chief, Willie Williams, hoping that would heal some of the city's deep racial wounds. Williams replaced Daryl F. Gates, a deeply polarizing figure who had won fierce loyalty from rank-and-file officers but had long been criticized as running the LAPD like a quasi-military force that mistreated blacks and other minorities.
Williams instilled major reforms but had a rocky tenure marked by scandals and distrust from the rank and file. He did not receive a second term.
In 2002, in the wake of the Rampart corruption scandal, Mayor James Hahn picked the brash former boss of the New York City Police Department, William J. Bratton, to lead the LAPD. Bratton undertook a major reworking of the department and saw a major decline in crime during his tenure.
In a city still scarred by the 1991 beating of black motorist Rodney King, a perennial concern is how the Police Department relates to the community. Los Angeles is not only sprawling and vast but exceptionally diverse, and the new chief must be able to understand and relate to its distinct neighborhoods, Councilman Marqueece Harris-Dawson said.
"Los Angeles has got a particular history ... it runs deep in all of our veins," Harris-Dawson said, adding that the new chief needs to have "a sensitivity to that."
And as the White House champions a federal crackdown on immigrants in the country illegally, it is especially critical that the chief maintain trust with immigrant residents, lawmakers said. The next chief needs to be a "source of comfort" for immigrants with his or her words and actions, said Kevin de León, president pro tem of the California Senate and one of the most prominent Latino leaders in the state.
Councilman Gil Cedillo said the new chief "must respect the commitment we've made to the undocumented community" by honoring longstanding rules that bar officers from contacting people solely to determine their immigration status, as well as a Garcetti mandate meant to clamp down on collecting sensitive information about immigrants that could end up in federal hands.
And Connie Rice, a civil rights attorney whose advice has been sought by police commissioners and elected officials for more than three decades, urged the next chief to continue reforms set out by Beck and Bratton.
"Right now we are about a third of the way along to really getting into the DNA of a cultural change," Rice said. "The city needs a chief who continues to build trust, reduce alienation and improve officer safety."
Rice said it takes time — and trust — to ensure real change and totally depart from the policing of the Rodney King years. Community policing strategies such as deescalation, gang intervention efforts and mental health awareness need to be reflected in how every officer patrols the streets, not just the work of specialized teams, she said.
"The problem for public officials is staying true to a long-term strategy. A culture of change requires decades of commitment and substantial effort," Rice said.
Activists who have sharply criticized the department under Beck, meanwhile, stressed that his exit was a chance to change direction. Black Lives Matter organizer Melina Abdullah, whose group had repeatedly called for Beck to be fired amid protests over police shootings, said his retirement was a chance to "end this era in which black Los Angeles has been under siege."
Abdullah argued that the LAPD should step back from addressing homelessness or truancy, matters that she argued were better handled by social workers and other groups.
"We should be looking for someone who is most interested in public safety, rather than the expansion of the police state," she said. "Someone who might be willing to give up a portion of their budget to invest in the things that actually make communities safe."
The new chief will also have to wrangle with complex debates over the use of drones, body cameras and other new technology, Councilman Mike Bonin said. And Silverman, the John Jay College professor emeritus, said any chief in a big city needs to understand predictive policing, which includes using data to concentrate police resources in crime-heavy areas.
"They don't have to be technocrats, but they should be knowledgeable about what's going on," Silverman said.
Mike O'Gara, a member of the Sun Valley Area Neighborhood Council, said he hopes the LAPD adds to its ranks under the next chief.
O'Gara said a frequent complaint at neighborhood council meetings is that it takes too long for officers to come out after a call is made. He also said more enforcement is needed to control homeless encampments.
"We need more of a presence," O'Gara said.
Buscaino, the councilman, said he hoped the new chief would come from inside the department. When asked whether his successor should be an insider or an outsider, Beck said that outsider candidates are usually chosen if there is serious unrest or "you don't have somebody inside that you have faith in doing the job."
Neither, he said, is the case right now.
"We certainly want to cast the net wide … but I think we have talented people inside that could assume the role. And I think it would be an easier transition for them than someone that had never worked or lived in the city of Los Angeles," which has its own unique political dynamics, Beck said.
Police Commission President Steve Soboroff said there were "spectacular candidates" inside the department, but resisted ruling anyone out.
"Bratton wasn't an insider," he said.
Times staff writer Kate Mather contributed to this report.
Twitter: @alpertreyes
Twitter: @lacrimes
Twitter: @dakotacdsmith
---
The stories shaping California
Get up to speed with our Essential California newsletter, sent six days a week.
You may occasionally receive promotional content from the Los Angeles Times.