Gin D. Wong, visionary architect of L.A.'s Modernist landmarks, dies at 94
Gin D. Wong, a visionary architect whose iconic works have helped shaped the look of Los Angeles for more than half a century, has died at 94.
Wong died Sept. 1 at his Beverly Hills home, according to a statement from USC, where he had served on the board of trustees for more than 30 years.
Wong's most notable projects include the Los Angeles County Museum of Art, Los Angeles International Airport and the often-photographed Union 76 gas station in Beverly Hills.
The latter, with its sweeping canopy, more resembles an alien spaceship than a refueling stop. The Los Angeles Conservancy described it as "a true icon of Mid-Century Modernism, recognized everywhere as one of the highest examples of Googie architecture in the world."
It was one of the first major projects Wong took on upon earning his degree in architecture from USC in 1950.
He had originally planned to put it at Los Angeles International Airport, for which he was design director when it was converted to use by jets in the 1950s. Years later, he designed the airport's two-level roadway as part of a major expansion that included upgrades to all terminals.
His other projects included the CBS Television City complex and such high-rises as the USC Tower at South Park Center, formerly the AT&T Center, and the 33-story downtown building formerly known as the Arco Tower.
Wong helped found William L. Pereira & Associates, the architectural firm responsible for the 1961 master plan for USC's University Park Campus and the university's Olin Hall of Engineering and Stauffer Hall of Science. He was president of the firm during the design of San Francisco's iconic Transamerica Pyramid.
"Gin Wong was a visionary architect who left an indelible mark on our beloved alma mater and our vibrant Southern California landscape," USC President C.L. Max Nikias said in a statement.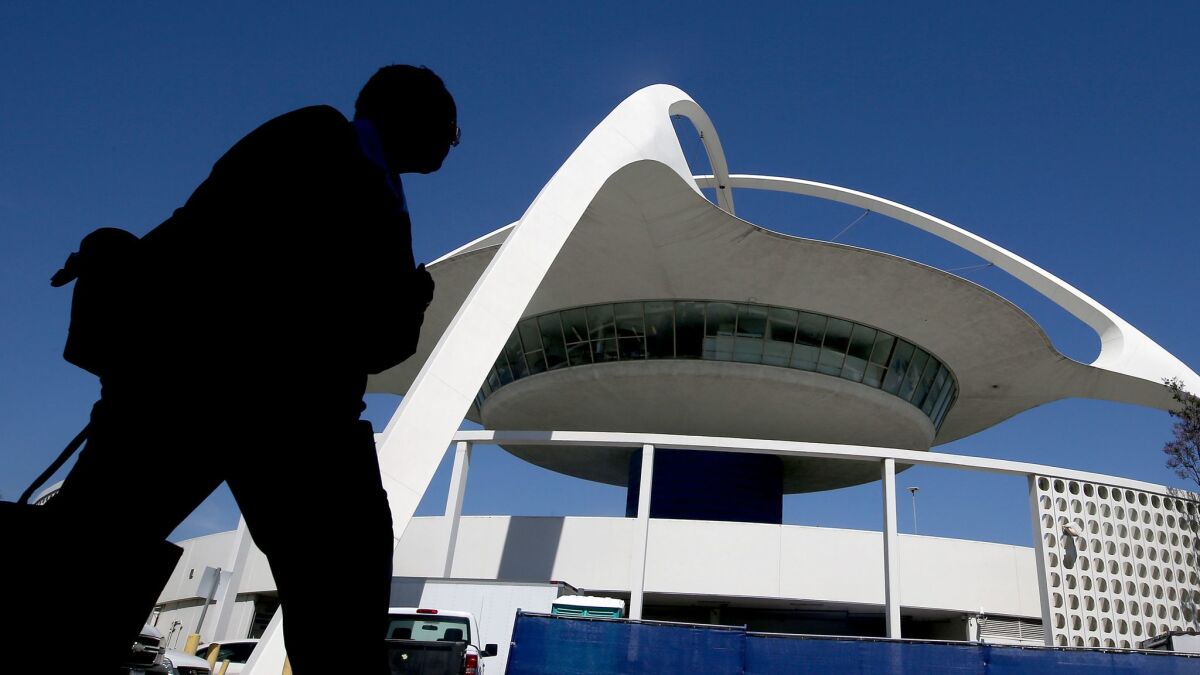 Born in Guangzhou, China, Wong moved to Los Angeles with his family as a child. Upon graduating from John H. Francis Polytechnic High School in Sun Valley, he served in the Army Air Corps during World War II, participating in major air battles over Japan in 1945 as a lead crew navigator and radar bombardier.
After the war, he enrolled at USC, where one of his professors was the prolific architect William L. Pereira, who would later become his colleague.
Wong founded his own company, Gin Wong Associates, in 1973. Its recent projects have included Korean Air's Hyatt Hotel in Seoul and a state-of-the-art university research library for Inha University in Incheon, South Korea.
Once asked which of his many works he was partial to, Wong replied, "The most interesting project would be my next one."
He is survived by his wife, Louise, and children, Terrina, Janna and Kimberlee.
The stories shaping California
Get up to speed with our Essential California newsletter, sent six days a week.
You may occasionally receive promotional content from the Los Angeles Times.