Man found guilty in notorious series of arson attacks across L.A.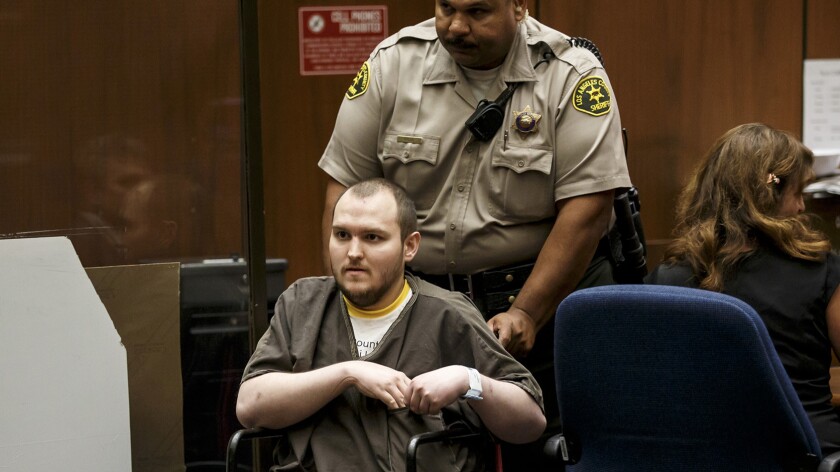 During the holiday season between Christmas and New Year's five years ago, a serial arsonist terrorized neighborhoods in Los Angeles.
At least 50 fires were set in carports, garages and driveways, mostly at night. Some spread to homes and apartment buildings, causing at least $3 million in damage.
On Thursday, the man accused of setting those fires was found guilty by a jury on 47 counts of arson and two counts of possession of an incendiary device.
Prosecutors said Harry Burkhart torched cars, garages and homes across a significant portion of Los Angeles "to harm and terrorize as many residents" as possible.
As the verdicts were read, Burkhart sat in a wheelchair showing little emotion as a German language interpreter translated each decision.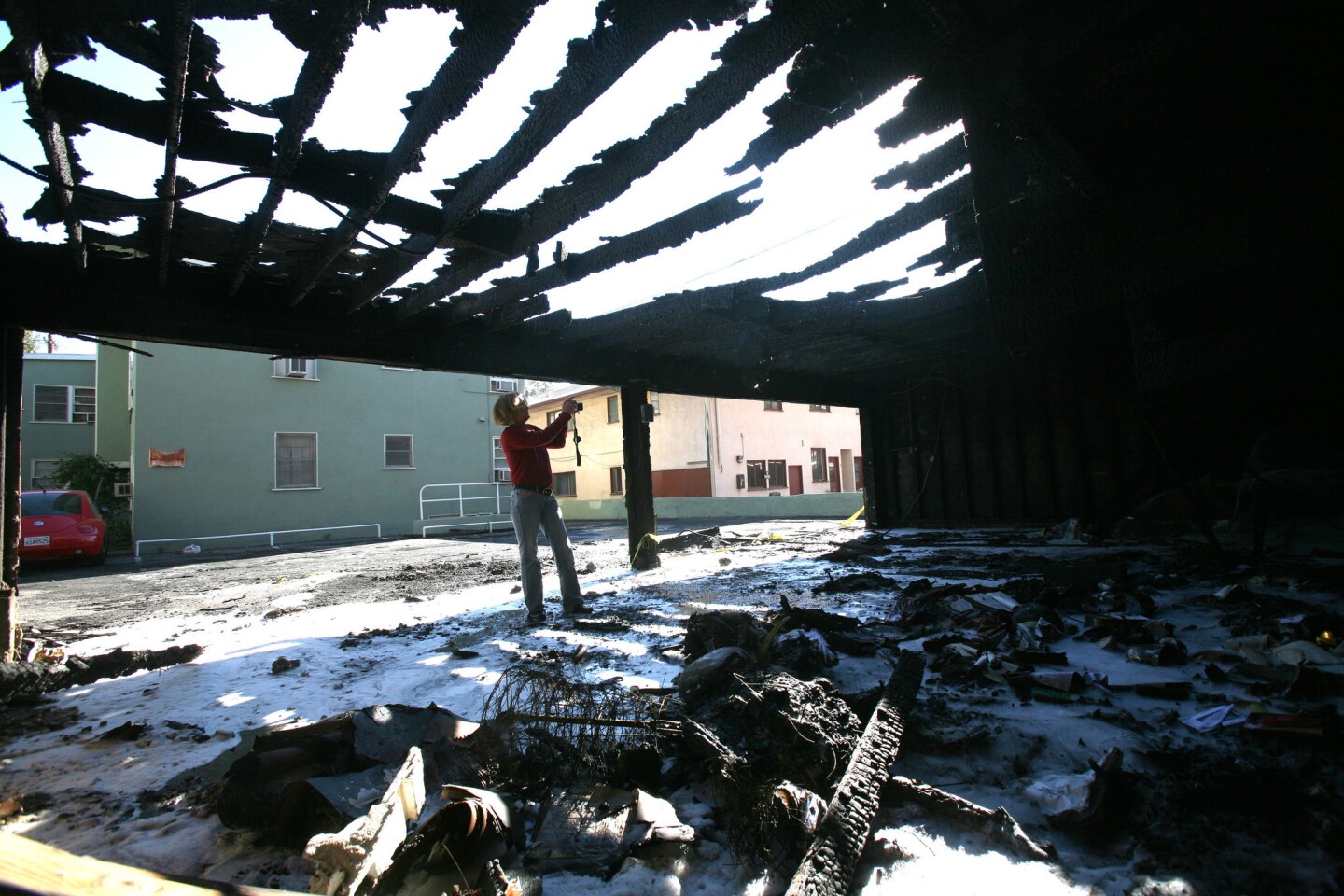 Heidi Schroeder takes photos of the damaged carport at a Sweetzer Avenue apartment complex in West Hollywood.
(Ringo H.W. Chiu / For the Times)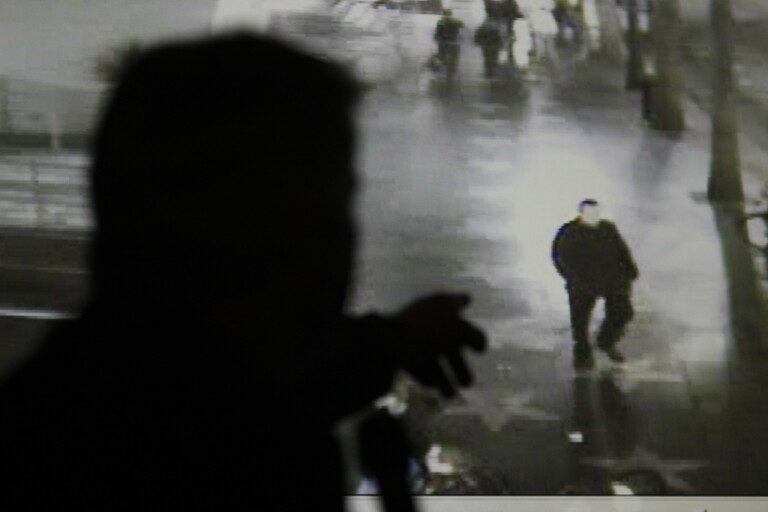 Los Angeles Police Cmdr. Michael Moriarty points to an image of a man walking on Hollywood Boulevard. On Jan. 1, 2012, authorities had identified the man with a distinctive gait as a person of interest in a series of arson fires.
(Allen J. Schaben / Los Angeles Times)
Arson suspect Harry Burkhart is arrested in Hollywood.
(OnScene.tv / Associated Press)
Harry Burkhart leaves a downtown courtroom after being found guilty on 47 counts of arson.
(Marcus Yam / Los Angeles Times)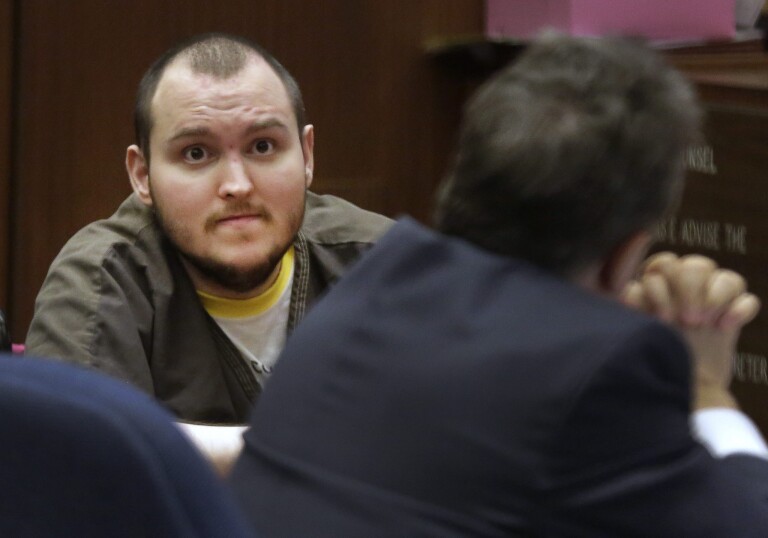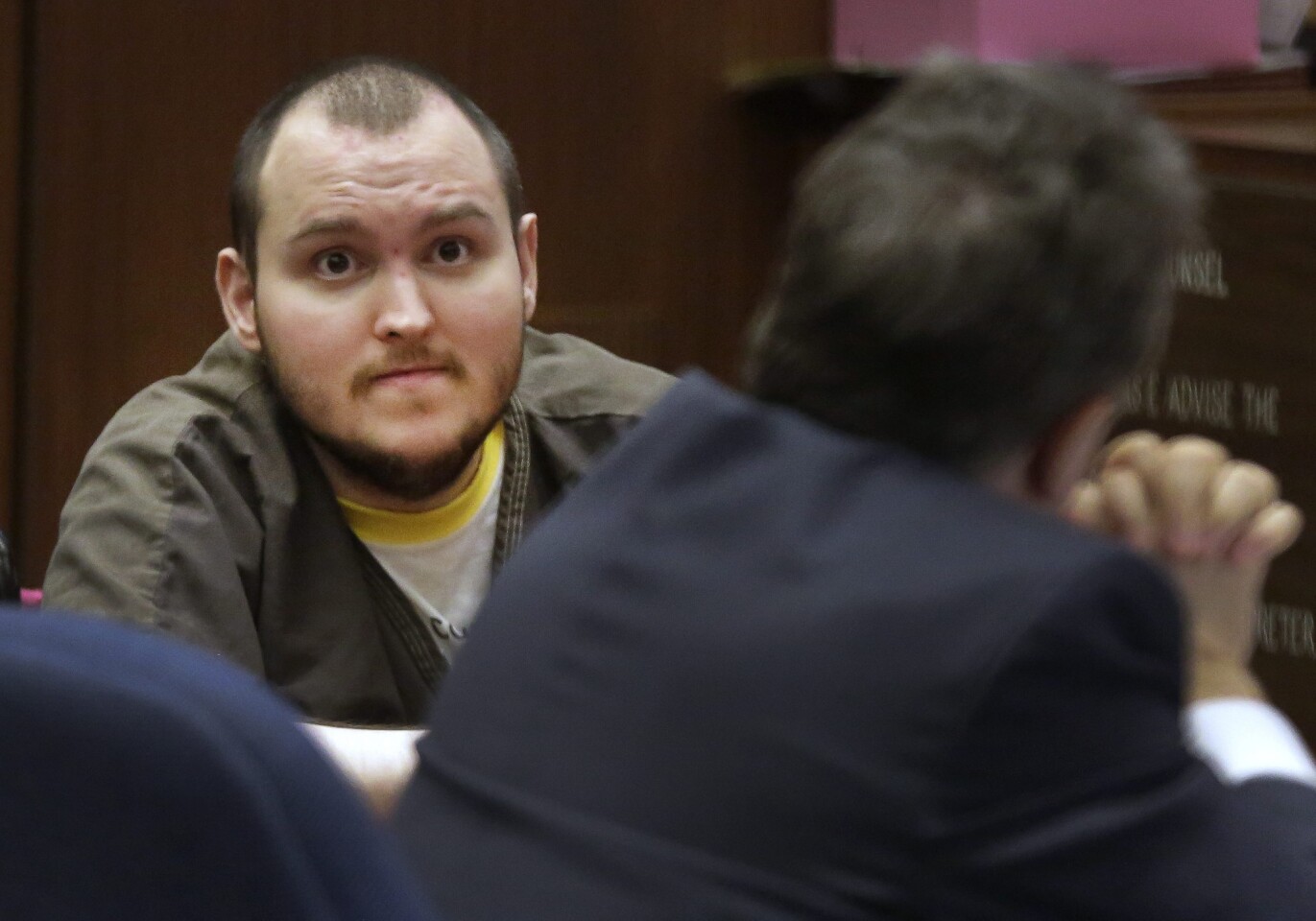 Harry Burkhart listens to closing statements in his trial in Los Angeles County Superior Court.
(Paul Buck / European Pressphoto Agency)
A vacant church on Gramercy Street between Hollywood Boulevard and Franklin Avenue burns as residents watch.
(Michael Robinson Chavez / Los Angeles Times)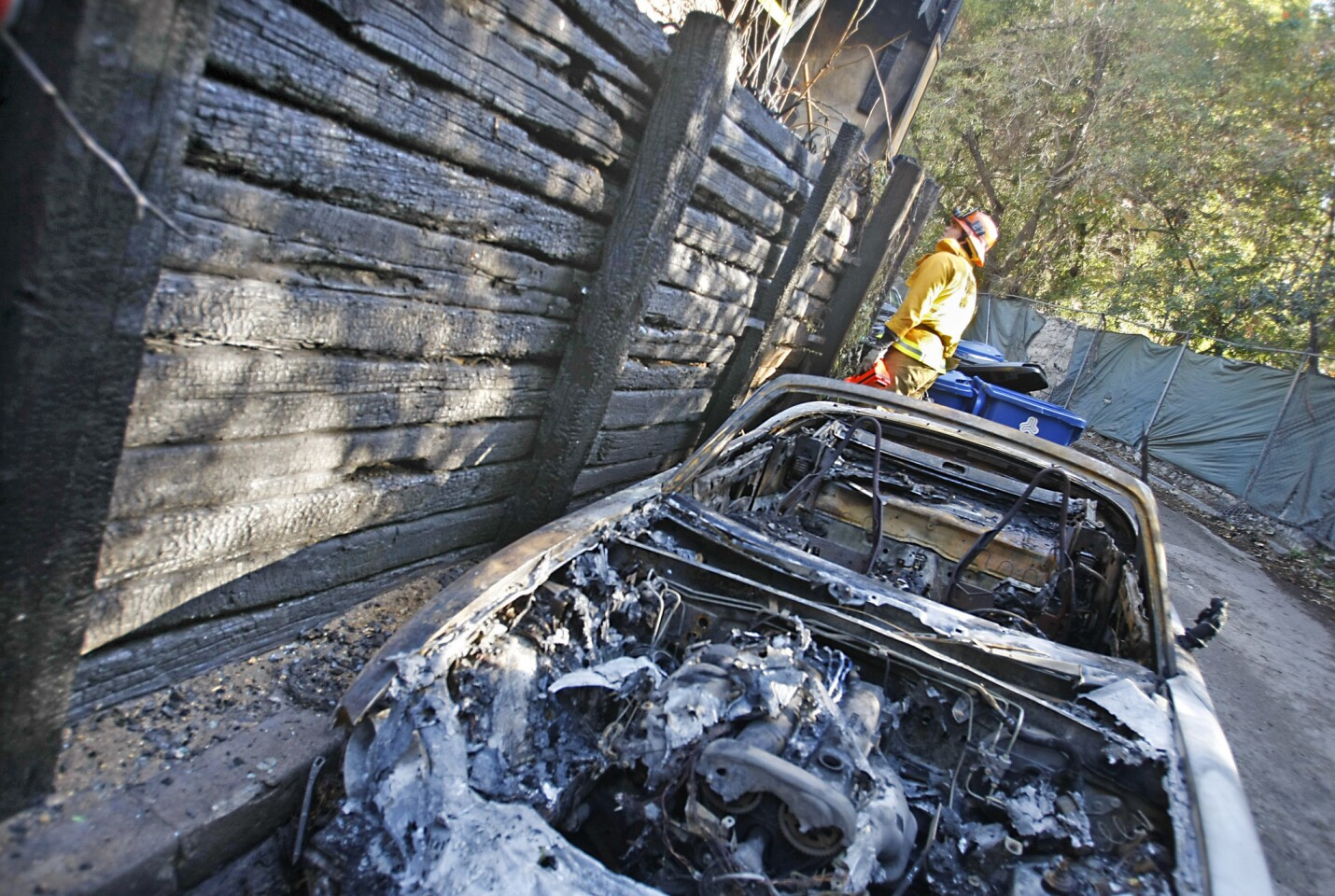 A firefighter surveys the scene of a blaze at a home on Rothdell Trail in Laurel Canyon where Doors singer Jim Morrison is believed to have lived.
(Don Bartletti / Los Angeles Times)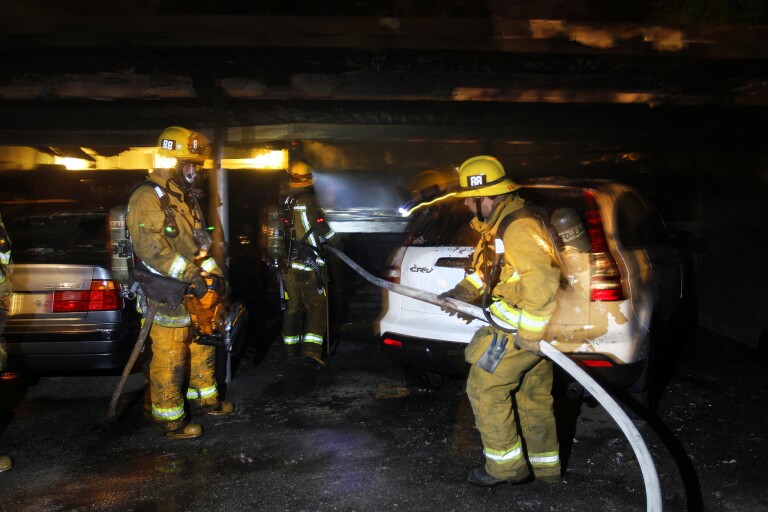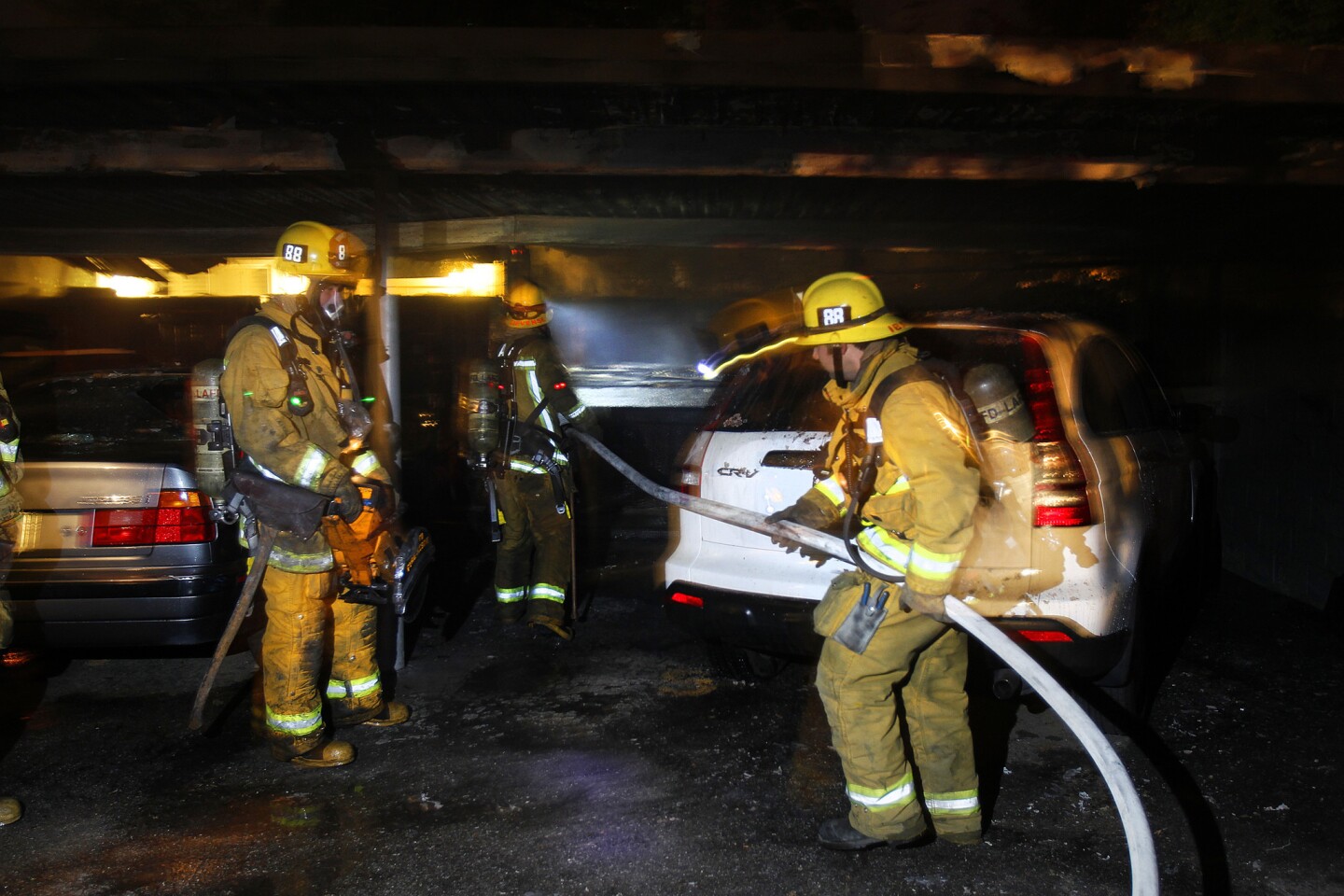 Firefighters at the scene of a fire on Jan. 2, 2012.
(Rick Loomis / Los Angeles Times)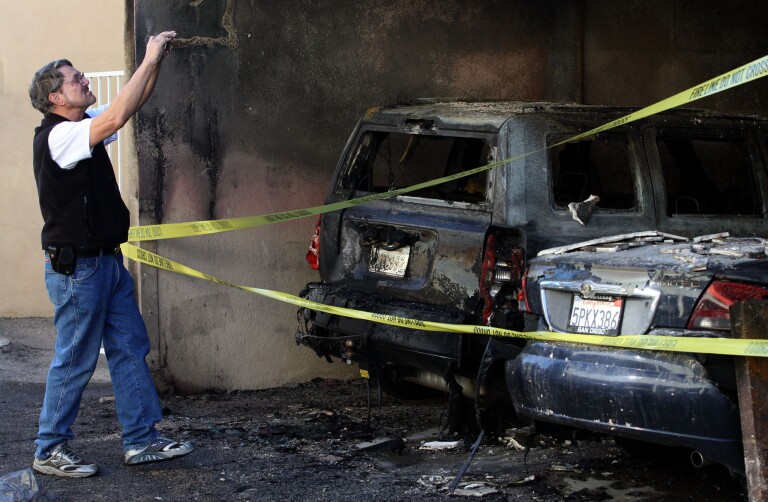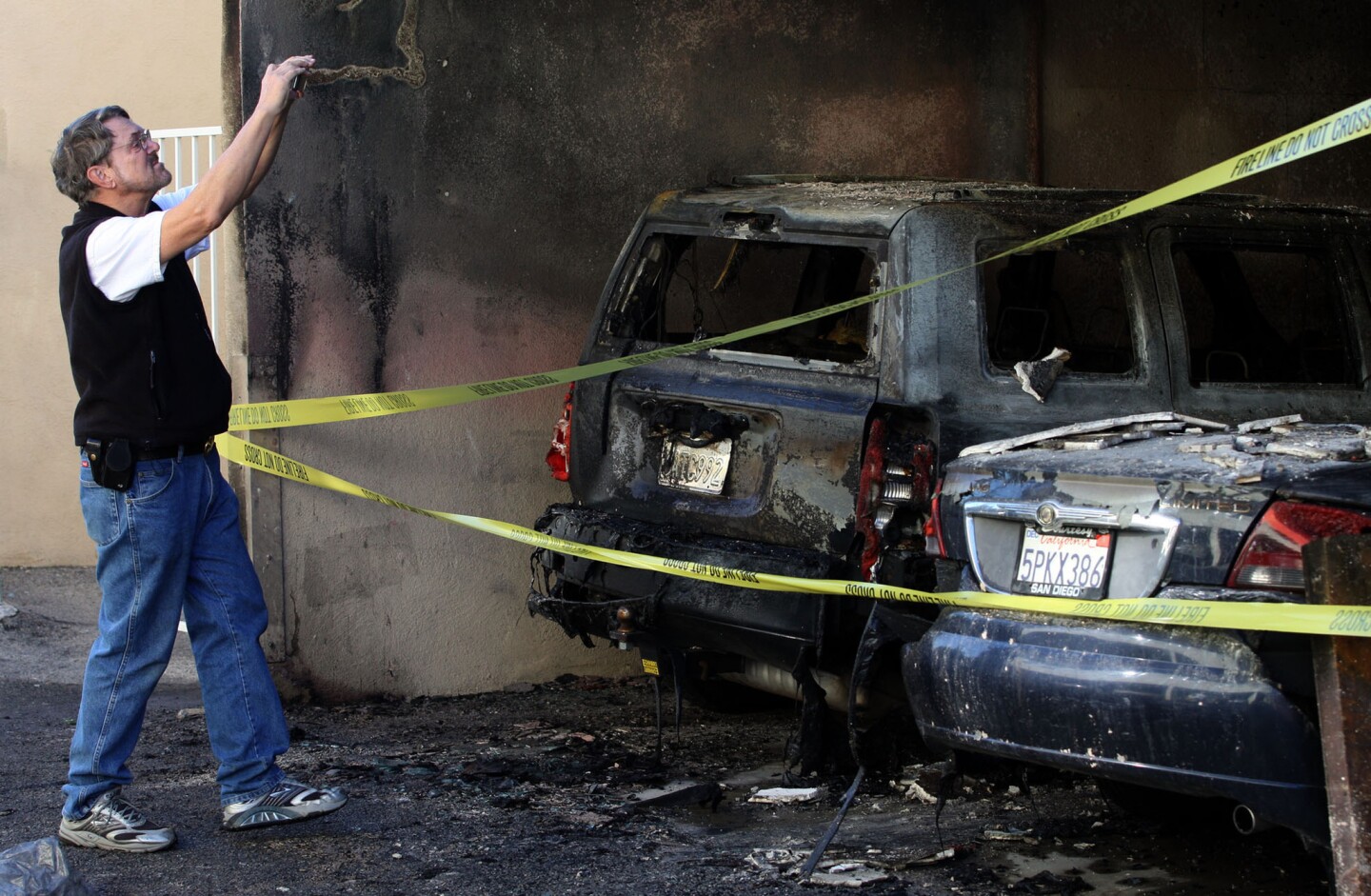 Jonathan Zimmerman photographs cars that were damaged by an arson fire on Burbank Boulevard in North Hollywood.
(Gary Friedman / Los Angeles Times)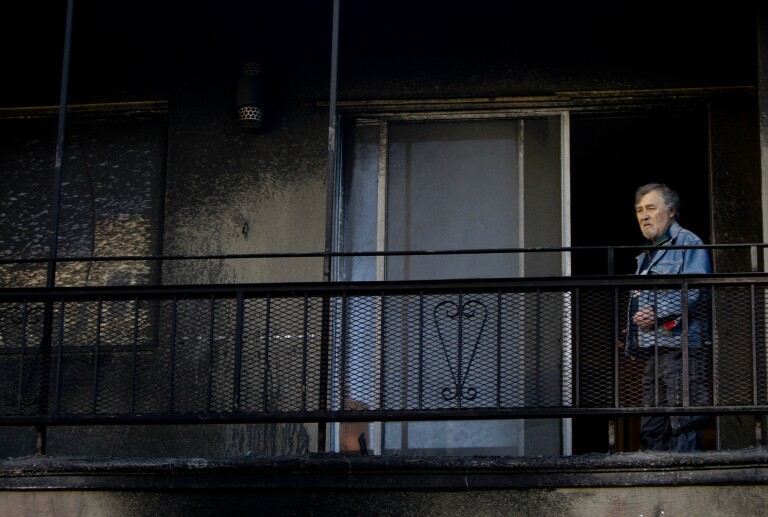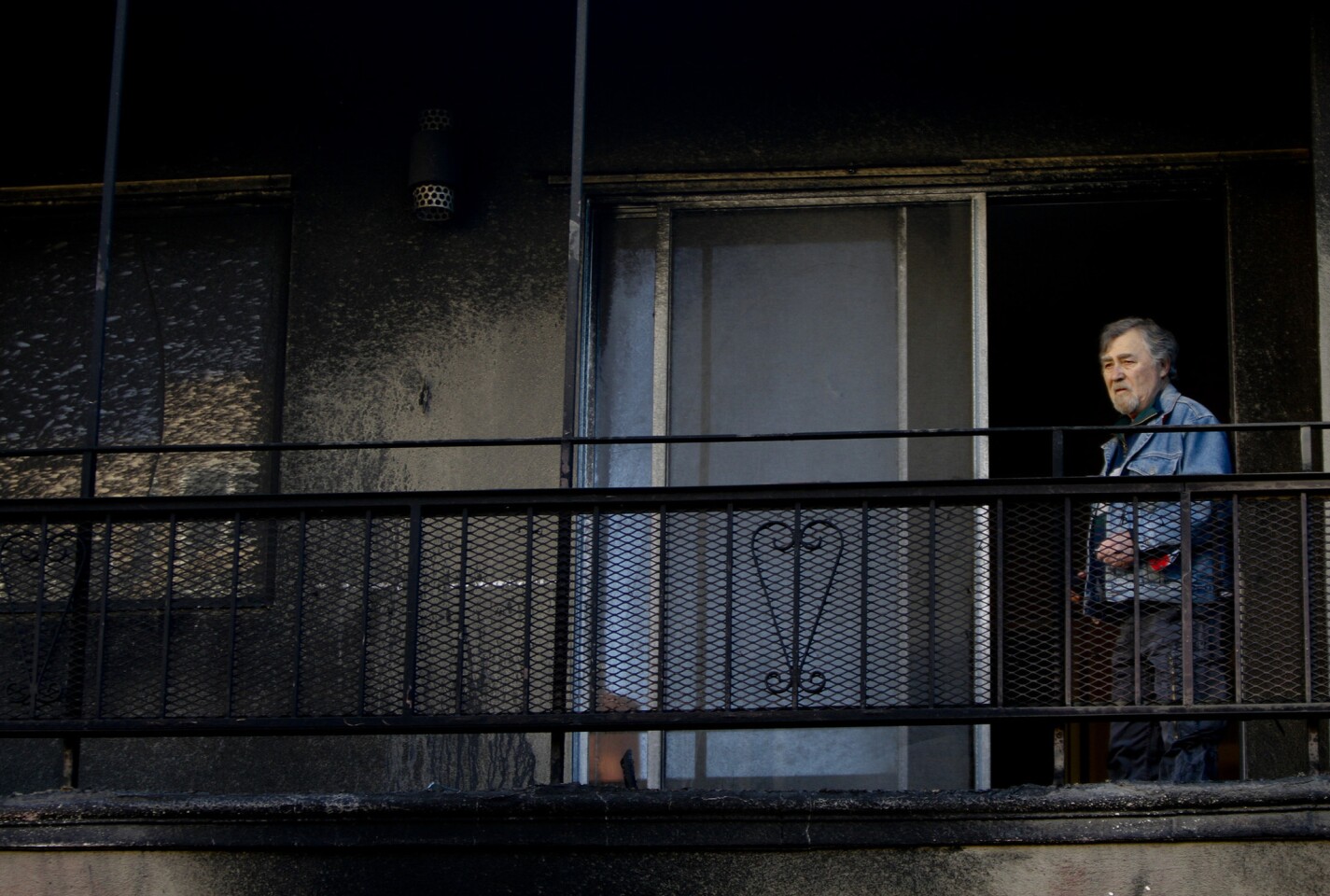 Stunned residents return to their apartment complex the morning after an arson fire destroyed two units and four cars in Hollywood.
(Mark Boster / Los Angeles Times)
Most of the fires were set in the Hollywood area, but also on the Westside and in the San Fernando Valley.
Deputy Dist Atty. Sean Carney told jurors that Burkhart tried to inflict "fear on the entire community" in a "quest for revenge" after his mother was arrested in the United States in connection with a criminal case in Germany.
Defense attorney Steve Schoenfield told jurors there was not enough evidence to link Burkhart to all of the crimes he was charged with.
Prosecutors were stretching to tie Burkhart to "six, possibly seven of the charged fires," Schoenfield said.
Jurors deliberated for less than a day before finding Burkhart, 29, guilty of 25 counts of arson of property, 18 counts of arson of an inhabited dwelling and two counts each of possession of an incendiary device, attempted arson and arson of a structure.
Burkhart's sanity will be decided in the second phase of proceedings.
Los Angeles Superior Court Judge George G. Lomeli said jurors on Tuesday will begin hearing evidence related to Burkhart's sanity.
Burkhart's attorney said that he plans to show his client was not sane at the time of the crimes, and that he will call a psychiatrist to the witness stand to convince jurors.
Carney, however, has insisted that Burkhart's actions and planning reflect that of a man fully aware of what he was doing.
Burkhart's mental state has been at issue since his arrest and indictment in the case. He faces up to 89 years in prison.
The fires were set during the holiday weekend and at night, putting residents on edge. Police struggled at first to catch the arsonist. Most of the fires were set under vehicles in carports or near homes.
Residents turned to social media to get updates on the fires, with some peering out windows into the dark, keeping porch and garage lights on, and fixating on sirens in the distance.
Burkhart, a German national who was born in Chechnya, was arrested Jan. 2, 2012. At 3 a.m., a reserve sheriff's deputy spotted the minivan in West Hollywood and stopped it near the Sunset Strip. The driver appeared to match a grainy video of the suspect. Officials found fire starter sticks, police said.
At the time of the arson attacks, Burkhart was already suspected of burning down his family home in Germany's Schwalm-Eder district, north of Frankfurt. His mother, Dorothee, had escaped from handcuffs while in German custody on fraud allegations and fled with her son to Canada before entering the United States. Authorities captured her in Los Angeles.
ALSO
Long Beach police officers cleared in fatal 2014 shooting of man fleeing down stairs
5 arrested in Skid Row 'spice' distribution ring
LAX shooter Paul Ciancia agrees to plead guilty; prosecutors to drop death penalty
---
UPDATES:
6:35 p.m.: This article was updated with additional details and next steps in the case.
This article was originally published at 4:23 p.m.
---
For reporting and exclusive analysis from bureau chief John Myers, get our California Politics newsletter.
You may occasionally receive promotional content from the Los Angeles Times.