Volunteers look for the homeless at two Metro stations — but don't find many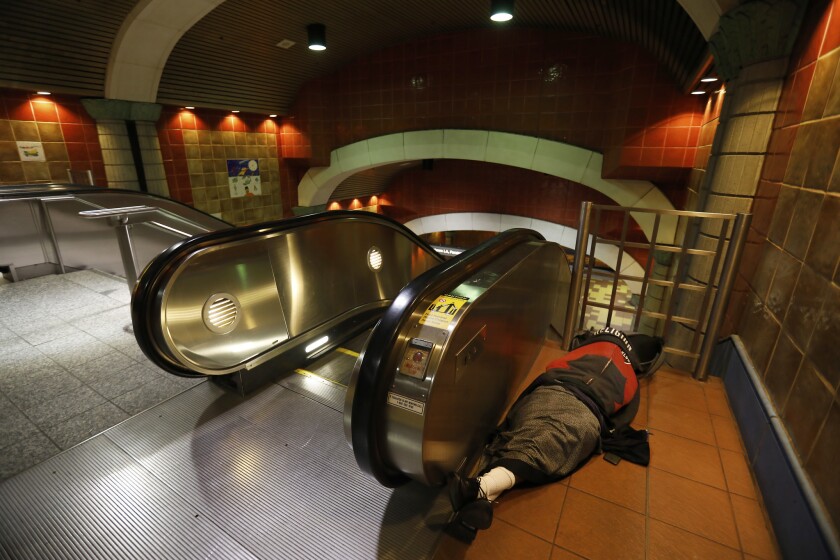 A person sleeps beside an escalator at the Hollywood/Vine Metro station. The 2018 Greater Los Angeles Homeless Count is tallying people around the city, including those sleeping near Metro stations and on trains.
(Francine Orr / Los Angeles Times)
With swollen legs and wearing a hospital gown, a homeless man sits on a bench at the Metro Civic Center station in Los Angeles.
(Francine Orr / Los Angeles Times)
A person sits on the floor at Hollywood/Vine Metro station.
(Francine Orr / Los Angeles Times)
From left, PATH (People Assisting the Homeless) workers Jennie Mauries, Karen Barnes and Andrew Tisbert walk to a Red Line train in Los Angeles. They are part of a team counting homeless people.
(Francine Orr / Los Angeles Times)
A man sitting on the floor was counted in the Greater Los Angeles Homeless Count by PATH (People Assisting the Homeless) workers at the Universal City station in Studio City.
(Francine Orr / Los Angeles Times)
A person sleeps at Hollywood/Vine Metro station in Los Angeles, where the 2018 Greater Los Angeles Homeless Count was underway. The three-day count seeks to put a number on the county's homeless population.
(Francine Orr / Los Angeles Times)
The homelessness crisis unfolding in Los Angeles County was clearly visible looking out the windows of a subway train heading through Koreatown on Wednesday morning.
Just before 5 a.m. at a station on Beverly Boulevard, a bearded man lay flat on his back on a bench, covered by a plaid coat. An older woman slept beneath a white blanket, her face barely visible, one stop farther north.
But at the end of the Red Line, volunteers helping with the annual count of Los Angeles County's homeless population exited the train and found almost no one.
Three outreach workers from a Los Angeles nonprofit counted five homeless people at the North Hollywood and Universal City Metro stations — a surprisingly low number, they said, given L.A.'s rising homeless population.
The annual three-day effort to update Los Angeles County's homeless figures started late Tuesday night. The U.S. Department of Housing and Urban Development requires the count in all areas that seek federal funds to address homelessness.
After last year's count, officials said there were nearly 58,000 homeless people in the county. The Los Angeles Homeless Services Authority will release this year's results in the spring. It is the first census since funds began to flow from two recent tax measures for homeless services and housing.
"A lot of people have asked, and rightly so, 'Why isn't homelessness gone?' " Los Angeles Mayor Eric Garcetti said at a kickoff event for the count Tuesday night. Residents will see some progress this year, including "pop-up villages" and new housing, Garcetti said.
"In five years we can cut this population on the street in half," Garcetti said. "And in 10 years … we can end life on the street."
L.A. County Board of Supervisors Chairman Mark Ridley-Thomas urged patience and realistic expectations, saying: "This is not about perfection. It is about progress."
The majority of L.A.'s homeless count takes place between sunset and sunrise, when people have settled in for the night. But Metro stations close for several hours overnight, so the transit count takes place early in the morning, when people go inside to warm up.
At 4:30 a.m. Wednesday, Andrew Tisbert, Karen Barnes and Jenny Mauries from the nonprofit PATH gathered in the lobby of Metro headquarters downtown and set out together for the San Fernando Valley. Their assignment was to conduct a count in the line's two northernmost stations. The remaining Red Line stops, and other rail stations across the system, were to be counted Thursday and Friday.
On a platform at Union Station, they discussed the rules of the count, designed to avoid including the same person twice. They would not count anyone on a train, or near the entrance to a Metro station. Under the rules, another volunteer would count those areas.
They also could not speak to anyone they counted — the biggest challenge, they said, because some homeless people might not appear to be.
"It's going to be a little bit of guesswork," Barnes said. As they spoke, a thin man in a tattered gray peacoat walked slowly past, dragging a black suitcase and carrying a white grocery bag.
The group boarded a Red Line train and headed toward the Valley, catching glimpses of people sleeping at stations in Westlake and Hollywood.
In North Hollywood, they walked down the train platform, looking in corners, behind pillars and inside the information booth. Then they gathered at an emergency exit at the end of the platform marked with a "Do not enter" sign.
"Should we look inside?" Barnes said.
They opened the door, which set off an alarm. On the stairs inside, a few pieces of trash — a crumpled Wetzel's Pretzels bag, a torn scrap of cardboard — suggested someone had been there recently. But they found no one to count.
By 6 a.m., the team had identified two homeless people on the platform. Then the thin man in the gray peacoat who had been at Union Station reappeared, his suitcase in tow. He was counted, too.
They caught the train to Universal City, where they counted two more people in the station: One man darted off a train and pushed past a crowd of commuters, clutching a bag to his chest. Another man wearing fuzzy blue gloves crouched against a pillar, muttering to himself, a duffel bag resting beside him.
The group headed back toward Union Station with their final count in hand: five people.
"It's been really quiet," Mauries said. "I think we were all expecting to see more people than this."
They stopped for coffee in Hollywood. At the Hollywood/Vine station, eight people slept on the floor, curled up in corners and stretched beneath blankets at the foot of the escalator.
With their count finished, the outreach workers could then do their job: They approached a man sleeping beneath a map of the Metro system, his sweatshirt hood drawn over his face.
"You don't have to get up," Barnes said. "We just wanted to see if you needed any help."
Times staff writer Doug Smith contributed to this report.
For more transportation news, follow @laura_nelson on Twitter.
---
The perils of parenting through a pandemic
What's going on with school? What do kids need? Get 8 to 3, a newsletter dedicated to the questions that keep California families up at night.
You may occasionally receive promotional content from the Los Angeles Times.