16,000 people in L.A. now live in cars, vans and RVs. But safe parking remains elusive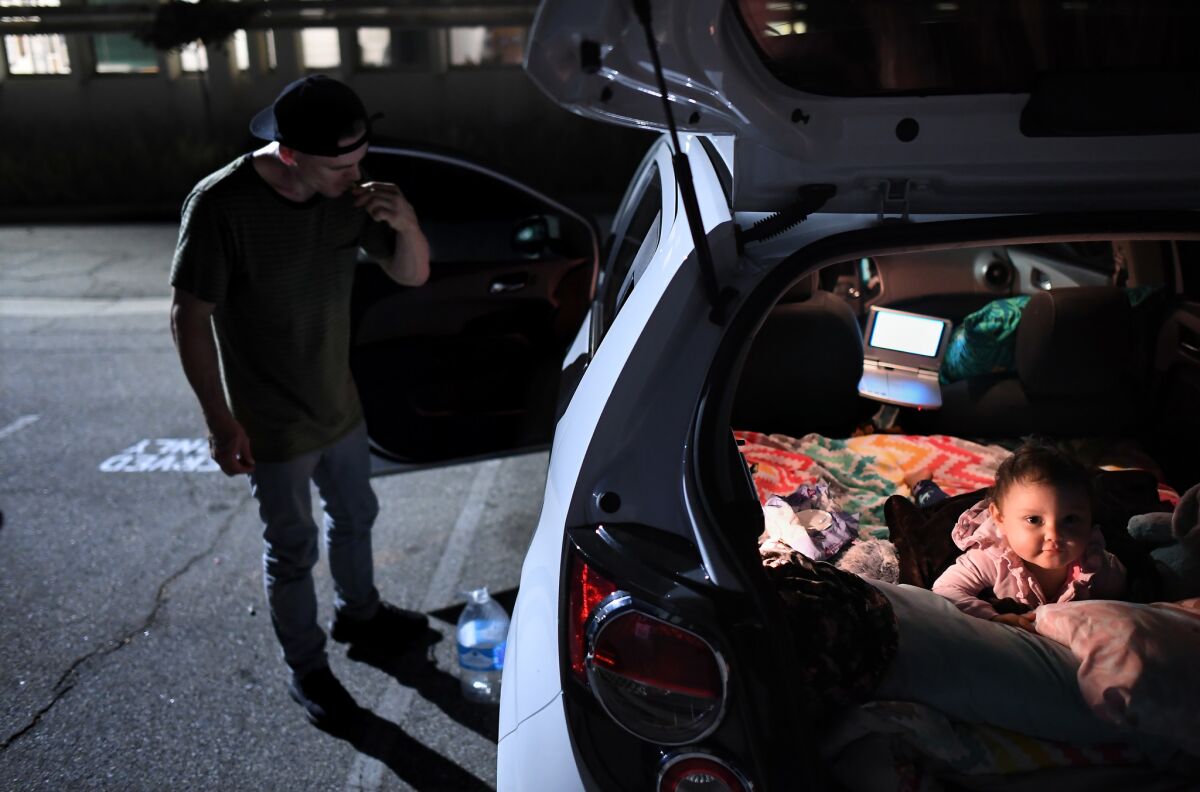 Two years ago, Los Angeles began testing an alternative to homeless shelters called safe parking, giving people living in their cars a secure spot to sleep at night.
The first site was quickly deemed a success, so the Los Angeles Homeless Services Authority agreed to fund nine more lots in the pilot program, with promises to expand.
Earlier this year, before the release of new data showing more than 16,500 people living in their vehicles, the authority put out a request to providers across the county to help them make good on that promise.
But the details of the request left some groups frustrated, saying the rules were too burdensome and the budget too tight.
RELATED: Welcome to Garcetti's L.A.: heaps of trash, hordes of rats and very little leadership »
"There were a lot of questions, particularly from the experienced folks, and that made me concerned," said Paulina Hong of the Asian American Drug Abuse Program, a group that had planned to apply. "Does this make sense the way it's laid out? I didn't get the sense that it does. But LAHSA has their reasons for the way that they structured it."
Under the authority's new model, most lots would require multiple security guards working 12-hour shifts. While existing lots accommodate five to 10 cars, new ones would need to operate with no fewer than 25, and 95% of the spots must be full every night.
Lot operators also would be required to offer on-site case management and other services. And all of it must be done for less than $30 per car, per night — and, ideally less than $20, according to the homeless authority's plan.
"The higher of the two funding levels is relatively similar to what we pay for a shelter bed," said Heidi Marston, the authority's chief program officer.
But a shelter bed sleeps one person, providers point out, while a car, van or RV often rolls up with a family in tow.
Rise in homeless numbers prompts outrage and alarm across L.A. County »
All told, the expansion is budgeted to yield fewer than 300 safe parking spots — roughly double the number that currently exist.
That leaves most people living in vehicles without a legal place to sleep.
"We have to start somewhere," Marston said. "Because this is a new program, we want to get a sense of what is actually needed so we can scale."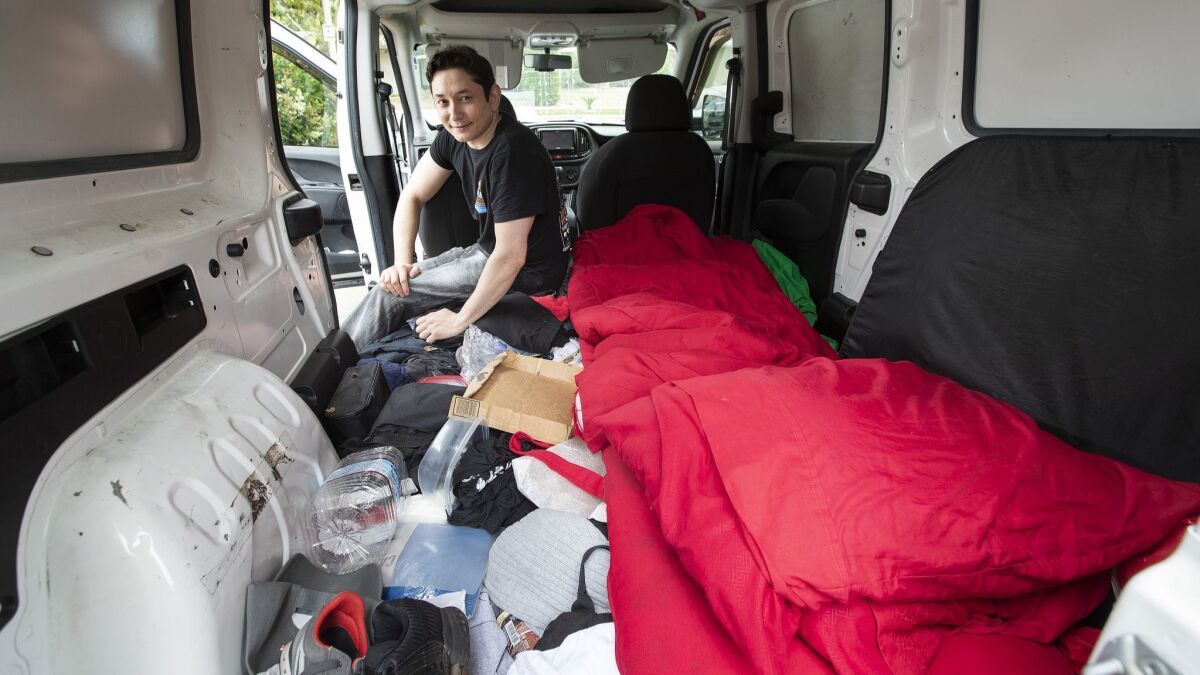 Annual homelessness figures for Los Angeles County released last week show a 5% jump in people sleeping in vehicles.
They "are typically families or people who work," most of them new to the street, Marston said.
But federally funded programs give priority to the chronically unhoused, making safe parking one of the few forms of shelter accessible to the growing number of Angelenos who have not been homeless before.
"I wasn't surprised to see that more people are moving into their vehicles, because rents are growing faster than income," said Va Lecia Adams Kellum, president of St. Joseph's Center, a homeless services organization. "There's families who are still working but had to make the sad choice of moving into their cars."
Groups operating safe parking sites say that to remain in the program, they will have to do more with less.
"If you looked at the numbers and did the math, [the pilot program] was almost double" the per-vehicle payout allowed under the new plan, said Veronica Lewis, division director of HOPICS, a homeless services agency that opened the first safe parking site in L.A. in the spring of 2017.
Those amounts are too low for most churches or grass-roots community organizations, she said.
Hong, of the Asian American Drug Abuse program, said that between the required hours of operation and the strict security mandate, her organization could not afford to let people park in a lot the group owns.
"It would require either two shifts or an overtime person for the whole period," she said. "The amount was not going to be enough."
L.A. County's homeless population is growing — but not as fast as they're dying »
Safe parking is not inherently expensive, proponents say. San Diego's nearly decade-old program, Dreams for Change, runs for about $10 per car, per night, said executive director Teresa Smith.
"We run a very lean budget," Smith said.
The program doesn't employ security guards, and its lots operate at a higher density than the ones in Los Angeles, which must leave an empty space between each car.
RELATED: Homelessness in L.A. is a catastrophe in motion, and our leaders are largely to blame »
Marston, with the L.A. program, said the security guards are intended to help working people sleep better, "to truly get a good night's rest and be productive the next day," so they can get out of homelessness faster.
Similarly, the case management model emerged because "[clients] are at work during the day and our system doesn't work with their schedule."
For some, like Yunus Rajabiy, safe parking's social services were critical. When the 36-year-old air conditioner and appliance repairman first entered the North Hills safe parking lot last fall, he had been sleeping in his delivery van for almost three years. Six months later, he was living in an apartment.
He credited the lot's intake coordinator, Laura Rathbone, with helping him get back on his feet. "She was making me do things that would help me, because otherwise I was very depressed," he said.
But for others, on-site services are less crucial than simply have a safe place to bed down — ideally one that's close to work or their children's school.
"We find that safe parking lots are particularly helpful when they are near the areas where people are homeless," Adams Kellum said. "It is so important that those parking lots are near."
The authority identified 10 lots that operators could use for free. But they are scattered around the county — many of them far from the areas with the most people living in vehicles, according to 2018 data.
Two are in the Antelope Valley, where RVs and campers predominate among the homeless population. One is at a juvenile probation camp, the other at a former Immigration and Customs Enforcement detention facility.
RVs present a particular challenge.
Many no longer run, and safe parking sites require that vehicles be able to leave the lot during the day. Even RVs in good condition guzzle gas, limiting how far owners can drive them.
"I'm such a bleeding heart for senior citizens — I want to bring them into the program and I can't because their vehicle doesn't run," said Rathbone, the intake coordinator in the San Fernando Valley, where more than 1,600 people were living in RVs last year.
Marston said she was aware of the RV crisis but that the agency was confident that even if most couldn't park there, the detention center sites would fill up.
"Until we open these sites in areas that are further away, we won't know what the need truly is out there," she said.
Rathbone urged churches and other groups to set up their own safe parking sites, outside the system.
"Your parking lot is your parking lot, you can choose what to do with it," the provider said. "If you have volunteers, you can run it all on your own."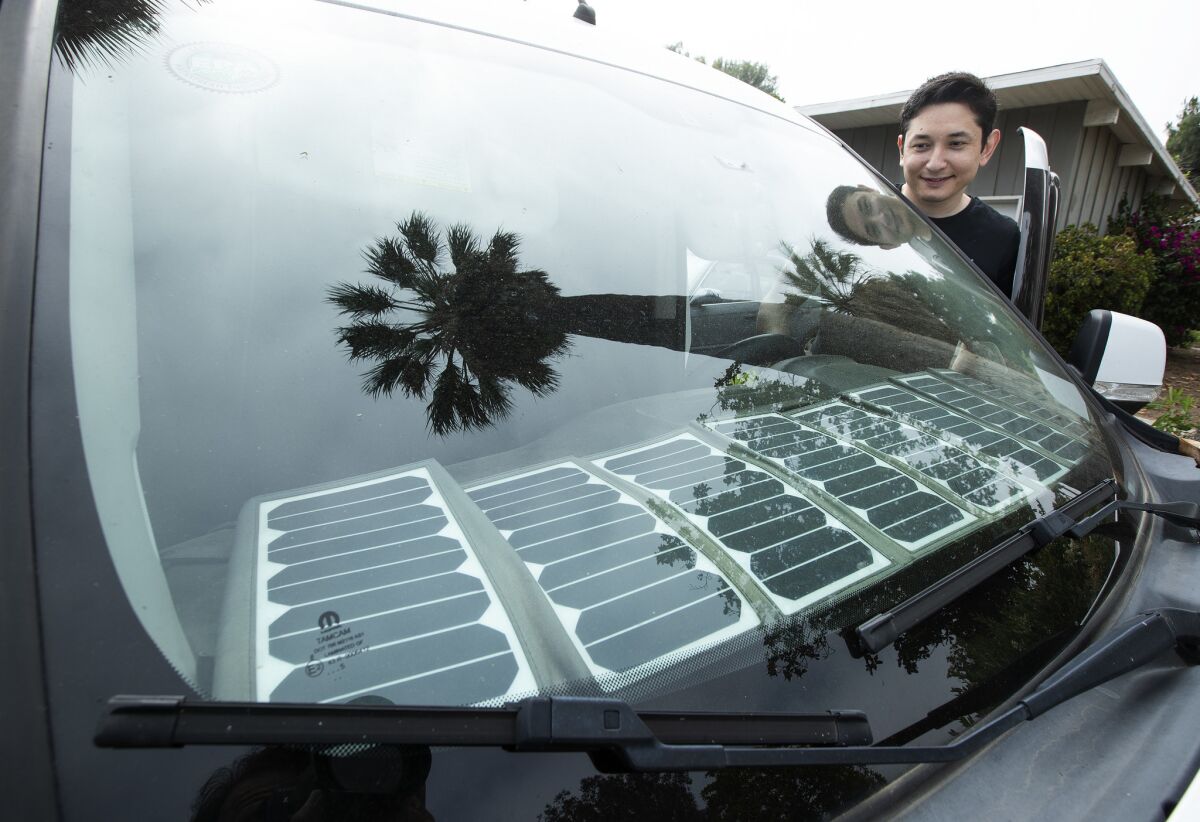 ---
The stories shaping California
Get up to speed with our Essential California newsletter, sent six days a week.
You may occasionally receive promotional content from the Los Angeles Times.