Column: Welcome to Garcetti's L.A.: Heaps of trash, hordes of rats and very little leadership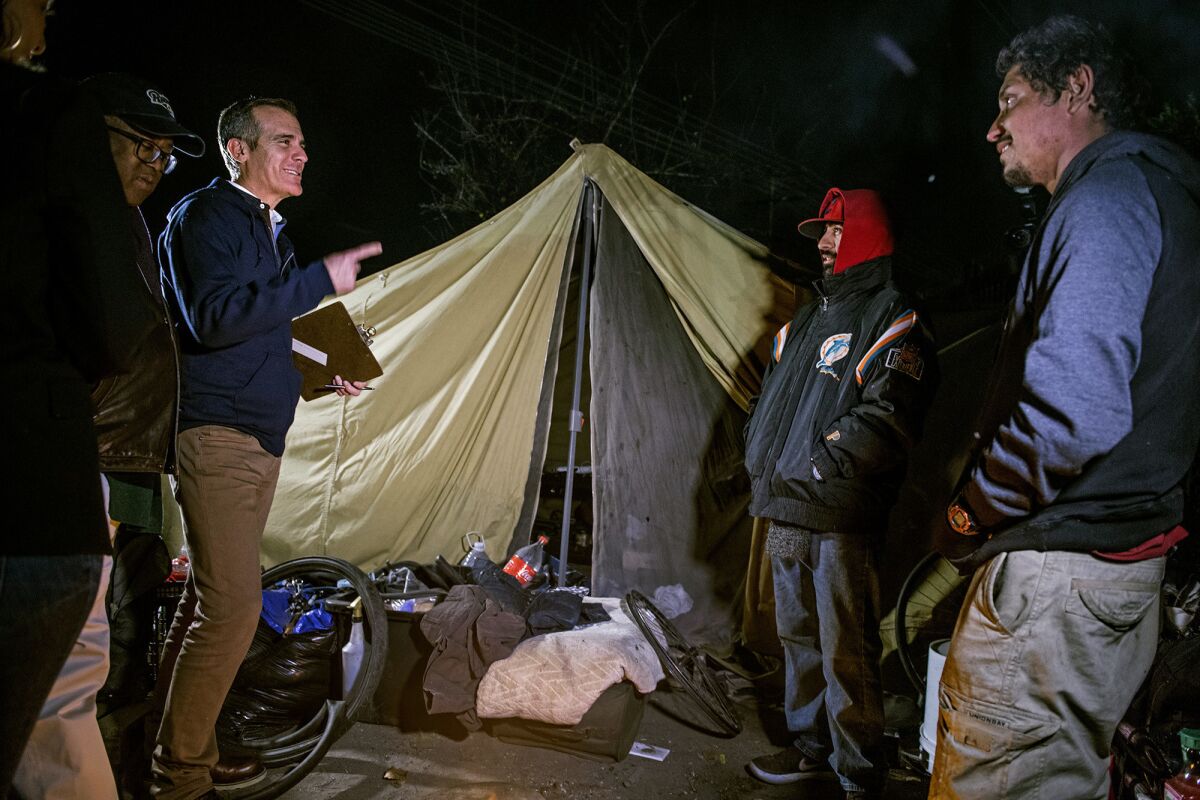 Whewww, what a week.
I could give you a hundred breakdowns of what happened and what it all means, but it comes down to this:
We're in troubled waters on a ship without a captain, and though there might be a few pretenders on the bridge, nobody trusts them.
We found out on Tuesday that although the city and county spent $600 million last year to chip away at the number of homeless people, the total increased by 16% to nearly 60,000.
That same day, voters said absolutely, positively no way to a parcel tax that would have raised money for struggling L.A. Unified schools, and the vote reflected a resounding lack of faith in school administrators to spend the money wisely. A shame, in my opinion. Whatever the sins of the past, shorting 600,000 mostly poor kids at a time when poverty has spilled onto our streets is not the smartest plan.
But this comes back to the leadership problem. Judging by my reader responses, it did not help that one of the parcel tax advocates was L.A. Mayor Eric Garcetti. That would be the guy who has presided over the astounding spread of homeless encampments and trash-strewn streets after persuading voters to reverse the trends by taxing themselves.
Garcetti had a worse week than that heavyweight champ who got clobbered by an unknown contender from Imperial County. And nobody else in the local political class looked much better. L.A. County Supervisor Mark Ridley-Thomas said local leaders were "pretty well stunned by this data" on the increase in homelessness.
I slapped myself and read it again. Yep, he said that.
Los Angeles looks as if it's digging out from a hurricane, with hordes on the streets, tents everywhere and armies of rodents on the march, inciting fears of disease. We learned from Dakota Smith and David Zahniser in last week's avalanche of Mad Max news that the rat circus at City Hall was tied to homeless people using the grates around the building as bathrooms. And my colleagues Emily Alpert-Reyes, Doug Smith and Ben Oreskes reported that the number of 311 calls for help shot up 167% between 2016 and 2018.
I'm offering here and now to put any "stunned" politicians on an email loop, so I can help educate them. I naively invited readers last week to email me photos of trash heaps and encampments in their neighborhoods, and my inbox is about to explode. I've got photos of half-clothed people passed out on pavement, sidewalks blocked by tents, bulky items, piles of poop and enough trash to fill the Grand Canyon.
"Much of the street trash you saw gets swept into our waterways and virtually straight into our oceans and onto our beaches!" wrote Craig Herring, who sent me a set of disgusting photos to prove his point.
In my column last Sunday, I wrote about areas near downtown where it appeared that merchants were treating streets as a landfill, with some of them paying homeless people to do their hauling.
"Our streets are not dumpsters," Garcetti said a few days later at a photo-op where he announced a crackdown on illegal dumping, as if it were a new phenomenon.
Nice to know he reads the paper, but where's he been? And why do public officials seem so timid about pointing out that a lot of the trash is from the ever-growing numbers of homeless people they haven't been able to help, whether they're physically or mentally disabled, addicted, bomb-rattled from combat or evicted from the shrinking number of available rentals?
Like I've said, homelessness is tied in part to economic forces and state and federal policy failures that aren't easy to fix at the local level. Seattle, Portland, Sacramento, San Francisco, San Jose, Central Valley cities and San Diego struggle with homelessness, and so do communities in other states.
L.A. is ground zero, though, because of a history of flat wages and soaring housing costs, and because local officials let matters get so out of control, it's hard to play catch-up. Garcetti means well, I think, and is at least more out front than slumbering City Council President Herb Wesson, but it's like watching a kitten try to do the job of a lion.
We have more homeless people than Palm Springs has residents, some of them are literally dying, and I've been hearing from dozens of citizen-photographers who are out there documenting the fall of the Angeleno Empire.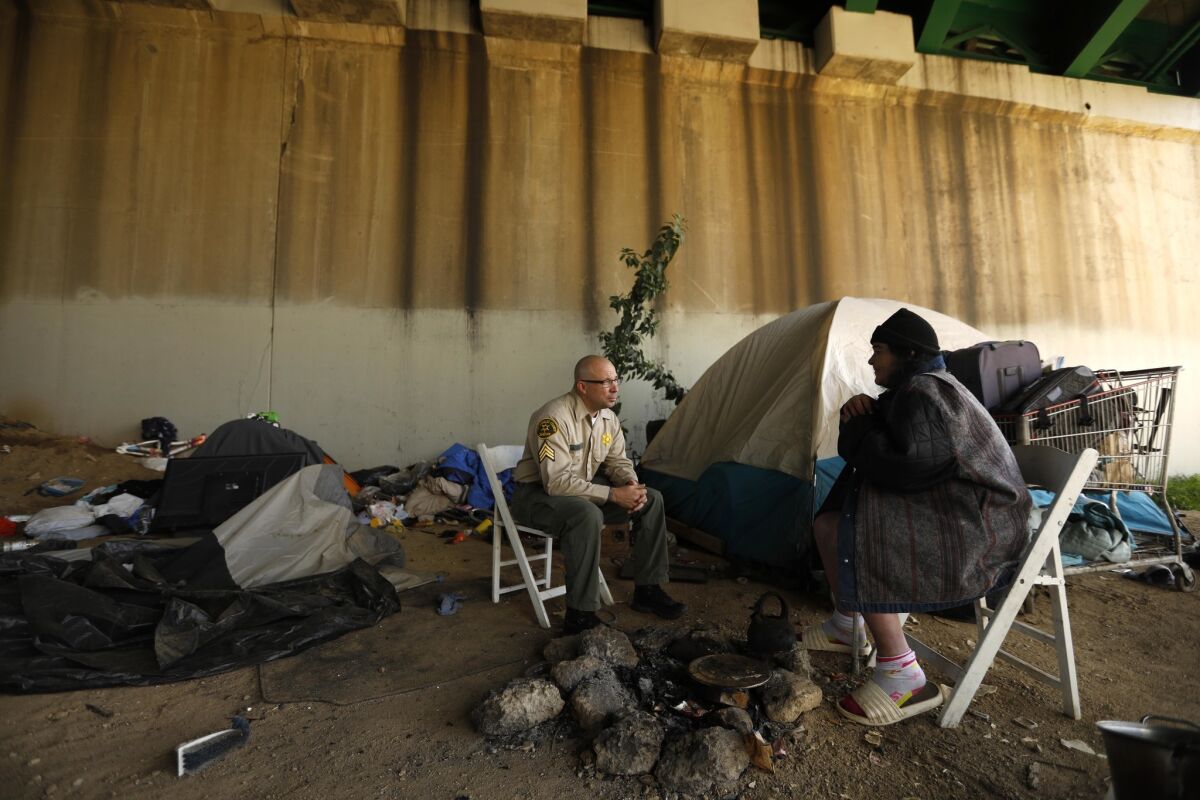 More than ever, the job calls for someone bold, maybe even a little reckless, the kind of leader who rewards friends and punishes enemies, knocks heads, detests blue ribbon panels, leads caravans of triage workers to every encampment, and takes a blowtorch to red tape.
And what could such a leader do?
With political will and community buy-in, Santa Barbara — in the face of its homeless crisis — managed years ago to make more than 20 parking lots available for the safe overnight parking of people who live in their vehicles. The program has helped many of them transition into permanent housing.
Without a Home: The Times examines the crisis of homelessness in our region »
A similar program in Los Angeles has been stuck in first gear for years. In a city with 50 times as many residents as Santa Barbara, we have seven or eight overnight parking spots in operation, even though dozens of under-used school and city properties are available.
How's your blood pressure now?
Former L.A. city and county official Miguel Santana, one of the brighter minds on homeless policy, said the city of Pomona did a great job of clearing encampments near its civic center. It was a smaller challenge than L.A. faces, he said, but a shelter was constructed, services provided, and "downtown changed almost overnight."
Why can't L.A. do that?
We did house 20,000 people last year, but their replacements kept falling in behind them. Santana said we need a faster, bigger bang for funds from voter-approved Measure HHH, whose citizen oversight committee he chairs. The typical cost per unit is about $500,000, said Santana, who thinks pre-fab modular units might be one cheaper alternative if the bureaucratic hurdles can be jumped.
In L.A., that's a big if.
Last week, I visited an apartment complex made from shipping containers in South L.A. (as reported last year by Doug Smith). Thirty-two formerly homeless tenants under the care of the People Concern live four to a unit in a development by Flyaway Homes. The cost was just over $100,000 per unit, and the money was from private investors.
Margarita Salas, who moved in a month ago, told me that after she lost her job as a motel housekeeper, home was a tent in a Lincoln Heights park.
"The police told me to get out," said Salas, 72. "I told them I had nowhere to go."
Now she does.
Flyaway chief Michael Parks says his goal is to house thousands of homeless people at a third of the cost of the going rate and complete projects in a third of the customary time.
Here's another blood pressure alert:
A proposed project just like the one I visited has gotten jammed up at City Hall, where it awaits a building permit. Parks said the apartments could have been completed by this summer. Instead, early next year is the best hope.
"They've known for two years that they've had to build affordable housing fast," said Gary Foster, a People Concern board member who can't believe public officials are moving at a snail's pace in an emergency, even when private citizens raise a hand to help.
I've known Foster since 2005, when I began writing about skid row and he produced a movie based on my book, and he's had his sleeves rolled up ever since. Like me, he's spent 14 years hoping things would get better but watching them get worse.
And what of the local corporate titans, Foster asked, as darkness falls on a city of gold?
"Disney, Northrop Grumman, Health Net, Occidental Petroleum … the companies that have the most presence in Los Angeles," Foster said. "Where are they? That's my challenge. You live here and you're making billions of dollars, so help us out."
That, too, requires political savvy, and leaders who are feared, respected or both.
That tank is empty, and the streets are teeming.
Note to readers: Mayor Garcetti responded to this column with a text about his achievements and ongoing attempts to address homelessness. He extended an invitation for me to visit him for a "deeper picture" of his "efforts, leadership and passion," and I accepted. Stay tuned for a follow-up.
Homelessness in L.A.: In a column in the June 9 California section on the lack of leadership in the handling of L.A.'s homelessness problem, the name of aerospace company Northrop Grumman was misspelled as Northrup.
Get more of Steve Lopez's work and follow him on Twitter @LATstevelopez
The stories shaping California
Get up to speed with our Essential California newsletter, sent six days a week.
You may occasionally receive promotional content from the Los Angeles Times.