In Westlake, homeless people take cues from immigrant street vendors
Josiah Payne struggled in Kansas City, bouncing from job to job and from apartment to apartment.
He packed up and headed to Los Angeles two years ago, carrying with him the well-trodden transplant dream of becoming an actor, musician — something. But in just four months of living in the city, he got arrested and lost his job and apartment. Like nearly 47,000 down-and-out people in Los Angeles County, he found himself living on the streets.
Then, a few months ago, Payne beheld the stretch of curbside merchants — mostly immigrants from Mexico and Central America — selling jeans, jewelry, fruit, bacon-wrapped hot dogs and seemingly everything in between across from gritty MacArthur Park. The 27-year-old decided to join them in their common but illegal trade.
He took his merchandise from a rusty shopping cart and laid it out on a white bed sheet: old sneakers with dirt-crusted creases, but also nearly new Nikes that he was selling for $5; a dusty coffee machine, brake cables for bicycles, random adapters, and sweaters and T-shirts.
"It's just another hustle. When I'm in a pinch, I'll come here," Payne said from near the Metro Red Line station. "You can't do stuff like this out there in Kansas City. You can't just find stuff and have a garage sale out in the street. But here, they sort of just let it go down. It's pretty cool."
Payne is part of a group of transient and homeless people — mostly white or black — who have taken a page from Mexican, Salvadoran, Guatemalan and other Latin American vendors in Westlake, one of the most densely crowded neighborhoods in L.A. At times the immigrant vendors buy things from the homeless ones — either out of pity or because they can sell them for slightly more.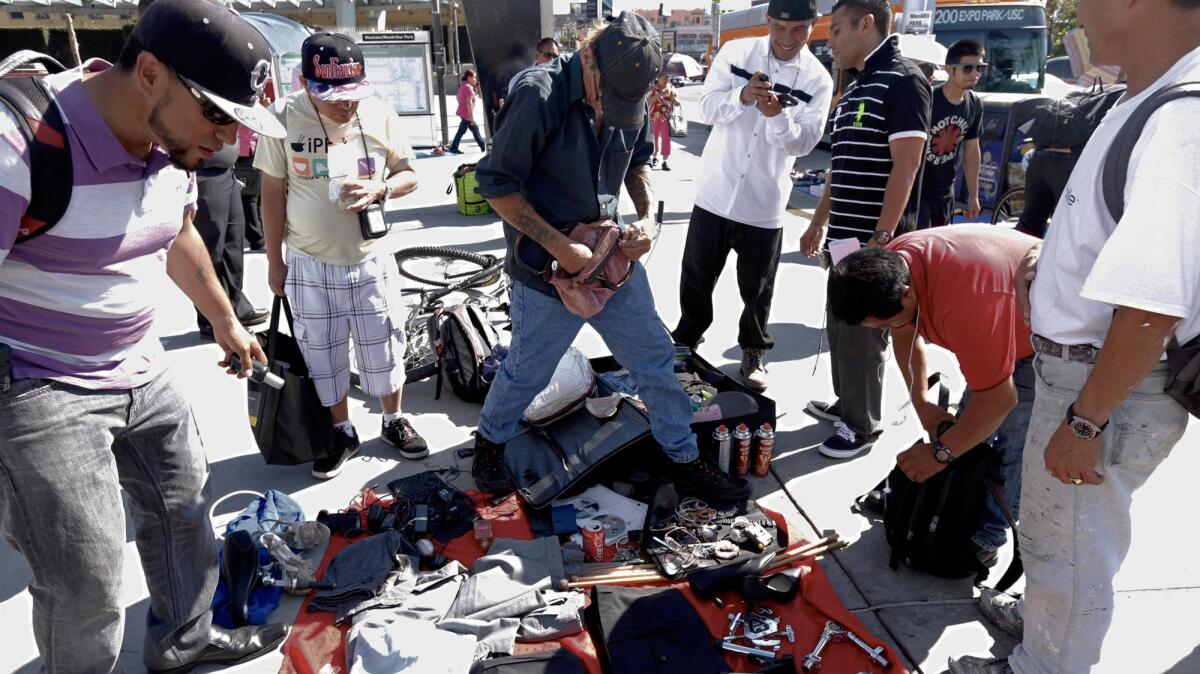 "They saw we make money and they wanted to do the same," said Rosa Hernandez, 55, a street vendor for three years. "It's not a bad thing, they're just trying to earn a peso — or a dollar in this case."
Johnny Mayo, 44, a homeless man with thin, short dreadlocks and a raspy voice, fills a red shopping cart with knickknacks, making between $30 to $50 a day peddling $1 used T-shirts and shoes. He struggles to stand because of a severe fungus infection on his feet. Sometimes he uses money he makes to buy weed or crack to smoke.
Lisa Pelti, 52, a homeless woman with short, curly black hair and a weathered face, arrived in Los Angeles from Sacramento about a year ago. A former computer engineer, Pelti lost her job and home during the 2008 recession. After wandering the city, she came across the street vendors near MacArthur Park.
She noticed how the immigrant vendors made their sales and four months ago decided to give it a try. While some homeless people dumpster-dived to get some of their merchandise, Pelti scoured sidewalk curbs and went through donation boxes.
"I know what sells here," she said with a smile.
Using a small, white curtain rod as a walking cane, Louis Price, 56, said he has been homeless for 16 years after being in and out of prison. He said he'd walked around downtown L.A. selling anything he could find to make a quick buck for food. But that changed when he decided to do what other homeless people were doing in the MacArthur Park area.
On a recent afternoon, Price sold women's underwear, toothpaste, a small bottle of Rogaine and two condoms — apparently unused, but outside of the box, like cigarettes. He was selling plants; one delicately encased only by a glob of soil and two small succulents in tiny green pots.
"I'm flat broke and I want to get a sandwich, and if I do this I can do that," he said. "This helps take the pressure off."
Whether the peddler is homeless or not, the street peddling is illegal and subject to occasional crackdowns. On a recent Wednesday, deputies went up and down the area, ordering the mostly homeless vendors gathered near the Red Line — part of the L.A. County Sheriff's jurisdiction — that they needed to leave. Most of the other vendors sell their wares across the sidewalk, in the LAPD's jurisdiction.
Lt. Henry Saucedo, who oversees patrolling of the Metro Red Line stations, said deputies are regularly clearing out vendors from the Metro property. By looking at surveillance cameras, Saucedo said he can quickly dispatch deputies.
"I've sent deputies out there to clean it up and within minutes they're right back at it again," he said, adding that the deputies also have to deal with other issues such as shootings, stabbings and drug sales. "It's a difficult task to police that area."
In the 1990s, a street vending district was created in MacArthur Park to address the issue but that decision was later scuttled because the permit fees were considered too high by some vendors and there was no enforcement of unpermitted sellers.
But recently, the LAPD's enforcement against street vendors in MacArthur Park seemed to relax, allowing them to sell without getting ticketed as long as they didn't block sidewalks or sold illicit merchandise.
The looser enforcement had a ripple effect: more homeless people started selling, and vendors from other parts of the county made their way to the MacArthur Park area on weekends and competed with local vendors, who concede that the situation can look chaotic.
"They drink, they smoke, sometimes they do drugs," Fanni Cordova, 62, a street vendor for four years, said of some of the homeless merchants. "It doesn't look good."
"Sometimes we don't mind having the police come by," she added, winking. Other vendors complain that the homeless dealers sell things so cheaply that it undercuts their prices.
Using a sharpie to darken the stripes of a zebra painting, Kevin "Sippi" Moran, 49, a homeless artist, said his low prices benefit other street vendors, who buy things from him so they can sell them for more money. He said that in MacArthur Park there's a buyer for everything.
"Most vendors here hold back to get the price they want, but not me, I just sell," Moran said.
Tall, with long auburn hair tied in a ponytail and a thick beard, Payne has published his own book of poetry. "Like in some of my poems, I'm trying to flee to the West!" he wrote before coming to L.A.
After things did not work out as planned, he decided to emulate the entrepreneurial spirit of the immigrants selling things in MacArthur Park. When he can't find a place to stay, Payne lives on the streets in Koreatown. Most days, he said, he makes $30 to $50.
"Thirty dollars, when you don't have to pay rent or bills, turns into $60 compared to people who have a minimum wage job and ... then rent cuts that in half or whatever," Payne reasoned. "So if I make the money and don't have to pay rent or bills or any of those things, it's sufficient."
Other homeless people have taken notice. Sitting in a Target shopping cart, Carol Banks, 53, said she wants to give up prostitution. Maybe selling wares like the street vendors will help her do that, she said.
"I'm going to do it," Banks said. "I'm going to sell water and Gatorade at Venice Beach. It's better than being a prostitute."
For more Southern California news, follow @latvives on Twitter.
ALSO
Clairvoyant charged with killing a man and firing 40 shots at deputies dies in custody
How 'fat shaming' on Snapchat turned into a criminal investigation
Airbnb strikes deal with L.A. to collect millions in lodging taxes
Sign up for Essential California for news, features and recommendations from the L.A. Times and beyond in your inbox six days a week.
You may occasionally receive promotional content from the Los Angeles Times.