Supporters of Cal State L.A. student activist detained by Border Patrol hold silent rally on commencement day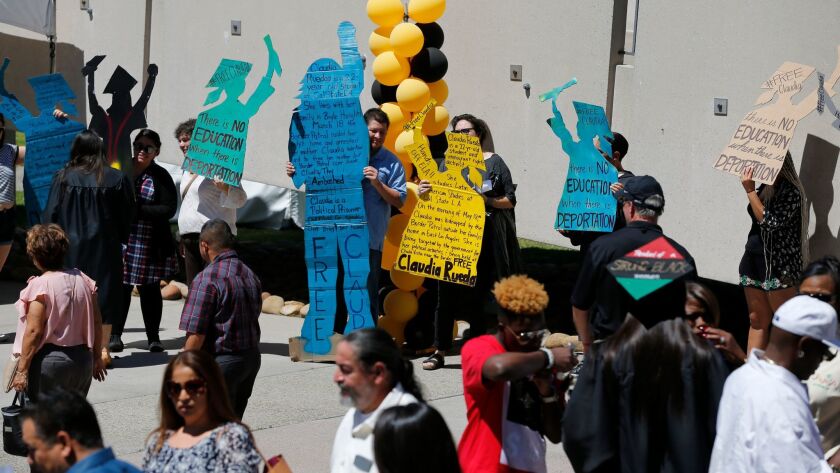 They marched in silence down the main walkway of the Cal State L.A. campus, amid the excitement of commencement day, holding up cardboard cutouts depicting a woman in a cap and gown with her fist raised.
The signs called for the release of fellow student Claudia Rueda, 22, who was detained Thursday by Border Patrol agents.
Rueda's detention sparked claims that she had been targeted in retaliation for protesting the arrest of her mother, who was swept up by federal agents during a massive cocaine bust last month. Rueda was moving her family's car outside her aunt's Boyle Heights home in the early morning hours when she was detained and taken to a federal facility near San Diego.
On Saturday, as families filed into the stadium before the start of commencement, about a dozen of Rueda's supporters — including other students, activists and university professors — silently made their way through the campus. Their cardboard signs explained her story.
Professor Alejandra Marchevsky, who taught a gender, sexuality and migration class that Rueda attended last semester, described her as a motivated, organized and exceptional student.
"To see her education interrupted in this way, it's just tragic," Marchevsky said.
Most people paused to read the signs but kept walking. Many looked confused. A couple of advocates passed out fliers.
Serafin Serrano encountered the protest on his way to the graduation.
Rueda had participated in his youth leadership program through Volunteers of America when she was a senior in high school, he said. She stood out as a natural leader, whose passion was always immigration activism.
"It's not a shock that you have other young people out here in the sun with signs supporting her," Serrano said. "She embodies community."
According to activists and friends, Rueda was targeted because of protests she led in recent weeks over the detention of her mother, Teresa Vidal-Jaime, 54, who was picked up during a drug raid that targeted other members of her family. Authorities determined that Vidal-Jaime was not involved in the alleged trafficking and she was released on bail.
In a statement Friday, Border Patrol said Rueda was one of seven people taken into custody as part of an investigation into "a cross-border narcotics smuggling operation." But all were arrested on suspicion of immigration violations, not drug offenses, according to the Border Patrol statement.
Marchevsky said that after President Trump announced his executive orders on immigration, Rueda stayed after class to find out more about the policy changes and ask what she thought would happen.
When her mother was detained, Rueda stopped attending classes and began staying at her aunt's house because she didn't feel safe at home.
Rosemary, a fellow student and friend of Rueda's who asked that her last name not be used for fear of retaliation, helped organize the silent march on Saturday. She said students have been pushing university officials to designate the campus as a sanctuary for those who are in the country illegally. Though the university has a Dreamers Resource Center for such students, Rosemary said, it lacks sufficient funding and staff.
"This is a perfect example of why education and deportations can't coexist," she said. "She had to put her education on hold to get her mom out [of detention]. She was under fear that she would be next."
Cal State L.A. spokesman Robert Lopez said the university has the only endowed dreamers center in the California State University system. He said senior administrators, including President William Covino, have been communicating with members of Congress and several government agencies seeking assistance for Rueda.
Friends said Rueda was focusing on Latin American studies at Cal State L.A. and that she has lived in the United States most of her life.
Her mother's job at a local bakery paid her tuition.
Rueda's attorney said she was eligible for protection under the Deferred Action for Childhood Arrivals program, but hadn't been able to pay for her application.
---
UPDATES:
6:50 p.m. This article was updated with comment from Cal State L.A.
4:20 p.m.: This article has been updated with addition details from the march.
The article was originally published at 2 p.m.
---
Get breaking news, investigations, analysis and more signature journalism from the Los Angeles Times in your inbox.
You may occasionally receive promotional content from the Los Angeles Times.