More women come forward with claims of sexual assault in jail by L.A. sheriff's deputy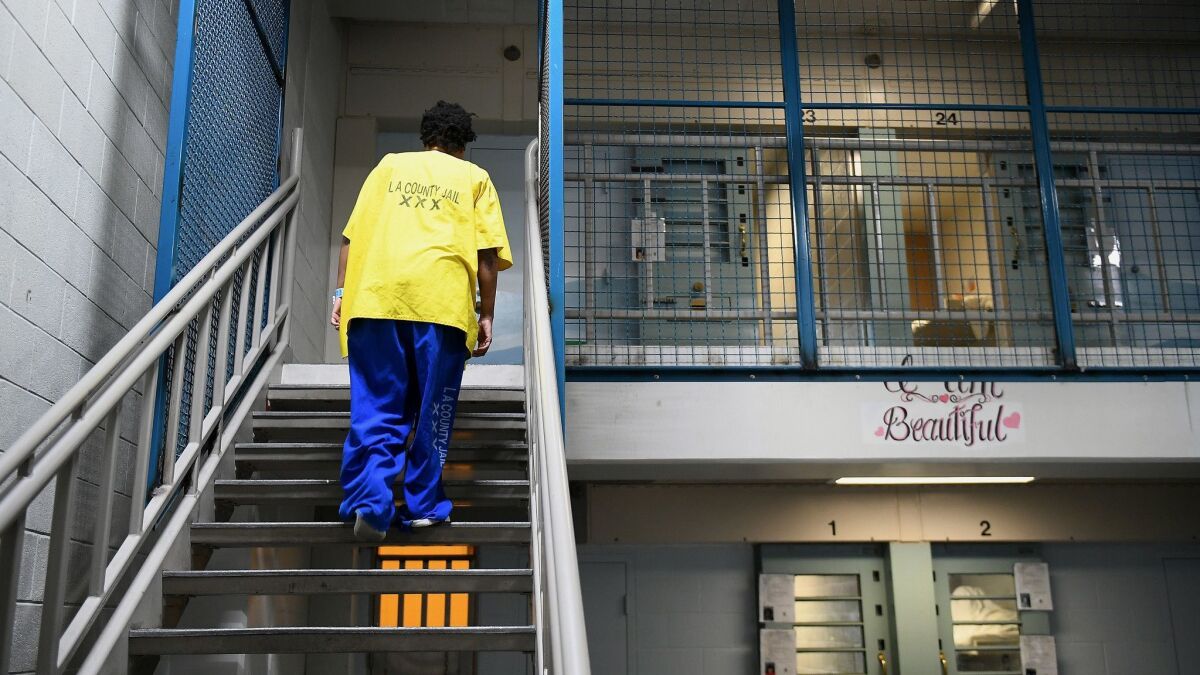 Five women have now filed lawsuits against the Los Angeles County Sheriff's Department, accusing a deputy of sexually assaulting them while they were being held at the women's jail.
Two of the women, in a case filed Friday, also claim the department fostered an unsafe environment by failing to implement federal standards that would protect inmates from sexual harassment and abuse.
The accused deputy, Giancarlo Scotti, was arrested last year and placed on unpaid leave after inmates told a teacher they'd been assaulted at the Century Regional Detention Facility in Lynwood.
Scotti, 31, was charged in February in connection with sexually assaulting six inmates from March through September 2017. The inmates in the criminal complaint aren't named, so it's unclear if those who have filed civil suits are the same women.
But one woman now claims Scotti harassed and groped her in late 2016, widening the period of allegations against the deputy. The woman alleges that in December 2016, Scotti coerced her into an elevator and grabbed her breast.
The inmate, who is now being held in immigration detention, said a Sheriff's Department official certified her as a victim in a criminal investigation into Scotti's actions as part of her petition for a U-Visa. The document allows some crime victims who cooperate with law enforcement to stay in the U.S. when they would not otherwise be authorized to do so.
Spokespeople for the district attorney's office and the Sheriff's Department did not immediately respond to questions Friday evening about whether investigators have identified additional assault victims.
Attorneys representing the deputy in related cases, Gilbert Nishimura and Janet Keuper, did not return requests for comment.
The two women who filed the lawsuit Friday were awaiting trial at the time they were assaulted, said one of their attorneys, Justin Sterling.
The second woman in the suit alleges Scotti touched her breasts and forced her to give him oral sex through a slot in a cell door in September 2017. The woman, who was released from the Lynwood jail on Thursday, claims the assault was caught on surveillance camera and the footage was shown to her when she was interviewed by investigators.
The Times generally does not identify people who report being victims of sexual assault. Inmates cannot legally consent to sexual intercourse with deputies under state and federal law.
Two women who accused Scotti of sexual misconduct in a civil lawsuit in November reached a settlement with the county in April. Sterling, who also represents those women, said the county Board of Supervisors has not yet approved a payout in that case.
An independent report released in March found the Lynwood facility was out of compliance with numerous mandates under the federal Prison Rape Elimination Act that are designed to keep inmates safe and limit opportunities for abuse. Auditors noted flaws in the jail's complaint process and said female inmates could be seen showering.
"These federal safeguards exist for a reason, to prevent nightmares like this," said Erin Darling, another attorney representing the women in the latest suit.
The department has said it has made improvements under the federal anti-rape law, including fixes to the inmate complaint process. The Sheriff Civilian Oversight Commission, an independent watchdog agency, has taken up the jail rape guidelines as a major focus of its efforts to reform the agency.
Department spokeswoman Nicole Nishida said the agency would not comment on pending litigation. She said Scotti is still on administrative leave without pay.
Twitter: @mayalau
---
The stories shaping California
Get up to speed with our Essential California newsletter, sent six days a week.
You may occasionally receive promotional content from the Los Angeles Times.