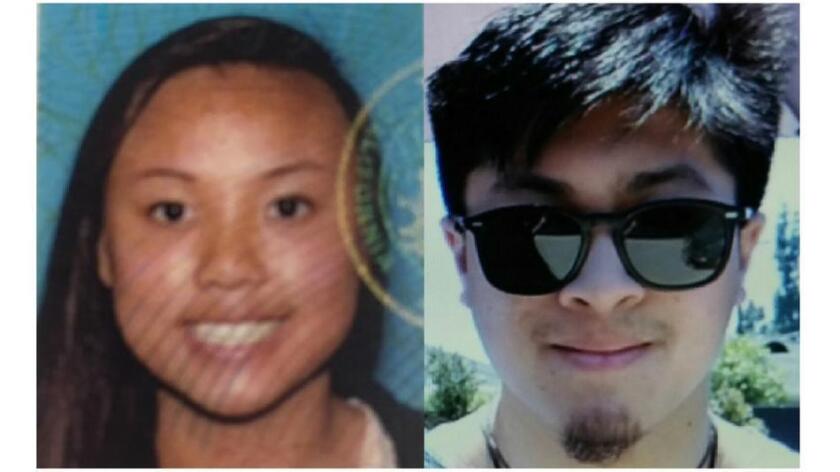 For nearly three months, the families clung to hope as hundreds of rescuers, aided by dogs, horses and helicopters, scoured Joshua Tree National Park for two missing friends.
They must be OK, one family thought. They're probably just in hiding somewhere.
That hope was crushed by last week's grim discovery: two bodies, locked in an embrace, under a tree in a steep canyon off a rugged, maze-like trail in the sprawling park about 130 miles east of Los Angeles. They had draped clothing over their lower limbs as a shield from the blazing desert sun. Each had a single gunshot wound. The weapon was found beside them.
San Bernardino County sheriff's homicide detectives believe Joseph Orbeso, 22, shot his friend, Rachel Nguyen, 20, before turning the gun on himself. Authorities said they found no evidence that he had planned to harm her.
Nguyen's aunt, Mong Ha Le, accepted that interpretation.
"This is an accident," she told The Times. "He tried to save her the only way he could."
Le said Orbeso was a security guard and likely brought a gun for protection.
Investigators, according to Nguyen's family, have offered clues to suggest the killing was an act of compassion after a desperate attempt to survive.
They believe that Nguyen slipped and fell, hitting her head, that Orbeso carefully attended to her as they waited for help, that the two ran out of water and were rationing their food, that he tried to keep her warm and comfortable by wrapping her in his clothes.
That eventually they lost all hope and ended their lives.
Nguyen, an avid traveler studying business at Cal State Fullerton, had planned the hiking trip in the days leading up to her 20th birthday. She had a crush on a guy and suggested he join her in Joshua Tree to celebrate. He turned out to be busy, Le said, but told her to go with Orbeso instead.
Before their hike, she and Orbeso checked in to a bed-and-breakfast in the Morongo Basin. They were supposed to check out at 11 a.m. July 28. But they never returned.
The owner, who found the belongings they had left behind, reported them missing that day, and told investigators that they had mentioned hiking in the park. Later that day, authorities found their car, unoccupied, near the Maze Loop trailhead.
About 4 p.m. July 27, they later learned Orbeso's cellphone had pinged off a tower inside the park, which is spread across more than 1,200 square miles of the Mojave and Colorado deserts.
A rigorous, large-scale search effort was launched. Volunteers put in 2,100 hours. Ten people were injured during the operation.
On Aug. 6, after weighing the risk to searchers against the likelihood of finding the couple alive, authorities scaled back the search to smaller teams on weekends.
Nguyen's aunt said the family does not blame Orbeso. Right now, they are focused on combing through photos and making posters for a memorial Friday, and fielding calls from friends and well-wishers expressing sympathy.
Le described her niece, a resident of Westminster, as "a quiet sort" who traveled widely, documenting visits to Vietnam, the beaches of Mexico, Canada, Thailand, Hong Kong and Hawaii.
In the family, Nguyen answered to "Diem My," or "beautiful child." She was always "very sweet yet really a tomboy," Le said. "As a child, I gave her a doll and she told me she didn't play with dolls. She much preferred video games so we got her a Wii.
"Her only fault is she may have been too active," Le said.
anh.do@latimes.com | Twitter: @newsterrier
alene.tchekmedyian@latimes.com | Twitter: @AleneTchek
ALSO
Suspect held in series of San Fernando Valley fires
World Series opener could be hottest on record as heat wave continues to scorch Southern California
With 5% of its housing destroyed by fire, Santa Rosa faces wrenching questions about its future
---