Challenging Dianne Feinstein from the left, Kevin de León has struggled. But is he just ahead of his time?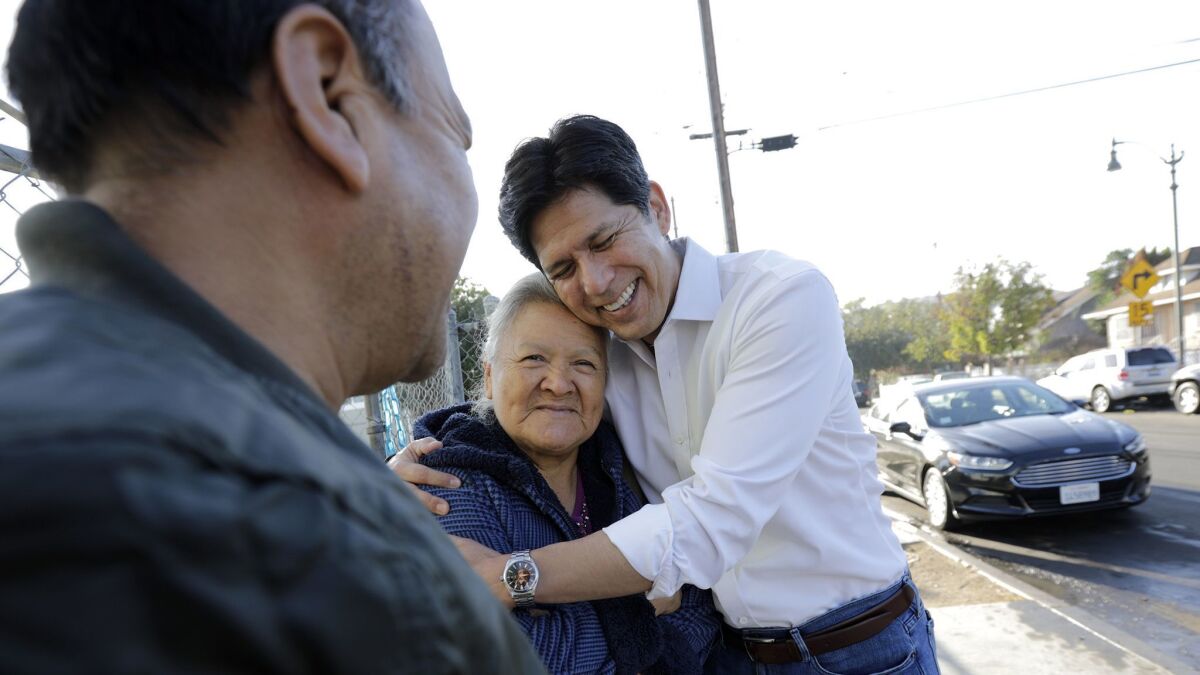 Kevin de León's week before election day has been quiet, largely without public events and instead spent making last-minute fundraising calls.
This weekend, he'll make a handful of appearances, and that will be it.
At a Mexican restaurant near Cypress Park where he's a regular, De León reflected on taking on Sen. Dianne Feinstein, California's senior senator who has substantially more experience, name recognition and money.
De León pointed to what led him to run — a sense of urgency to fight the Trump administration — and, as he has done for the last year, focused the conversation on his legislative wins, including the "sanctuary state" law he sponsored that was the most far-reaching of its kind when passed, and his efforts to push California toward clean energy.
"I'm running to win," De León said. "A lot of folks covet her seat, without question, but for their own reasons, wouldn't challenge her. I think these are very dangerous, consequential times in our nation's history, and we are engaged in the battle for the soul of our nation against a president without one."
A supporter at the restaurant approached De León and told him she has seen him more on television than in person lately. Each time she sees his face on her screen, she cheers.
Unfortunately for De León, this supporter is in the minority of Californians who know who he is.
Where Sen. Dianne Feinstein and state Sen. Kevin de Leon stand on the issues »
Feinstein has led in the polls by double digits since winning every county in the June primary and 44% of the vote — almost 3 million votes versus about 806,000 for De León.
But De León's challenge, even if unsuccessful, might have longer-term political influence in other ways, both for the Democrats and for him. De León has challenged Feinstein from the left in a deep blue state that has become more hyper-partisan since President Trump took office. Feinstein's reputation as a moderate has always been an advantage in facing Republicans in general elections. But under California's new top two voting system, she faced a fellow Democrat who attacked her for not doing more to stand up to Trump.
Voters may back Feinstein this time, but some experts say De León's politics might end up better reflecting the future of the Democratic Party in California.
"He is emblematic of where activists in the Democratic Party are at this moment, and where voters in the Democratic Party are likely to be in the future," said Keith Smith, an associate professor of political science at the University of the Pacific.
And that might help De León down the road.
"I don't know how many people know who Xavier Becerra and Alex Padilla is, but I bet an increasing number of them know who is Kevin de León is, so even though he's not going to win, I think in a way because the Senate race gets so much more media coverage and is so much more on people's minds, that's setting him up for the future to be a leading Latino voice in the state," said Melissa Michelson, a professor of political science at Menlo College in the Bay Area.
Even after serving 2½ years as leader of the California Senate, De León still doesn't have the gravitas to take down Feinstein.
Many legislative state leaders have failed in their bids for statewide office in California, including David Roberti, a former Senate president pro tem who ran for state treasurer in 1994, and John Perez, a former Assembly speaker who campaigned for state controller in 2014.
De León has depended largely on retail politics, an impractical strategy in California but especially against Feinstein, who has more than a 10-to-1 cash advantage over him.
Longtime Democratic political strategist Garry South said having millions in the bank isn't a guarantee in winning elections, but in California, going door-to-door, holding events and getting media coverage isn't going to cut it.
"You have to have a significant TV [advertising] presence, both on broadcast and cable, and it also helps to be on radio," South said. "Without that money, you're just kind of spitting into the wind."
Still, South is among the political scientists and strategists who agree that, although still widely unknown in California, De León is the first significant Democratic challenger to Feinstein in more than two decades.
"I don't think he's going to beat her — I think the polls are pretty clear he's not going to win — but having a younger, aggressive Latino candidate running against her has clearly moved her to the left, and anyone who argues it hasn't is not paying attention to the facts," South said. "I don't think it ever occurred to her she had wandered so far away from her Democratic base of voters on issue after issue after issue, and now she's trying to take corrective action."
In past elections, no one with anything close to De León's resume has run against Feinstein, as most potential challengers recognized the high possibility they would lose.
De León said he recognizes that most would expect him, especially as the leader of a legislative body, to take a much more calculated approach in his climb upward.
"You don't usually say, 'I'm going to take on a multibillionaire 26-year incumbent with 95% name recognition'," De León said. "I think a lot of political scientists, a lot of the folks in the political intelligence, underestimated that values were a large part of what drove my decision-making, as opposed to less political calculation … but look what happened along the way. A 26-year incumbent was denied the endorsement of the Democratic Party in California."
De León is the visible representation of the displeasure that activists within the Democratic Party feel toward Feinstein, Smith said.
Running against Feinstein isn't wholly without benefit, Smith said, but Feinstein would have had to suddenly become incredibly unpopular among her base for De León to win.
"If it wasn't for them being dissatisfied, we wouldn't even have Kevin de León," he said.
Times staff writers Melanie Mason and Sarah D. Wire contributed to this report.
---
Life is stressful. Our weekly mental wellness newsletter can help.
You may occasionally receive promotional content from the Los Angeles Times.