Police arrest suspect in hit-and-run death of 22-year-old bicyclist in South L.A.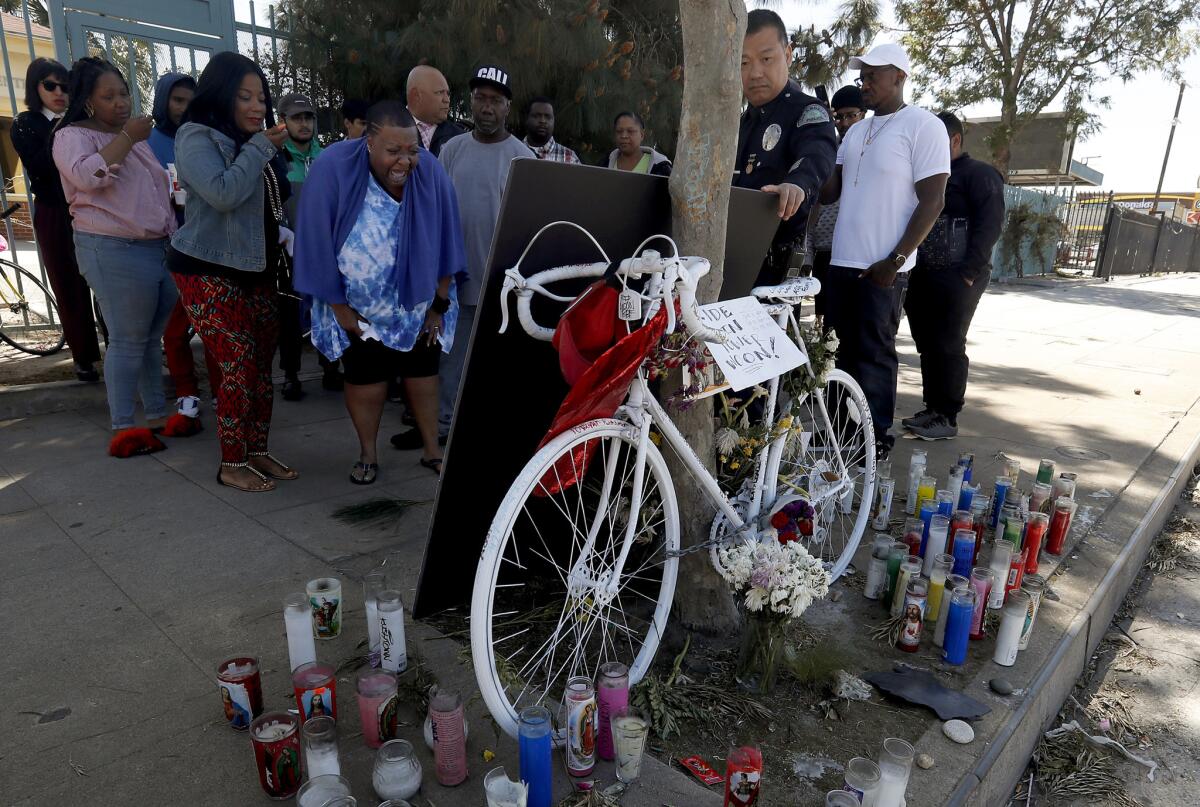 The Los Angeles Police Department on Thursday announced the arrest of a driver suspected of running over and killing a 22-year-old bicyclist in South Los Angeles and leaving the scene two months ago.
Mariah Kandise Banks, 23, of Los Angeles has been arrested on suspicion of vehicular manslaughter, the LAPD told reporters Thursday. Banks, they said, was driving a white 2004 Porsche Cayenne at a high speed on Manchester Avenue on April 10 when she struck bicycle rider Frederick Frazier near Normandie Avenue.
Banks fled the scene without rendering aid to the victim, and later had her vehicle painted black, authorities say.
Frazier was riding his bicycle in the Manchester Square area when he was hit. The force of the impact snapped his bicycle in half.
Beverly Owens, Frazier's mother, said her son had Type 1 diabetes and rode his bicycle to manage his weight.
Thursday's press briefing at the LAPD's 77th Division was attended by Frazier's mother; his pregnant girlfriend, Troyona Adolphus, 22; and some of his close friends.
"I feel somewhat relief that justice will be served," said Moses Williams, 20. " I still don't want to believe he's gone."
Williams said he hopes the arrest will send a message to drivers that they should be careful and that anyone who tries to flee will be caught.
"I hope people don't look at this as just as news, but that they understand this was someone's baby, someone's loved one," Williams said. "I mean to leave someone like that on the side is inhumane."
Investigators said that information provided by the public helped lead to Banks' arrest.
After the fatal accident, investigators canvassed the area and obtained video footage from a local business. Still images from that surveillance video were broadcast to the public.
"Tipsters provide a lot of information," said LAPD Det. Ryan Moreno, the lead investigator. "We were able to locate the suspect because of it."
The tips led investigators to a home in Moreno Valley where they served a search warrant and located the vehicle, but not the driver, he said.
"They tried to disguise the vehicle," Moreno said. "They had painted the Porsche black. It was a real cheap paint job, like they had used a brush or spray painted it."
Hours after the search warrant, Moreno said they got a call from Banks who wanted to turn herself in.
Moreno said that while interviewing Banks, who was accompanied by a lawyer, she confessed to being the driver and to hitting Frazier.
"She said she panicked and got scared," Moreno said.
Moreno said additional arrests may be made as they continue to investigate who may have helped to cover up the crime.
Frazier's mother thanked police for their work. She said she hopes everyone involved will be held accountable for what happened.
She said she has also forgiven the driver.
"I have compassion for the lady," Owens said "I can't imagine what it's like for her, I can't imagine what it feels like living with this.
"There's no good ending to it," she added.
Also on Thursday, police announced the arrest of 19-year-old Alana Ealy of Los Angeles. Police say Ealy used a vehicle to run over a bicyclist during a vigil held for Frazier the day after his death.
Police said Ealy was booked on suspicion of attempted murder on May 30.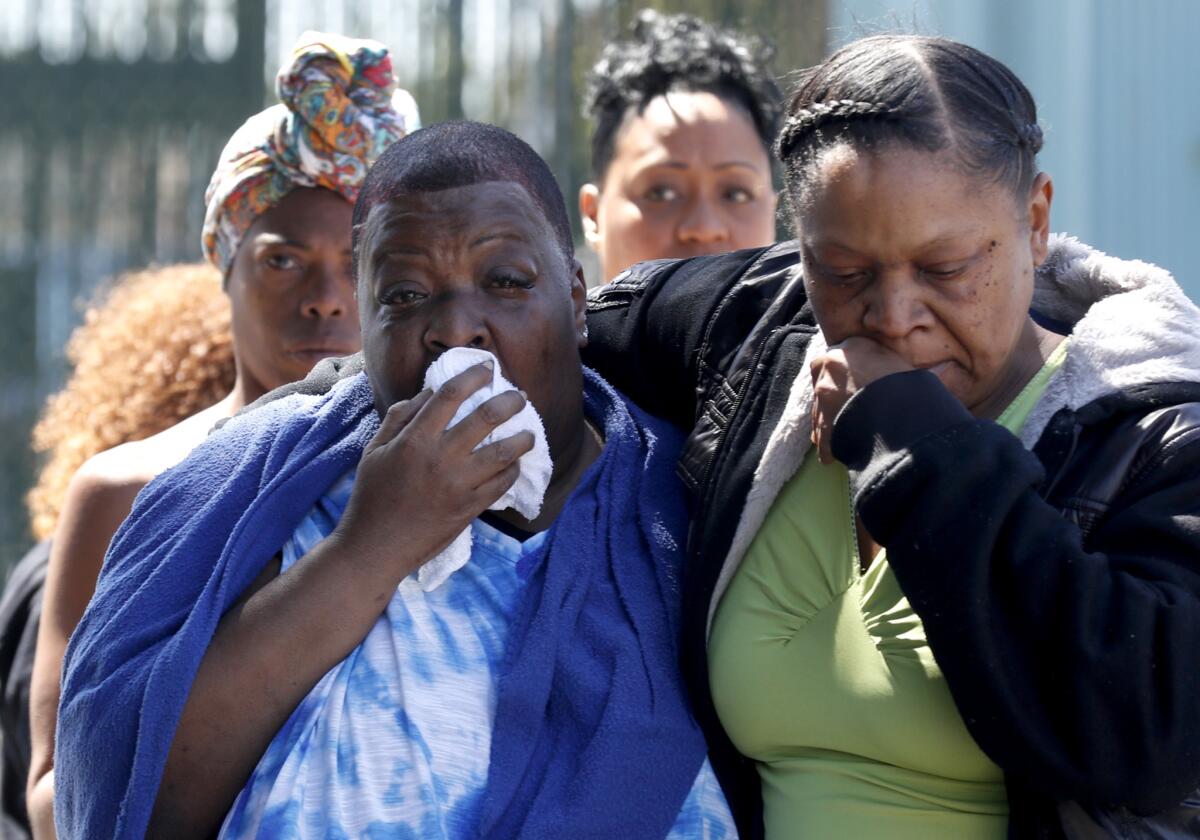 Frazier's death was followed by a small wave of bloody collisions that occurred over the span of a week.
The day after Frazier's death, after a group of cyclists rode through Manchester and Normandie avenues to hold a vigil for Frazier, a driver in a gold Toyota Avalon ran a red light and struck a man in the intersection.
That Friday, a driver of a dark-colored SUV fled after fatally striking Alfredo Ortiz, 52, who was walking through a crosswalk at West Imperial Highway and South Figueroa Street.
Then on the morning of April 15, Gregory Moore, 57, was crossing the intersection of Century Boulevard and Main Street in his wheelchair when he was struck and killed by a possibly drunk driver, police said.
Just after midnight the following day, two drivers struck and killed a bicyclist in his 60s as he rode through a crosswalk at Century and Avalon boulevards. Both fled the scene.
The hit-and-run incidents have sparked frustration and criticism from residents and advocates who say city officials need to do more to protect pedestrians and cyclists.
In 2015, Mayor Eric Garcetti helped create L.A.'s Vision Zero program in an effort to eliminate traffic fatalities. The program is part of the Vision Zero Network, a nonprofit project aimed at improving traffic safety in cities.
But the Los Angeles County Bicycle Coalition said the city's initial determination to reduce traffic deaths through the Vision Zero initiative had "dwindled into inaction."
"Our streets are not safe or healthy, and they will not be until people walking and biking are given the same rights as people in vehicles," the coalition told the Los Angeles Times in April.
Garcetti has said he is committed to the program and will recommend $91 million in funding for Vision Zero in next year's budget, more than triple the amount allotted this fiscal year.
The city has made more than a thousand changes to streets — some of which have seen a high number of fatal crashes and severe injuries — that include higher-visibility crosswalks and signs that tell drivers their speed.
Garcetti's Vision Zero initiative called for a 20% reduction in traffic deaths on city streets by 2017.
Last year, the number of people killed in L.A. traffic crashes fell 3% — far short of the 20% goal. The number of pedestrians killed has jumped 82% since 2015.
For more Southern California news, follow @latvives on Twitter.
---
UPDATES:
3:15 p.m.: This article was updated with comments from Los Angeles police Det. Ryan Moreno and the bicyclist's mother, Beverly Owens.
This article was originally published at 1:35 p.m.
Sign up for Essential California for news, features and recommendations from the L.A. Times and beyond in your inbox six days a week.
You may occasionally receive promotional content from the Los Angeles Times.