Key hearing in Robert Durst murder case postponed until April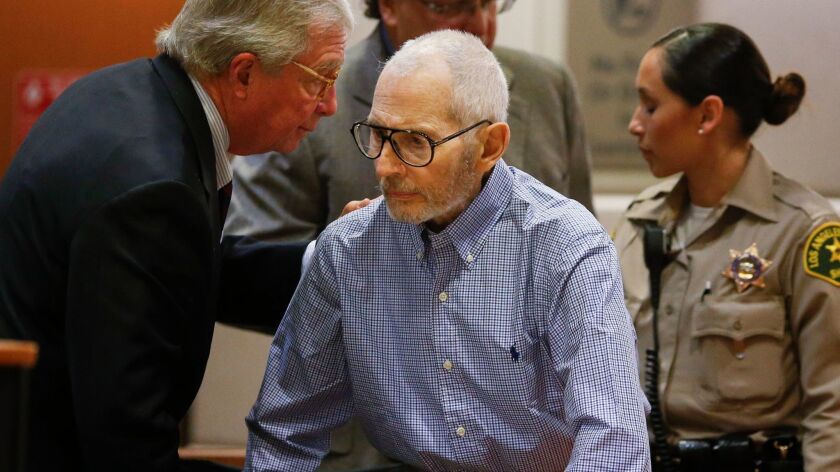 A Los Angeles County judge on Wednesday delayed Robert Durst's preliminary hearing, which means the New York real estate scion won't know until next year whether the judge believes there's enough evidence for him to face trial on a murder charge.
Durst, who is charged with murdering his best friend in 2000, was scheduled to have a preliminary hearing in mid-October. But Superior Court Judge Mark E. Windham said the postponement was necessary to accommodate Durst's defense team — some of whom live in Houston and sustained damage to their homes and offices during Hurricane Harvey. The hearing, which is expected to take two weeks, is slated to begin April 16.
During Wednesday's hearing, Windham asked Durst if he agreed to the delay. The defendant responded in his distinctive gravely tone: "Yeah, I'm good with it, sir."
Prosecutors have argued that the eccentric multimillionaire shot his friend, Susan Berman, inside her Benedict Canyon home in late 2000 to silence her because she knew incriminating information about the 1982 disappearance of his wife, Kathleen. At a hearing this year, Nick Chavin — Durst's longtime friend — said the millionaire once confessed to killing Berman.
"I had to. It was her or me," Durst said, according to Chavin. "I had no choice."
Durst has pleaded not guilty.
Chavin was one of several older prosecution witnesses who have taken the stand early to preserve their testimony, as the case is unlikely to go to trial until at least 2018. During the week of Oct. 16, prosecutors plan to take early testimony from at least four more witnesses, including a retired New York state trooper, a retired Beverly Hills assistant police chief and Berman's onetime neighbor.
Durst, 74, was arrested in connection with Berman's slaying on March 14, 2015. He had been staying at a hotel in New Orleans, and authorities there found guns, stacks of cash, a fake ID and an old-man mask.
The arrest took place the day before the finale of a six-part HBO documentary, "The Jinx," focused on Durst's life. In the final episode, the real estate magnate mutters, "What the hell did I do? Killed them all, of course."
To some, his comments appeared to be a confession to three killings: those of his long-vanished wife, Berman and a neighbor in Texas. In the 2001 Galveston, Texas, case, Durst admitted to shooting his neighbor, Morris Black, saying he acted in self-defense during a struggle over a gun. Durst, who admitted to chopping up Black's body and dumping the parts in Galveston Bay, was acquitted of murder.
After his arrest on suspicion of murdering Berman, he pleaded guilty to a gun possession charge and was sentenced to more than seven years in federal prison. He was transferred to Los Angeles in November 2016.
For more news from the Los Angeles County courts, follow me on Twitter: @marisagerber
ALSO
Health officials declare hepatitis A outbreak in L.A. County
Man who killed Fox executive having an affair with his wife gets 11 years in prison
Topless carwash raises cash for deputies wounded in gun battle at Rastafarian pot farm
---
UPDATES:
1:15 p.m.: This article was updated with details on the postponement of Durst's preliminary hearing.
This article was originally published at 5 a.m.
---
The stories shaping California
Get up to speed with our Essential California newsletter, sent six days a week.
You may occasionally receive promotional content from the Los Angeles Times.